I truly believe that the Toronto scene just doesn't have enough punches going around. It elevates the experience, encourages friends to come together, and it allows the guests to become the host. I find that it's a much more personal and intimate experience while sharing this moment over a well-crafted beverage. So with this current obsession with punches, I came up with a recipe that is light, refreshing and highlights my original love of Gin.
Another reason I'm crazy about punches, is that for a host, it's extremely easy to execute and requires very little attention. Ron Popeil said it best, and that is to 'Set it and Forget it'. With that said, you have the perfect beverage to entertain your sophisticated group of friends, because you've finally left the life of Jungle Juices and Moxies.
I kept the flavours in this punch light and delicate because I wanted to highlight the gin. Gin is such a versatile liquor with so much character, that this time around I didn't want to hide it. I usually don't push a particular brand unless I truly love it, and Gin Mare really worked wonders in this recipe. I love the savoury notes in Gin Mare, and I knew it's profile would compliment the blackberry and melons used.
Okay, I've done enough talking. Let's get to the point of why you're all here and that's for the recipe! Cheers!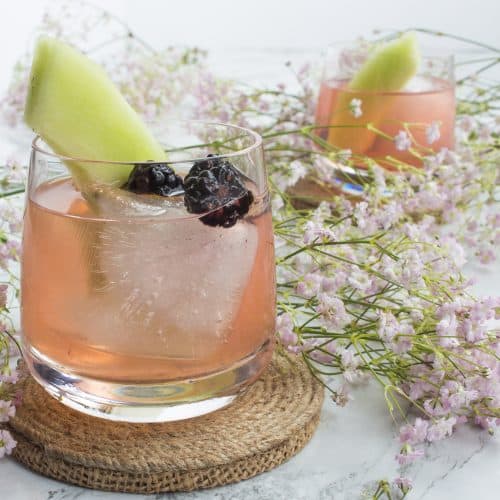 Blackberry and Melon Gin Punch
A light and delicate gin punch that will be perfect for your next group gathering!
Difficulty: Easy
Ingredients
½

cup

Gin Mare

½

cup

Dolins Dry Vermouth

½

cup

White Cranberry Juice

1

cup

Steeped White Tea**

see notes for detail

8

Dashes Angostura Bitters

3

tbsps

Granulated Sugar

3

Lemons

2 Squeezed - 1 sliced into wheels

6

Blackberries

halved

1

cup

Melon

sliced (make sure to leave some for Garnishing)
Instructions
In a large pot, steep your chosen tea leaves with the sugar, and allow to cool

In a pitcher filled with ice, combine the gin, vermouth, cranberry juice, steeped cooled tea, bitters, and any juice from the melon while slicing and stir

Strain the cocktail into an empty punch and making sure to add the lemon wheels, blackberries and melon to the beverage and give it a quick stir

Place a large ice cube in the individual glassware and ladle the cocktail into each glass as needed.
Recipe Notes
**You have a bit of flexibility with your choice in tea. You can find a melon tea, to really highlight the melon if you're a fan. You can also use a jasmine tea, or chamomile. David's tea also as an organic kashmiri chai that is a light chai with green tea and cardamom which I think will work PERFECTLY with the cocktail. Just remember to keep away from the oolong's and earl greys, as they will overwhelm the flavours.