With the luck of the calendar, Valentine's Day lands on my favourite day of the week, which we all know is jammed packed with peaches! So it only made sense that we would pair peaches with some overpriced flowers, just to keep it in themed with the holiday (Okay real talk, I love flowers way too much to actually pay attention to prices).
This cocktail calls for a Peach-Infused Gin, which I know the word infusion gets people running out the door, but it is NOT as bad as you think. It's just 36 hours of lovely peaches, chilling out in a bath of gin and voila, you're done! Think of it as if you were brining a piece of meat. Just leave it overnight and you won't believe the flavour it packs!
Once that is all finished, the cocktail is simple enough to make. Oh and try your best to get your hands on some edible flowers. I know that may seem like a completely foreign concept to you, but it exists. I'll usually give a call to 'Urban Fresh Produce' at the St. Lawrence Market and they can typically get it in the following day! It's a nice added detail, plus you'll go crazy on the gram with photos and videos of the floating flowers.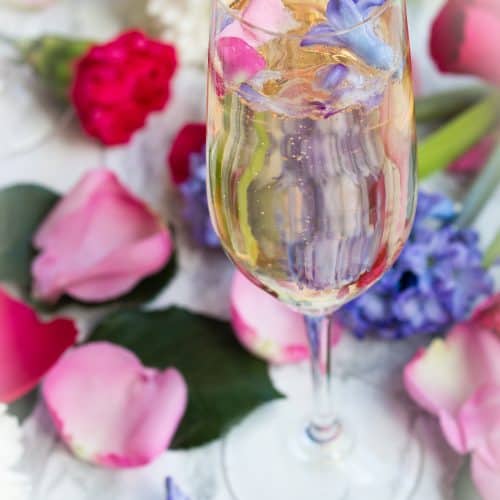 Peach Rose Sparkler
A sparkling edition to the Valentines Day Cocktails with the Peachy influence
Difficulty: Easy
Ingredients
¾

oz

Peach-infused Gin

½

oz

Rose Water

½

oz

St. Germaine Liqueur

3

dashes

Peach Bitters

5

oz

Sparkling Wine

2

Edible Flower
Instructions
In a cocktail shaker, combine gin, rose water, liqueur, bitters and edible flower. Fill this with ice and shake

Strain into flute glass and top with sparkling wine

Garnish with 1 Edible Flower