I'm always looking for creative ways to incorporate healthy options when it comes to drinking, and my inspiration came from a simple Arugula Salad.
I really hate bitter greens, so I always tend to dress it up with some sweet fruits, such as grapes and pears, to create a bit of balance to the dish. With that in mind, I decided to create something with similar components to a salad, but blend it up into a liquid.
I've been loving this new approach and some of the flavours that have come out from this section. You'll love what can be done with this recipe and you won't feel guilty about it! As always, the health conscious section does not need to include alcohol, and can be great for your morning boost of vitamins and minerals needed to conquer the day!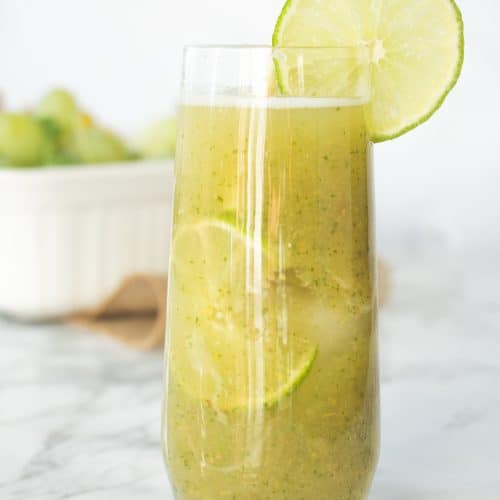 Arugula Pear Salad in a Glass
A delicious blend of arugula, pears and grapes that will pretty much make you feel better about what you have in your glass
Difficulty: Easy
Ingredients
1

cup

Arugula

3

Pears

2

cups

Grapes

1

inch

Ginger

peeled

1

Granny Smith Apple

1/4

cup

Maple Syrup

½

lemon Squeezed

½

cup

water
Instructions
Process through a juicer and enjoy!
Recipe Notes
Although a juicer is convenient, I just don't have the space for one. So I usually bust out my blender and strain through a fine mesh strainer. This is obviously time consuming, but to me I find it worth while, and much easier way to digest the beverage. 
I recommend a light or gold rum, or a gin with this recipe. Remember to have a 1:4 ratio when it comes to using spirits. Enjoy!