You may have noticed a pattern in some of my recipes, and that's my love for equal portions of vodka and dry vermouth. For one, it adds a bit of subtle character to the base spirit. Secondly, it's a great way to utilize dry vermouth, considering most people have no idea what to do with it. In addition, it's a great way to booze up a cocktail with a budget in mind, especially when creating punches, and drinks that are nice, light and refreshing!
With that said, this established the template for what I wanted to create here. It's super light and refreshing, but with hints of holiday flavour. Not to mention, it's low in sugars, which won't add to your holiday gains.
I was lucky enough to grab one of David's Tea Advent Calendars for the holiday season. Being as obsessed as I am with tea, I loved that I was able to experiment with all these different flavours! Sure enough, I found one that I instantly knew I had to create a cocktail with. It's the 'Walnut Orange Scone' flavour provided by David's Tea and it is outstanding. I can't wait for you to test this out at home and become as obsessed as I've been for COLD TEA.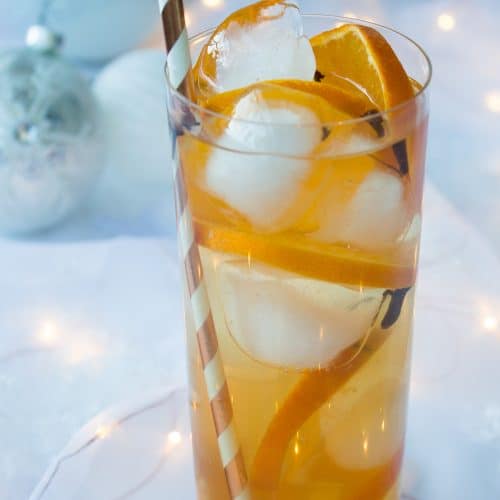 Christmas Cold Tea
A refreshing and light mix of vodka and vermouth with a touch of Christmas spirit
Difficulty: Easy
Ingredients
½

oz

Vodka

½

oz

Orange, Cinnamon and Clove-Infused Dry Vermouth

2

oz

Walnut Tea

¼

oz

Simple Syrup

1

Clementines

sliced

3

Cloves
Instructions
Layer a Collins glass with ice, clementine wheels and cloves throughout

Give this a quick stir with a straw and enjoy!
Recipe Notes
**Good Drink for a punch**