Words cannot contain or express my excitement for this recipe I'm featuring for you today. As much as I love mixing cocktails, nothing compares to the very exciting world of baking with booze. This is a category that I know little about, or have experimented with, so when I finally nail a recipe, you can bet I'll jump on the rooftops to let you know! For my first attempt at a bundt cake, I consulted a ton of blogs and bugged a ton of my chef friends, to finally come up with this masterpiece here. Celebrate the holiday season with this outstanding Ginger, Cranberry and Coffee Rum Bundt Cake!
Let's start with the inspiration of this cake and it's all thanks to Barista's Coffee Liqueur. I've mentioned it before, will likely mention again, this liqueur is a game changer. For those looking for a unique coffee liqueur, different from the sugar-laden options in the market, look no further. It's a rum-based liqueur coming out of Quebec that offers a ton of toffee, maple, chocolate and the obvious coffee notes. So with wanting to create a dessert and with the help of some Pinterest inspiration, the concept of this ginger bundt cake happened.
---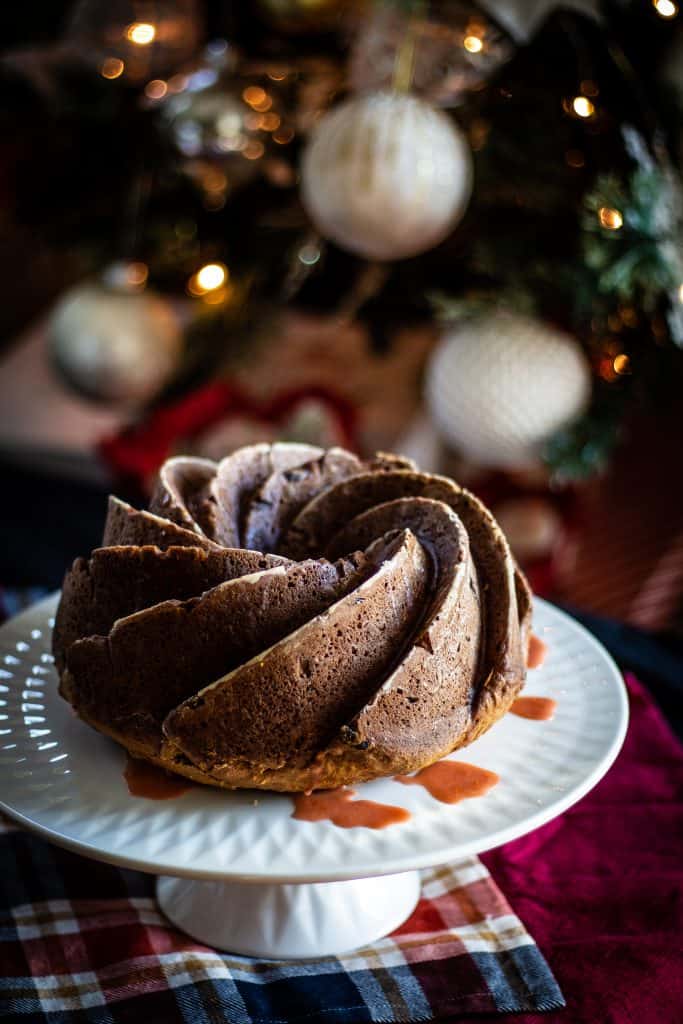 ---
The beauty about coffee is that it compliments a wide-range of flavour pairings. You will pretty much never go wrong. From high acid and citrus, to smoked spices and herbs, coffee is that welcoming character in any beverage or dessert. The most important thing to make note of when working with coffee is balance and making sure it doesn't overwhelm the overall profile. Lucky for you, I did all the experimenting for you and it's as easy as reading the recipe to get it right!
My first attempt was a bit dry so I knew I wanted to adjust my next batch accordingly, but the fear that always lingers is if the alcohol will be too much. My issue with baking is that it can be very unforgiving when you twist the recipe, but the reality is…bartending is just as complicated! A simple slip of liqueur or bitter amaro can completely change the complexity of the drink. I guess what I'm trying to say is, that bakers already have that natural instinct to be precise, so being a home bartender will be a piece of cake!
---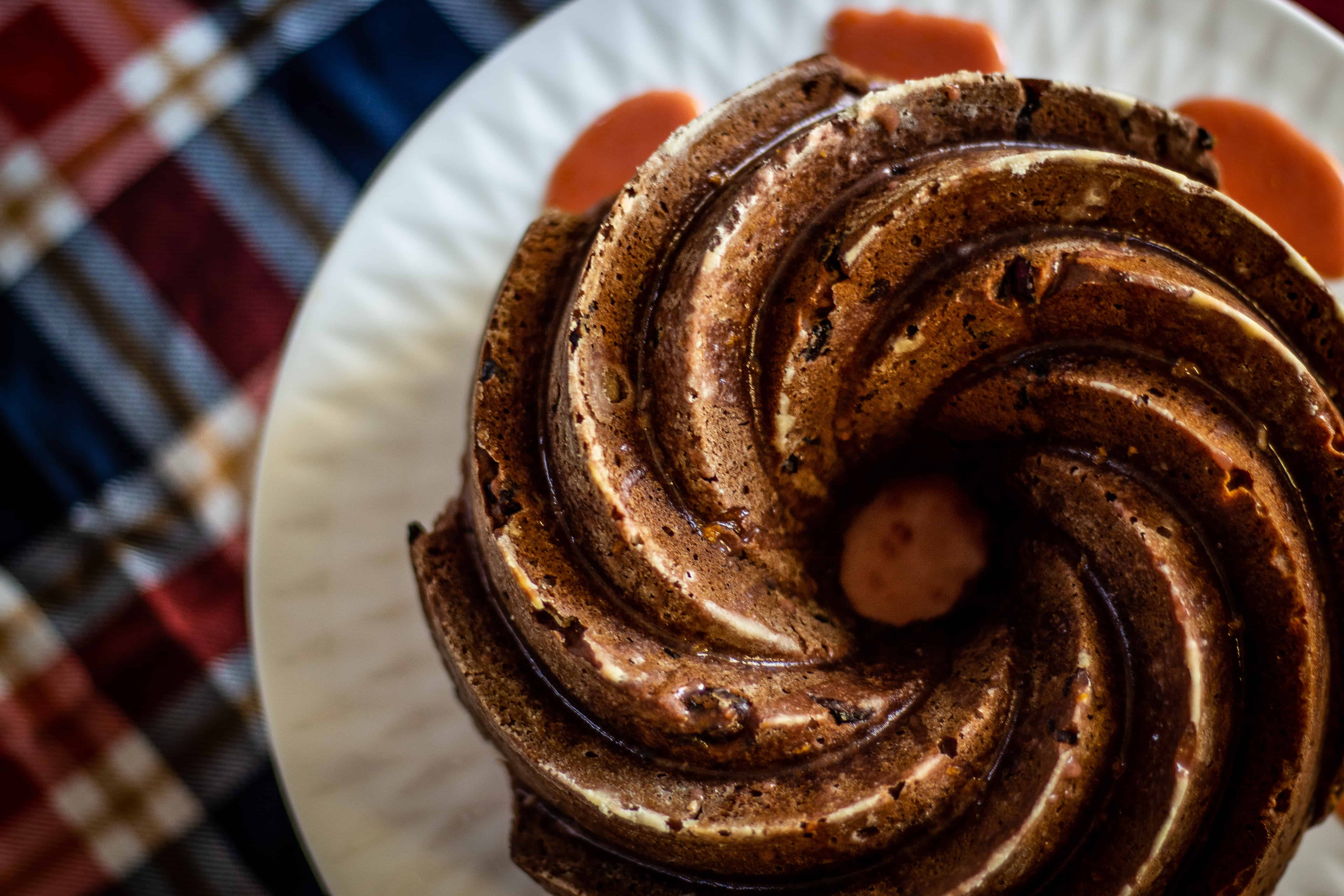 ---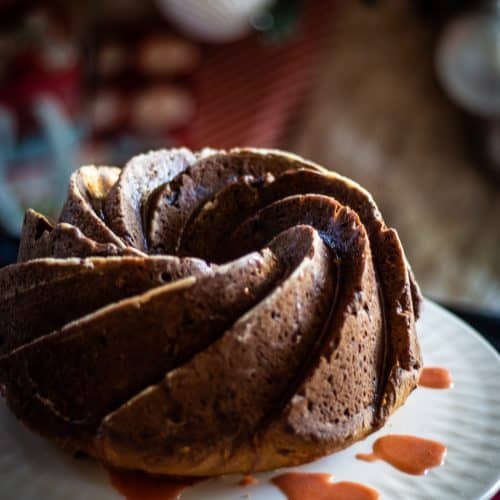 Ginger, Cranberry and Coffee Rum Bundt Cake
Serving up a delicious Bundt cake for the holiday season that's infused with a coffee rum liqueur!
Difficulty: Intermediate
Ingredients
Bundt Cake
2/3

cup

Granulated Sugar

1/2

cup

Brown Sugar

packed

1

cup

Unsalted Butter

room temperature

1/2

cup

Coffee/Nespresso

2/3

cup

Barista Coffee Liqueur

1/3

cup

Fresh Orange Juice

2/3

cup

Vanilla Greek Yogurt

1

tsp

Vanilla Extract

2

Eggs

3

cups

All Purpose Flour

20

mL

Ground Ginger

2.5

tsp

Baking Soda

1/2

tsp

Baking Powder

1

tsp

Cinnamon

2/3

cup

Dried Cranberries

Loosely chopped

1/2

tsp

Salt

optional
Cranberry, Orange, Espresso Glaze
1

tbsp

Unsalted Butter

3/4

cup

Confectioners Sugar

1

tbsp

Espresso

1

Orange

zested

2

tsp

Orange Juice

1

tbsp

Barista Coffee Liqueur

15

dashes

Cranberry Bitters

1/4

tsp

Salt

Optional
Instructions
Bundt Cake
Preheat oven to 325 degrees. Ensure the oven rack is in the middle. Grease the inside of the bundt pan with butter and powdered with flour over top. Make sure to get all the corners, and shake out the excess flour. Set Aside

In a stand up mixer with the paddle attachment, combine sugars and butter until smooth. Add eggs one at a time, before adding vanilla yogurt, extract and orange juice over medium speed.

In a separate large bowl, sift the flour, ginger, baking soda, baking powder, cinnamon and optional salt.

Lower speed to low and add 1/3 of flour mix until almost combined, then coffee, followed by an additional 1/3 of flour mix, then barista rum liqueur, and finally add the last bit of flour mix until it is incorporated. Do not over stir!

Remove bowl from stand up, and gently stir in dried cranberry before adding to the floured bundt pan.

Bake for 60-70 minutes (use the toothpick test at the 60 minute mark)

Let cool in the pan for 10 minutes before transferring to a wired sheet.
Cranberry, Orange, Espresso Glaze
In a medium sized bowl, combine all ingredients and whisk until well combined. Pour over cooled Bundt Cake.