Today I'm bringing my love for shrubs and health conscious beverages together as one.

If you're new to Liquid Culture, than you may not know about my obsession with Shrubs. Well, truth be told, I have a lot of passions and obsessions when it comes to LC, but spreading the love and education for Shrubs has been an ongoing battle. I'm constantly asked on a regular, what are Shrubs? The simplest definition I can give is that it's a sweetened vinegar-based infusion. I know the looks I get, and it's the initial thought of drinking a whole glass of vinegar. It's not even close to this gross concept, and adds such a depth and character to any drink you make. Now, of course I can continue to educate you on the matter, but we are here for a recipe, and if you want more details, then you must give my article 'What the Shrub' a read!
As fate would have it, I met the team behind Toronto's False Ox and they have an incredible line up of Shrubs and Switchels. Working with them has been such a breeze, and so easy to incorporate my love for shrubs in LC. They are wonderful products on its own with soda, in cocktails, or in today's recipe…a health conscious juice!
For today's recipe, I use False Ox's Grapefruit and Rosemary Shrub Concentrate to create a drink that you may or may not include alcohol. Liquid Culture is so much more than just combining wonderful boozes together. It's all about the world of libations, so you will see a mocktail here or two. With this shrub, I combine some fresh Anjou Pears, white seedless grapes and fresh grapefruit to create an insanely flavourful juice. Are you drooling yet? Well you should. So why not start off the week on the right foot with this delicious cleanse!
If you plan to pair this juice with alcohol, it would best pair with clear spirits, such as gin and vodka. Rum went well with this as well, but make sure to keep it to a white rum for the 'healthier' option!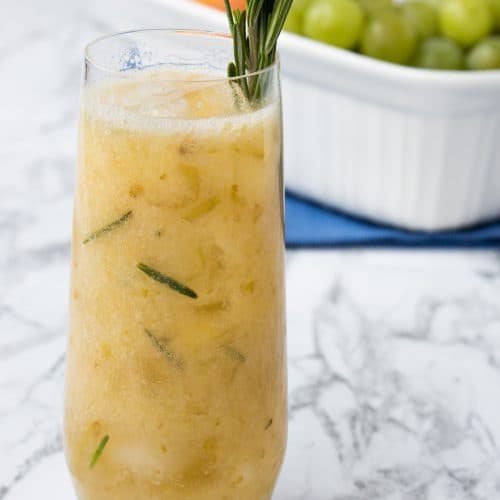 Pear, Grapefruit and Rosemary Juice
A vinegar based juice cleanse with pear, grapefruit, rosemary and so much more!
Difficulty: Easy
Ingredients
1

Anjou Pear

1

Handful of White Seedless Grapes

approx 12

½

Grapefruit

Freshly Squeezed

½

Orange

Freshly Squeezed

1

Sprig Rosemary

Removed from stem

¼

cup

False Ox's Grapefruit Rosemary Vinegar
Instructions
Place all items in a blender and blend
Recipe Notes
This recipe can be strained, but I prefer a thicker viscosity, so I don't. The yield will be slightly less if strained, but still very tasty!