Cast Away is one of those nostalgic films that I'll never forget as a child, and Tom Hanks attachment to Wilson is pretty much how I would feel if I was cast away on an island with just my peaches in hand. So what else would I bring on this island? This cocktail. This tiki-inspired, Apricot, Rum and Peach deliciousness right here. Lucky for you, you don't have to be abandoned on an island to get the recipe.
I don't normally name my cocktails, because a lot of times, it's like pulling teeth. Most bartenders can openly admit that it can take twice as long naming a cocktail as it is to conceptualize it. It drives me crazy, as I'm sure it does for most bartenders. But I knew I had to be creative, and I didn't just want to title this "Tiki Peachi". I probably just saw a Tom Hanks film, and with the thought of tropics and island in mind…boom! It hit me…WILSON! Again, if you were born in my generation (I am not 1000 years old but I sure am sounding like it), this movie was everything, and I'm happy to name this cocktail after something so influential (yes, you can probably guess I watched way too much movies back then).
Now that I've dated myself, lets get to the reasoning behind this cocktail. What I love about tiki style drinks is the layers of flavours and infusions that's involved. Working with stone fruits, such as peaches and apricots, it naturally pairs BEAUTIFULLY with cinnamon and cloves. It's a match made in heaven, which is why I knew I had to go into this direction. Growing up with my Brazilian and Cuban heritage, I've been accustom to a ton of spices, ginger, and the obvious bright flavours of pineapple! I'm drooling already and I haven't even gotten to the recipe yet. Needless to say, with a touch of spicy ginger beer with fresh pineapple juice, this cocktail hits all my points and vibes of summer, which I'm sure you'll obsess over too.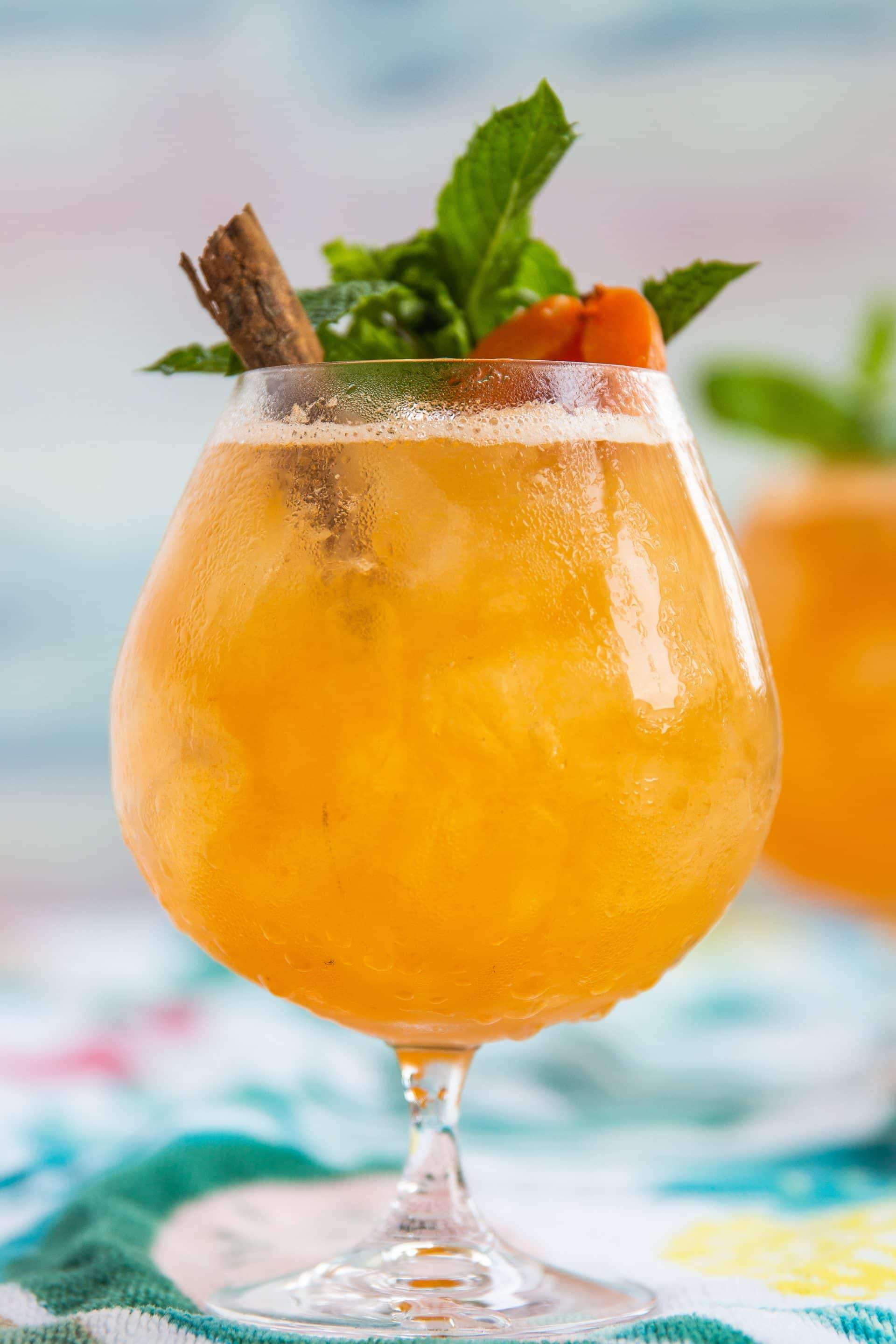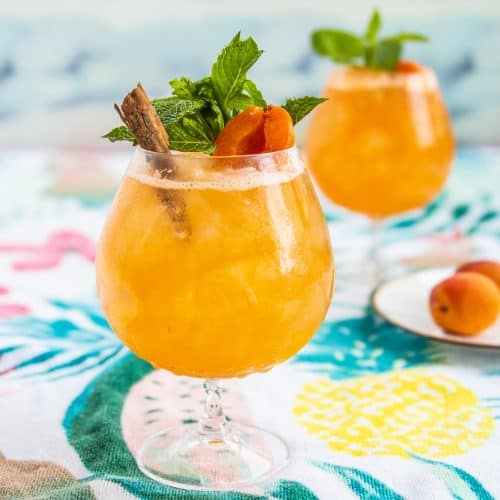 Wilson
A tiki-inspired Peach and Apricot Cocktail with fresh pineapple, blends of bourbon, falernum and ginger beer!
Difficulty: Intermediate
Ingredients
1

oz

Amber Rum

Six Saints Grenada Rum Used Here

3/4

oz

Havana 7 yr Old Rum

3/4

oz

Falernum

1

oz

Pineapple Juice

Preferably Fresh

1/2

oz

Peach Syrup

5

Apricots

Pits removed and save 1 for garnishing

3

dashes

Angostura Bitters

2

sprigs

Mint

1 for Garnishing

1

oz

Ginger Beer

Preferably spicy (Grace is a great choice, or anything local)
Instructions
In a shaker, muddle 4 apricots to a pulp and lightly press 1 sprig of mint before adding to the shaker

Add the rest of the ingredients (except Ginger Beer), fill the shaker half way with ice and shake

Strain over crushed ice and top with ginger beer. Garnish with apricot and mint
Recipe Notes
I wasn't the biggest fan of the falernum recipe I made, so I haven't attached a home made recipe yet. I'd go to Imbibe for a better version, or just wait until I come up with something I love!
For the Peach Syrup used in this recipe, follow the directions here.