Just when you thought Liquid Culture couldn't get any cooler, I'm about to drop some delicious boozy treats that will have everyone calling you the Queen (or King) B of the party.
Growing up I was obsessed with Jello. Who wasn't? But sometimes when I look at the package and the list of ingredients, I kind of twist my head in a bit of confusion. I'm definitely one of those annoying shoppers that reads the ingredient list at the supermarket. I'm not excessively looking at the carbs or the amount of sugar involved, although it does catch my eye, but if I can't pronounce half of the items, somethings wrong. I've been this way since I started reading a bunch of Michael Pollan's books and it all started with In Defense of Food. I read this book more than 10 years ago and I still think about it today. I'm passionate about where my food comes, and I know it has a direct effect on my body. I'm old-fashioned, but I know this OF gangster way is the reason I'm still healthy and living a balanced lifestyle.
Wow, got way off track there. Back to the Jello. I knew people were creating homemade Jellos with real juice, so I thought, why not create a cocktail in a similar form? It's a boozy treat that no one will expect, and….you can actually taste the alcohol. A lot of times, the recipes cook out the alcohol so it will have little to no effect. Obviously, I want things consumed responsibly and in moderation, but if the base spirit can't be highlighted than what is the point of incorporating booze?
Now the only thing that may seem weird or different from the ingredient list is the gelatin. You can't get away with substituting this ingredient, because you need it to hold the jello in place. You have the option of gelatin leaves, which are great if you work at a restaurant and besties with the pastry chef, but I don't find them very accessible to markets. I used unflavoured gelatin powder for this batch and I was very happy with it. So this is completely up to you, and what you have access to. I just can't tell you what the ratio of gelatin powder to gelatin sheets would be, you'll have to ask google for that one.
I wanted to create something easy and approachable, so I created a Peachy Amaretto Sour. This is DEFINITELY the fancier upgrade from your jello shots that you probably survived off of in college. Get a bit nostalgic and cook up this recipe this weekend! It's surprisingly simple, and you may wish you made more…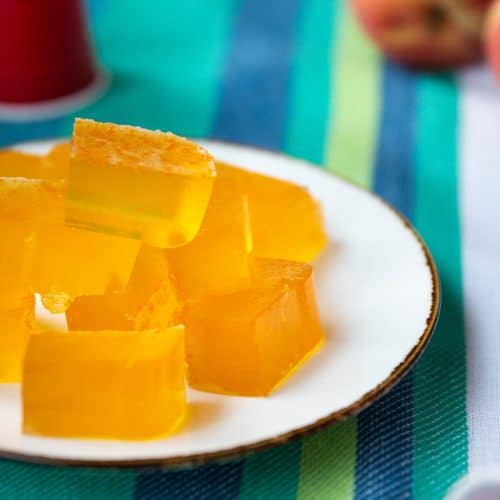 Peach Amaretto Jello Shots
An upgrade to your jello shot game, with a homemade recipe using real fruit juices...oh and the obvious Liquid Culture Influence. Eat Responsibly!
Difficulty: Intermediate
Total Time
1
hour
20
minutes
Ingredients
1

cup

Peach Juice/Lemonade

see below for details

1.25

cup

Granulated White Sugar

1/3

cup

Lemon Juice

Freshly Squeezed

4

tbsp

Unflavoured Gelatin Powder

1

tsp

Peach Flavour Oil

Lorann Oils Recommended

1/2

cup

Amaretto

2

tbsp

Grand Marnier

1

Orange Zest
Instructions
In a medium saucepan, place peach juice, sugar and lemon inside and give this a stir until well combined

Sprinkle the gelatin evenly overtop of the liquid and let this sit for 10 minutes before putting on the stove

Over med-high heat, bring the mixture to a boil, making sure to get rid of the clumps from the gelatin

The second it starts to boil, take it off the stove and stir in the Amaretto, Grand Marnier and zest one whole orange.

Pour this into 20 shot containers (or an 8 x 8 container) in the fridge for at least 1 hour before serving
Recipe Notes
For the peach juice, because I didn't have any in the fridge, I simply muddled fresh peaches and added water. I definitely recommend picking up peach juice from the grocery store if you have time, and if you do, bring down the sugar to 3/4 cup for this recipe. Using 1.25 cups will just be insanity, and you'll hate me for wasting alcohol.