I will admit, I am becoming syrup obsessed. It's just so incredibly simple and useful to have lying around! This section is a dream come true for the soon-to-be moms and for those who just don't drink (that's right! I think about you too xo). And with the Spring season upon us, I couldn't help but throw together a delicious rhubarb Syrup.
I never really grew up having rhubarb. Not sure if it's a Spanish thing, but it just was never around the house. So whenever I'm stuck with flavour pairings, I always refer to 'The Flavor Bible'. Anytime I'm cooking and/or creating, I pretty much gravitate to this book. It's a life changer and keeps me always inspired and pushing my culinary boundaries. Rhubarb and Cardamom came up as a flavour match and believe me, you don't need to convince me with cardamom. It's my favourite spice. PERIOD. It's so unique and aromatic, and that's the only way I can describe it. So if you've never had it before, be prepared for a whole new world with this spice!
So there you have it folks. A simple, refreshing syrup that can literally go with anything! Toss it in your soda water. Throw it in a cocktail, try out this delicious Spring Punch recipe. Enjoy!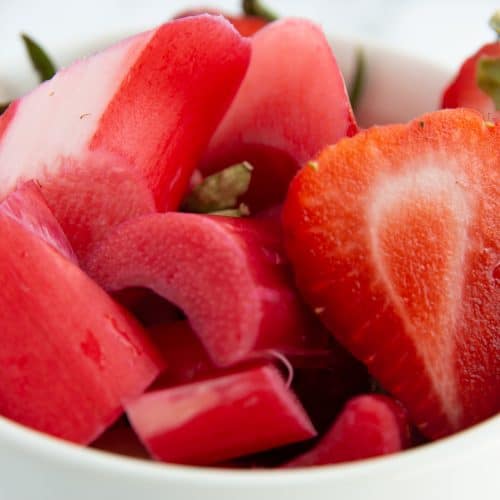 Rhubarb, Strawberry and Cardamom Syrup
A delicious addition to the syrup library here at Liquid Culture.
Difficulty: Easy
Ingredients
1.5

cups

Fresh Rhubarb

Chopped

1

cup

Fresh Strawberries

Ends removed and quartered

1

cup

Water

3/4

cup

Granulated White Sugar

10

Green Cardamom Pods

4

Black Peppercorn
Instructions
In a medium saucepan, bring the heat to med and lightly toast cardamom (approximately 1 minute)

Once you smell the aroma of the cardamom, add the rest of the ingredients and give it a stir

Bring to a light boil and adjust heat to low and allow this to simmer for 10 minutes

Remove from heat and strain (You can discard the left overs, or it can be easily dressed as a jam!)

Let it sit until it reaches room temperature before storing in fridge. Can last up to 2 weeks refrigerated.