You voted, and here are the results of this week's #DrinkYourGram! With COVID-19 keeping us in isolation and having us bake a lot more, I thought why not take the time to create a special Spring Shortcake for the Easter Long Weekend. The mix of Disaronno Amaretto and Bastille Whisky made this the ultimate adult upgrade to such a classic recipe. Want to find out how to put it together? Check out the recipe for this Strawberry Basil delight below!
For those of you new to Liquid Culture, you may not know about the #DrinkYourGram initiative. Every Tuesday, I get my followers to vote on what they would like to see/create on that particular week. The themes always change, depending on the season, special dates, etc. This week had me in the kitchen all week, so I thought, why not whip up a Boozy Dessert for my followers. I love experimenting with alcohol and booze. It's not easy. I'm not a baker, because I don't have the patience for it, but it's a challenge that pushes me out of my comfort zone which really is what Liquid Culture is all about.
I know how intimidating it can seem to whip up cocktails at home. Bartenders make it seem easy, or maybe not, so the fact that you're willing to take this chance, I applaud you! Now for this week's vote, I asked my followers to respond to the following: Whether they wanted a sponge cake or cupcake, something Sweet or Tart and lastly something made with a Dark or Clear Spirit. Spring Sponge Cake, Sweet and Dark Spirit were the people's choice, so without further ado, I'll show you how to put this together!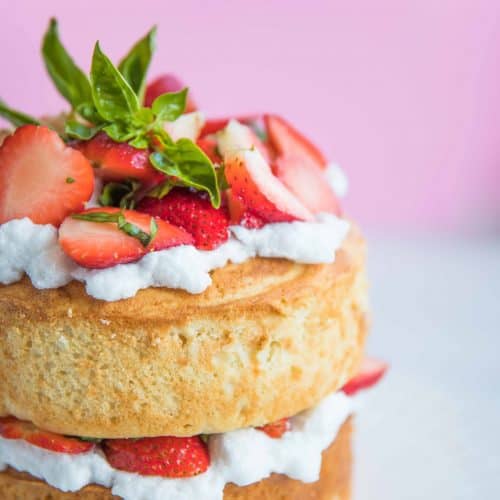 Amaretto Whisky Strawberry Basil Shortcake
Get an adult upgrade to your favourite classic dessert recipe. Made with Disaronno Amaretto, Bastille Whisky and Licor 43.
– Difficulty: Intermediate
Ingredients
Sponge Cake
2.5

cups

Cake & Pastry Flour

1

tbsp

Baking Powder

1/3

tsp

Salt

1

cup

Whole Milk

Room Temperature

2/3

tsp

Licor 43

(or Vanilla Extract)

3/4

cup

Unsalted Butter

Room Temperature and cubed

1

cup

Granulated Sugar

plus 2 tbsp for reserve

6

large

Egg Whites

Room Temperature

2

tbsp

Disaronno Amaretto

3

tbsp

Bastille Whisky

3

cups

Strawberry

Sliced

10

Basil Leaves

Finely Chopped
Cream
1

cup

Whipping Cream

1

tsp

Disaronno Amaretto

1/2

tsp

Licor 43

1

tbsp

Cornstarch

1/4

cup

Powdered Sugar
Instructions
Preheat oven to 350 degrees F. Spray 2 5-inch round pans with butter or spray, and line the bottom with parchment paper.

Whisk Flour, Salt and Baking Powder together in a medium sized bowl.

Using a stand up mixing, attach paddle handle, over medium speed, mix butter and 1 cup sugar until light and fluffy (approximately 3 minutes).

In the meantime, add your milk and licor 43 to a spouted container and stir.

Reduce your stand up mixer speed to low and add your flour and milk mixture in parts. Start with 1/3 Flour mix, add 1/2 milk mixture and once combined, stop, scrap the sides and add another 1/3 flour mix, the last bit of milk mixture plus the Disaronno and Bastille Liquor. Again pause, scrape the side, and add the last bit of flour until just combine. Put aside in large bowl.

Clean and thoroughly dry stand up bowl. Attach the Whisk to your mixer and add your egg whites and whip on med-high until stiff peak form (approximately 3 minutes). Gradually add 2 tbsp of sugar until glossy and firm.

Add your cake mix to the egg whites and gently fold in until combined (try not to deflate!). Add to your greased cake rounds and cake for 35-40 minutes until centre comes out clean with a toothpick. Let it cool in the pan for 10 minutes before transferring to a wire rack and letting it cool completely.

While the cake it baking start to work on the cream. Clean and thoroughly dry your stand up mixer bowl. Attach the whisk to your mixer and add your whipping cream and whip on med-high for approximately 4 minutes.

Slowly add your powdered sugar and let it beat for 1 minutes. Add Disaronno Amaretto, Licor 43 and Cornstarch. Let this continue whipping for another minute before removing.

Slice your strawberries in quarters and finely chop basil. Mix in a bowl with a sprinkle of sugar.

Once the cake has cooled, layer cream, and strawberry on top, before adding the second layer of the cake. Repeat the process and enjoy!
Recipe Notes
Funny enough, I ran out of Pure Vanilla Extract, so I went to my bar and substituted a dash of Licor 43! I can't tell you enough how much I love having this product for my home bar and kitchen and it's forever a must for me!
Don't want any alcohol for this recipe? No problem. The almond notes can be added with an extract, but just use a few dashes of that. The whisky can't really be replaced, but if you didn't want the taste of alcohol, you probably won't mind that it's gone.