Is there really anything more refreshing than an Aperol Spritz?! It's one of my go-to cocktails of the summer, especially when I'm looking for something quick, easy and extremely simple to make. So with that in mind, it only made sense that I would put something together for my favourite fruit of the week…PEACH WEDNESDAY!
If you have never heard of Aperol before, it is an Italian Aperitif with a beautiful balance of sweet, bitter and orange aromas. It's truly unique and unlike anything else behind the bar, and if you're a fan of bubbly classics, this is definitely a cocktail you'll enjoy all summer long.
For those who aren't a big fan of the bitter taste of Campari (don't worry, I had a moment in time where I didn't), I would say Aperol is the sweeter cousin to Campari. It's a great way to substitute those bitter flavours with a bit more orange, sweetness and balance. For example, if you wanted to substitute Campari in a negroni, I would recommend trying out Aperol to slowly ease yourself into the bitter liqueur world. It's a staple for ANY home, and it's one of my recommended bottles in my How-to Article on Setting Up Your First Home Bar!
Enough about Aperol, let's get to the cocktail already. With this rendition, I simply added some of Liquid Culture's Simple Peach Syrup, with some fresh Donut Peaches! These little guys are very similar to the White Flesh Peaches, so if the cute donut peaches aren't around, I would grab some of these instead. I find these peaches have a bit more of a fresh taste, and not overly sweet. Cheers to a bubbly Hump Day!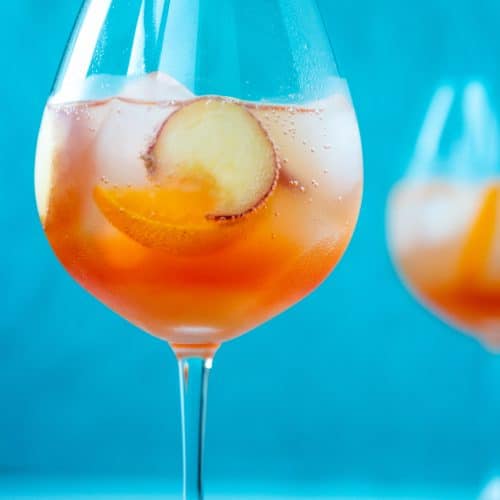 Aperol and Peach Spritz
An amazing adaptation of an Aperol Spritz with a touch of homemade peach syrup and fresh white peaches!
Difficulty: Easy
Ingredients
2

parts

Aperol

1/2

part

Peach Syrup

3

parts

Sparkling Wine

1

part

Club Soda

Fresh Peach Slices and Orange

for garnishing
Instructions
In a wine glass of your choice, fill with ice

Pour all ingredients and garnishes, and give this a quick stir
Recipe Notes
Sometimes I'm not specific to ounces and I measure the items in 'parts'. I find with these measures it's easier to throw together in any sized container, and it's a forgiving cocktail that doesn't need precise division. So if you have one of those wine glasses that can fill an entire bottle, at least now you don't have to convert any numbers here, and easily throw it together!