Its been a while since I've posted a boozy dessert for Liquid Culture. The thing is…it's very time consuming. I'm fairly new when it comes to mixing spirits and desserts, so know that when I post up a dessert recipe, I've done the painstaking work and research so you don't have too! Today I'm very excited to share with you this outstanding Blood Orange, Gin and Coconut Tart. It combines so many of my favourite flavours all into one delicious pastry. 
This was my first attempt at a tart. EVER. And I have to say that I need to give the bakers out there a massive shout out, especially those on Pinterest, because THIS IS NOT EASY. Those perfect, flat, almost reflective tarts are hard to recreate, especially when you're like me and never actually follow a recipe. Considering I'm so meticulous when it comes to cocktails, I don't have the same patience with baking. So the next time you see a stunning display of pastries and cakes, give the team a pat in the back, because they are the real MVP! This was also a friendly reminder that with everything, it takes practice, and you can bet that I will not stop until my tart is #DessertPorn worthy!
With this winter season flooding the markets with Blood Orange, I took the opportunity to put that zesty, yet sweet citrus in this delicious creation. I can't explain why I wanted to pair it with Coconuts, because it doesn't typically go with Gin, but I had my mind set on pairing the two flavours. It worked out in the end, and I used the bartender favourite, Coco Lopez, as the Cream of Coconut for the curd centre.
---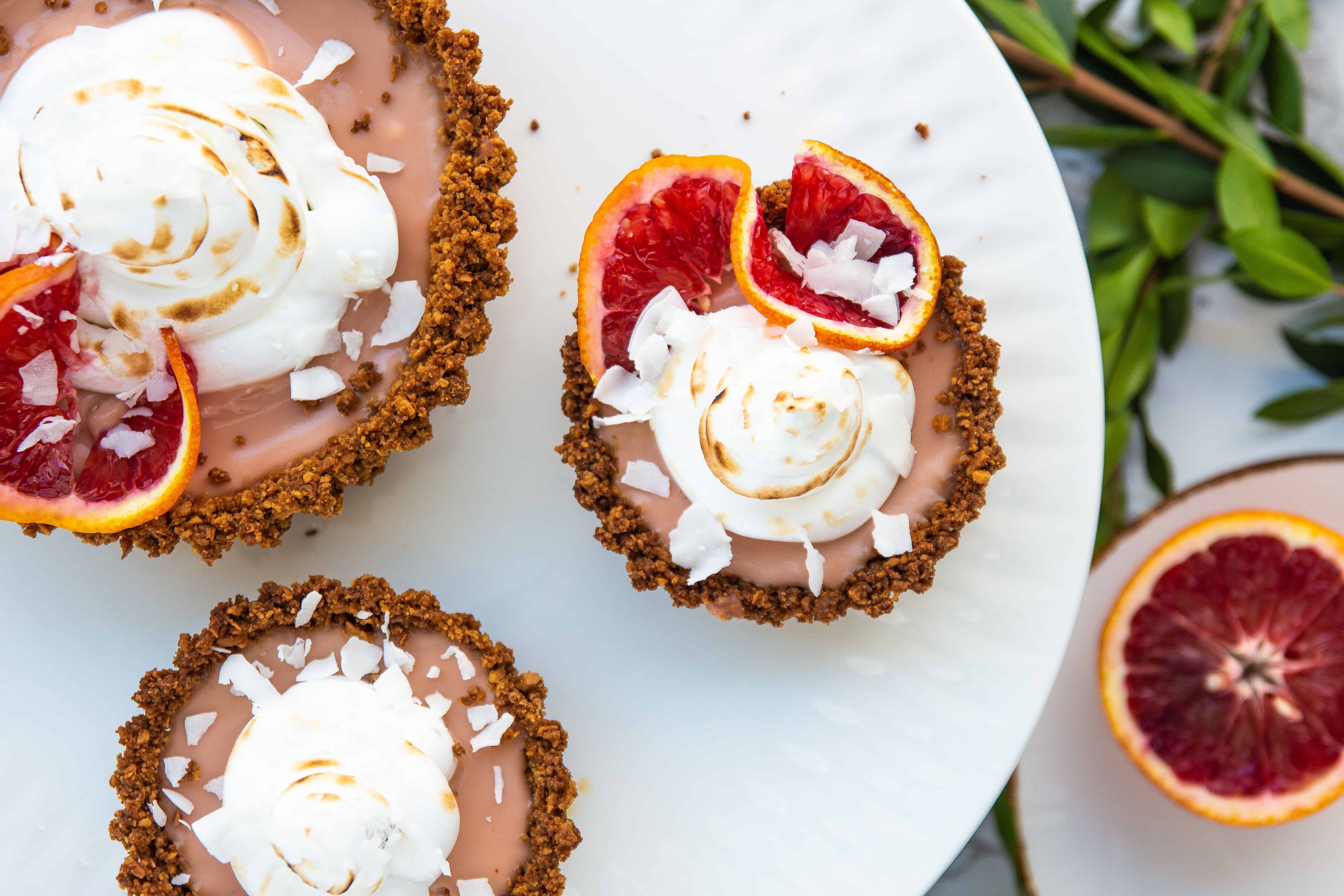 ---
I feel that it's important to mention my battle with the centre of the tart. I had played around with the idea of baking it, adjusting the eggs to egg yolks, with or without gelatin, the gin ratio and citrus. I tried it all, and I have to say I wasn't the biggest fan of the baked product. The gin was pretty much non-existent when baked, and I truly don't believe there's a point to adding alcohol to a recipe if it's not going to add and/or compliment a dish. ANOTHER important lesson of the day was the fact that you HAVE to add the zest when you're making the curd or whatever centre you decide. Even with pure, freshly pressed juice, it just doesn't have that same vibrancy and edge. Part of the process with this recipe is to strain out the curd before it gets placed into the tart, which eliminates that worry of people getting massive chunks of zest.
When deciding on a gin, I would definitely go with a juniper forward style, such as a London Dry. I went with the Caorunn Scottish Gin for this recipe, due to its bright and acidic palate, while having a slightly vibrant note of juniper. Of course, if there is a gin that you love, or you can't seem to find Caorunn at your local store, just make sure to pick up a LONDON DRY GIN. Do NOT go for the Botanist or Hendricks here. It will get easily masked with the citrus and coconut notes, and as I mentioned, if you can't taste the accents of the alcohol, then what is the point of having it in your dessert?
One more note before I dive into the recipe. This feature here was made with a fairly generic meringue top. Nothing fancy, just a simple combination of egg whites, cream of tartar and powdered sugar. You don't have to stick to this. I have a tonic syrup that I definitely plan to use next time around to round out that gin flavour, but you can literally infuse this top with ANYTHING! Add Vanilla, cinnamon, citrus, another complimenting booze such as Grand Marnier! The skies the limit with this. Just make sure to add it at the end of the process with the sugars.
Alright, I think I've about bored you enough and I'm sure you'd love to get to a recipe at some point. So without further ado, I bring you a tart.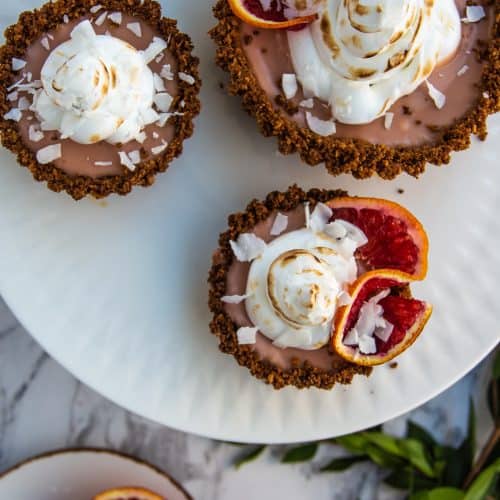 Blood Orange, Gin and Coconut Tart
A boozy dessert that features a biscuit and coconut crust, blood orange and coconut centre perfectly highlighted with Caorunn Gin with a Toasted Meringue Top!
Ingredients
Crust
200

g

Digestive Biscuit

Lotus Biscoff used here

50

g

Desiccated Coconut

125

g

Unsalted Butter

melted
Curd
125

mL

Coco Lopez Cream of Coconut

150

mL

Blood Orange Juice

Freshly squeezed

50

mL

Grapefruit Juice

2

Whole Eggs

3

Egg yolks

save egg whites for meringue

2

tsp

Blood Orange Zest

Zest 1 blood orange

3

tsp

Cornstarch

5

tbsp

Unsalted butter

chopped into 1/4 cubes

3

tbsp

London Dry Gin

Caorunn used here
Meringue
3

Egg Whites

1

tsp

Cream of tartar

3/4

cup

Powdered Sugar
Instructions
Crust
Preheat oven to 350 degrees F.

Pulse biscuits and desiccated coconut in a food process until it is ground up like sand. Add to a small bowl and stir in the melted butter until evenly distributed.

Line your tin molds (9 inch rounds with removable bottoms x 2) with the crumbs. Starting from the sides and pressing your way to the bottom. Keep in freezer for 10 minutes.

Place molds on a baking tray and let this cook for 12-15 minutes, until golden brown and gives off a slightly toasted smell. Take it out of the oven and allow this to cool before filling in the tart
Curd
While it's baking, start to work on the curd. Create a double boiler affect (small saucepan with a little bit of water, with a heatproof bowl over top). Add the Eggs and egg yolk with starch and whisk vigorously for approximately 1 minute before slowly pouring the blood orange juice, grapefruit juice, cream of coconut and zest.

Continuously whisk until it thickens (at least 5 minutes)

Once thickened, remove from heat and stir in butter and gin until melted. Cover with plastic wrap and leave in the fridge while the crust cools.

When the crust is finally cool, fill in your pie with the curd. Leave it in the fridge for a minimum of 2 hours or overnight before serving.
Meringue
Make sure your stand up mixer bowl is completely dry and clean

Add egg whites and cream of tartar and whisk at medium speed until it begins to foam and hold soft peaks

Turn the speed up to high and add sugar one spoonful at a time. Make sure that you allow time for the sugar to fully incorporate before adding the next spoon. You will notice that the meringue becomes glossy and much more firm

Whisk until it is stiff enough that the meringue doesn't drip from your spoon

Add the meringue into a piping bag or simply add a dollop on top of your tart before using a kitchen torch to toast. You could also add it to the broiler, but be very mindful and careful under this setting!
Recipe Notes
There's a few things I wanted to mention with this tart. 
The following recipe makes 2 9-inch tarts
The tart crumbles a fair bit here because I wanted to avoid using too much butter. The measurements written out here is exactly what I used to put it together. If you want something that will hold better, increase the butter to another 50-100g. 
Only start the meringue when you are about ready to serve the tart. So what's great about this recipe is that it can be done in advance!
Now I went fairly basic with the meringue on top, and I loved it, but it is easy to infuse any flavour you want. Add a splash of Grand Marnier, or orange zest. You could also add some tonic syrup to tie in the gin flavours of the tart!
IF you hate coconut (oh god, I don't know if we can be friends), that's okay! Simply substitute the cream of coconut with granulated sugar!