Drooling yet? Well don't feel bad, because I did the exact same thing when I went through these photos and recipe! With this feature, I wanted to create something bright and fresh to celebrate National Irish Coffee Week. It's a wonderful Apple Sour, made with a Coffee and Cinnamon infused Irish Whiskey, with fresh pressed Honey Crisp Apples, lemon juice and honey. It's a simple combination that's jam PACKED with flavour that I'm sure you'll love as much as I did.
With National Irish Coffee Week in full swing, I took this opportunity to showcase the versatility when it comes to pairing with Coffee. It tends to be a flavour that's dominant in whatever aspect or form it shapes. But today I decided to use it in the most subtle of circumstances by infusing it into Irish Whiskey. First off, if you're looking for the infusion recipe, you'll find the recipe linked here titled Coffee and Cinnamon Infused Irish Whiskey. Now when it comes to the infusion, Espresso Beans can leave a bit of a harsh and bitter taste. To help round out the flavours, I threw in a cinnamon stick into the infusion. This helped to sweeten the taste profile without adding any sugar.
Now I had to do a bit of research when it came to deciding which Irish Whiskey I would infuse, but in the end, I chose a brand that's of great value, highly recommended, available in Ontario and easy to find! For those living in Ontario, that statement is much easier said than done. With that, I chose 'The Dead Rabbit' Irish Whiskey, due to its incredible spice notes and vanilla profile. Plus it's a whiskey that has spent a lot of time in Bourbon casks, and has a ton of honey notes that I knew would pair well with the flavours of this cocktail.
When it comes to the Apple Juice used here, IT MUST BE FRESHLY PRESSED. There are no ifs, ands or buts about this one. There is a MASSIVE difference in flavour when it comes to freshly pressed apples vs store bought apple juice. If you're one of the lucky few that's close to a market that offers it, GREAT. If not, then you will need to bust out the juicer for this one, but trust me it is worth EVERY SIP.  With that I'm going to leave you with this highly anticipated recipe right here!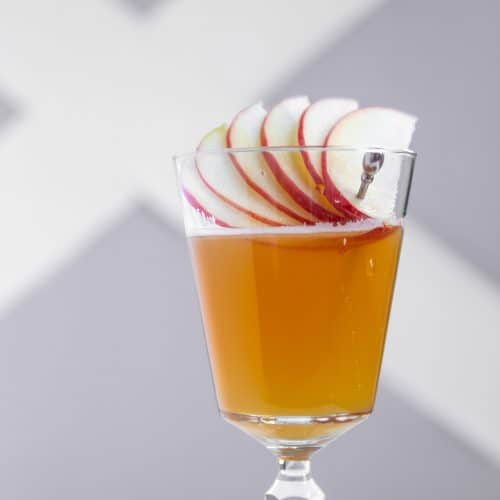 Apple Press
A coffee and cinnamon infused Irish Whiskey, using The Dead Rabbit, paired with freshly pressed honey crisp apples, fresh lemon and honey.
- Difficulty: Intermediate
Ingredients
2

oz

Coffee and Cinnamon Infused Irish Whiskey

1.5

oz

Freshly Pressed Honey Crisp Apple

1/2

oz

Freshly Squeezed Lemon

1/2

oz

Honey

2

dashes

Peychaud Bitters
Instructions
In a shaker, combine all ingredients, fill with ice and shake vigorously.

Double strain into coupe glass. Garnish with apple fan.