I'm breaking a lot of my own personal rules and comfort zones with this post, but it's Halloween, and we're supposed to indulge in sweets, right?! I'll be diving through all 4 of these different shots and my inspiration for them. Are you Halloween Cocktail Ready?!
---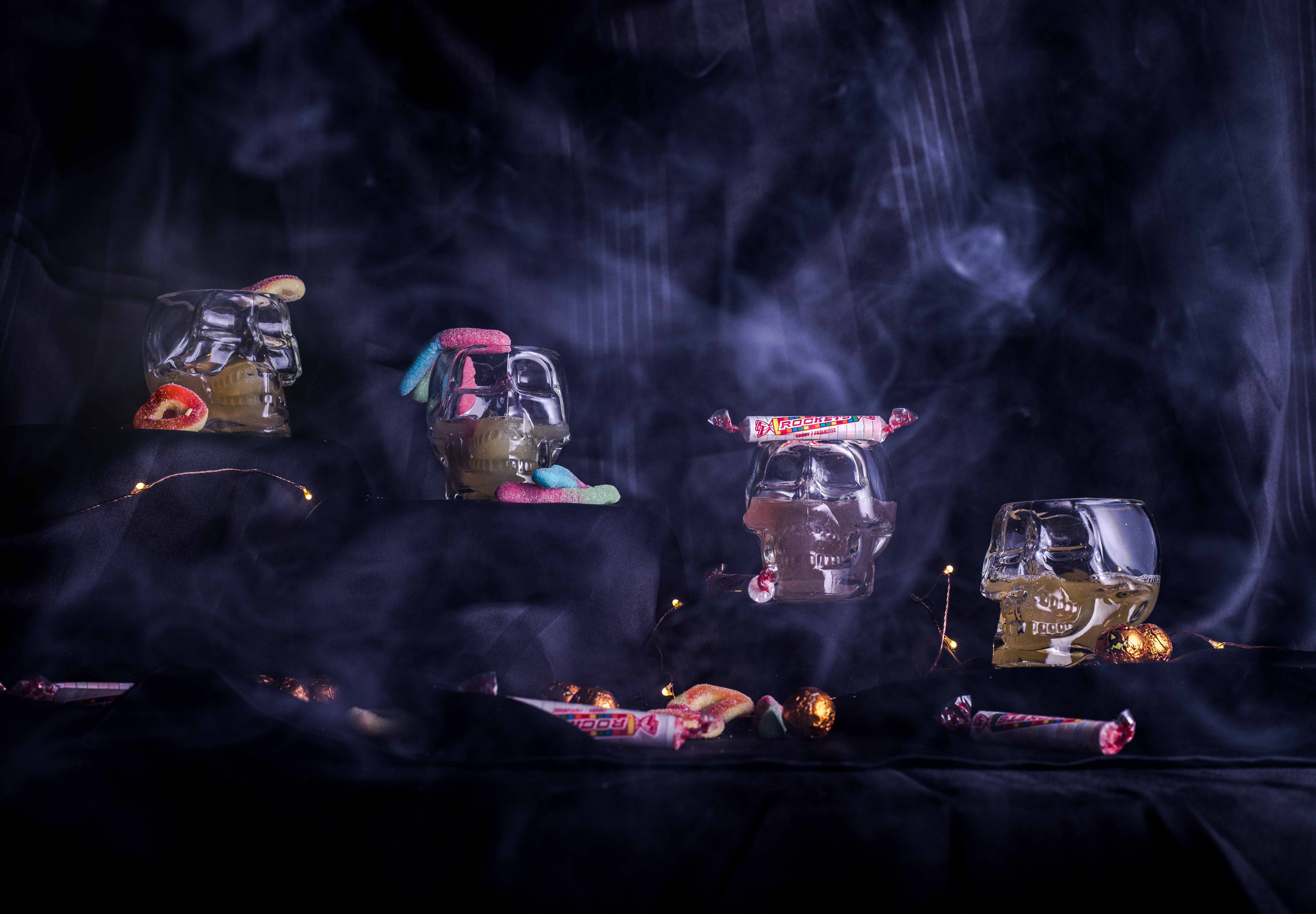 First off, Happy HALLOWEEN EVERYONE! Even though I don't celebrate this holiday, I can't resist all the cute baby costumes that pop up on my feed, and I just wish everyone a SAFE evening of trick or treating.
Now the reason I mentioned that I was breaking a lot of my own personal rules and comforts with this post, is because I used to HATE creating shots behind the bar. Most of my hospitality career was at fine dining establishments, so whenever shots was requested, I cringed and for a number of reasons. For one, it's likely because the group already had too much to drink somewhere else, causing the unpleasant convo that I have to cut them off. There's also the fact that most of the time people only knew of the "pornstar", and I only worked in one spot that carried Sourpuss. Then we have the fact that most shots requested have mountains of sugar in it, which leads to your worst hangovers. Oh, and I actually can't physically take shots. I can sip a spirit neat all day long, but the motion of shots for some reason always makes me want to throw up.
If that wasn't enough, this may be the most important note of them all; I hate what the idea of shots promotes. It's a very dangerous mentality of drinking, and promotes over indulging which WE ARE NOT ABOUT here at Liquid Culture. I know I'm sounding over protective right now, but it needs to be said. Liquid Culture will always promote Drinking Responsibly, and through education and this platform, we can become better, more informed imbibers. Building a community that can respect this notion and what distillers and bartenders create is the biggest thing I want you to take away from Liquid Culture. With that said, I decided to use some of my favourite bottles to create some quality shots I could live with. You still need the sugar component, but they truly are delicious and inspired by some of my favourite Halloween Candies! So let's check it out!
Peach Bomb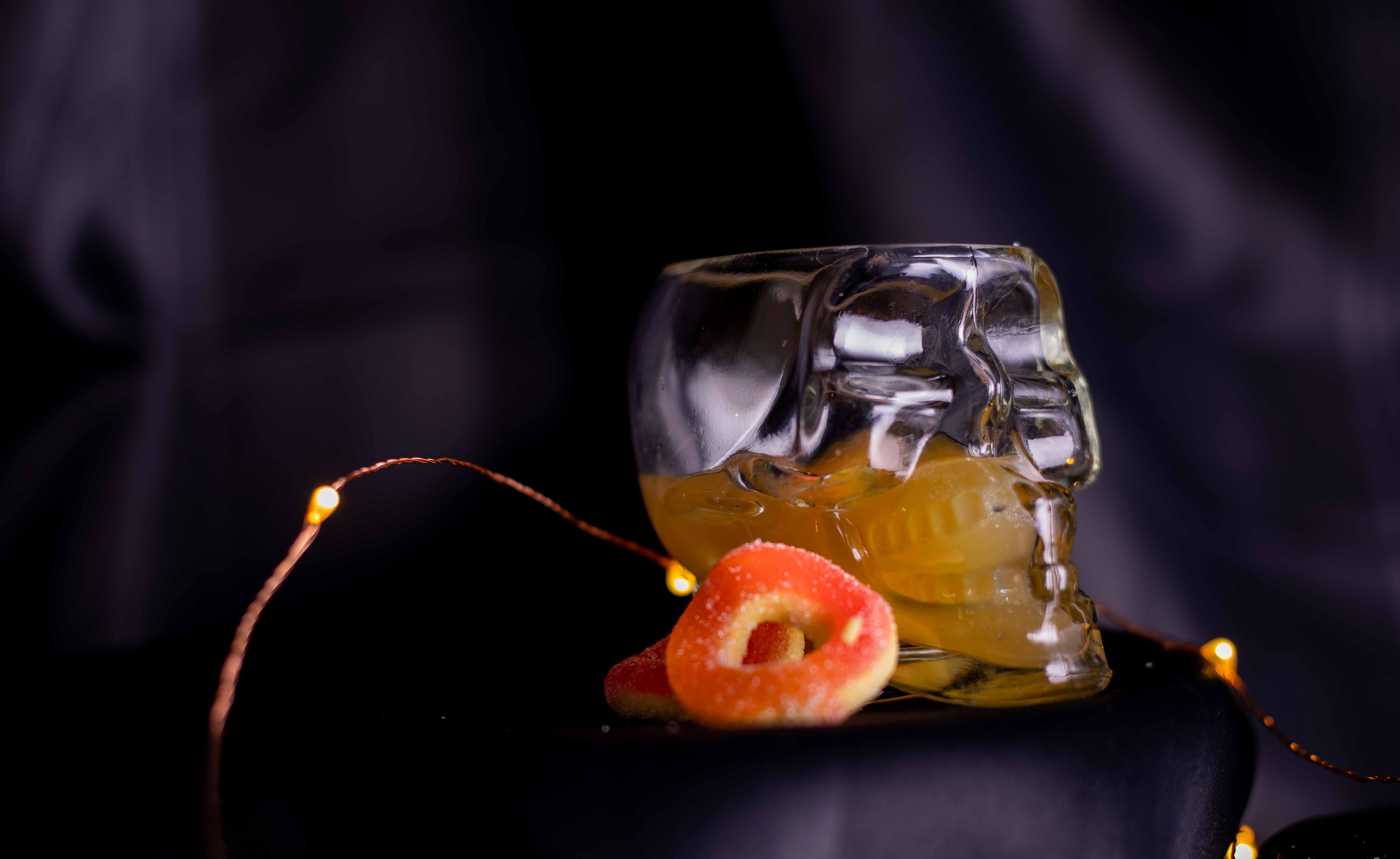 I decided to create shots around my favourite candies, and it probably doesn't come with much surprise that Fuzzy Peaches are involved. Now my bar carries a lot of unique peach products I love, including RinQuinQuin and Dillon's Ontario Peach Schnapps. But of the lineup, I hadn't used the Peach Sake yet. If you haven't seen fruit flavoured sake yet, believe me, give it another 2 years before it explodes in our market. I am ABSOLUTELY obsessed with this brand of sake, with this peach sake being particularly bright and delicious! Plus, I have to say, this cocktail/shot is actually outstanding. I mixed it with Jack Daniel's Honey and freshly squeezed lemon juice for that sour, tart component. I'll likely build a cocktail around this notion…and very soon!
Note: This (and all the shots created today) is a 2 oz pour, so that I could fill the skull glasses. Traditionally, I would pour this into 2 – 1 oz cocktail shot glasses for 2 people to imbibe.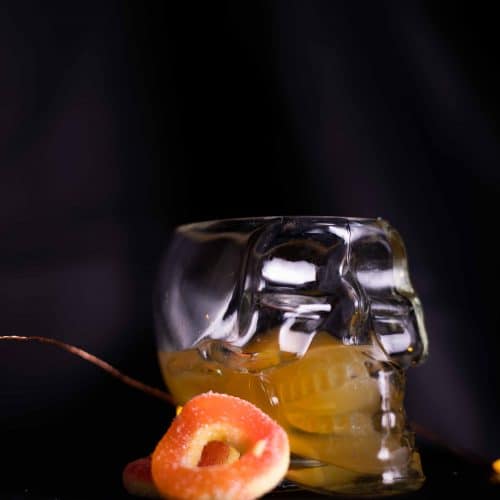 Peach Bomb
A Halloween inspired shot created to mimic the flavours of Fuzzy Peaches!
– Difficulty: Easy
Ingredients
1

oz

Peach Sake

1/3

oz

Jack Daniel's Honey

1/2

oz

Freshly Squeezed Lemon Juice
Instructions
Add all ingredients to shaker, fill with ice and shake vigorously. Strain into 2 shot glasses.
Flying Rocket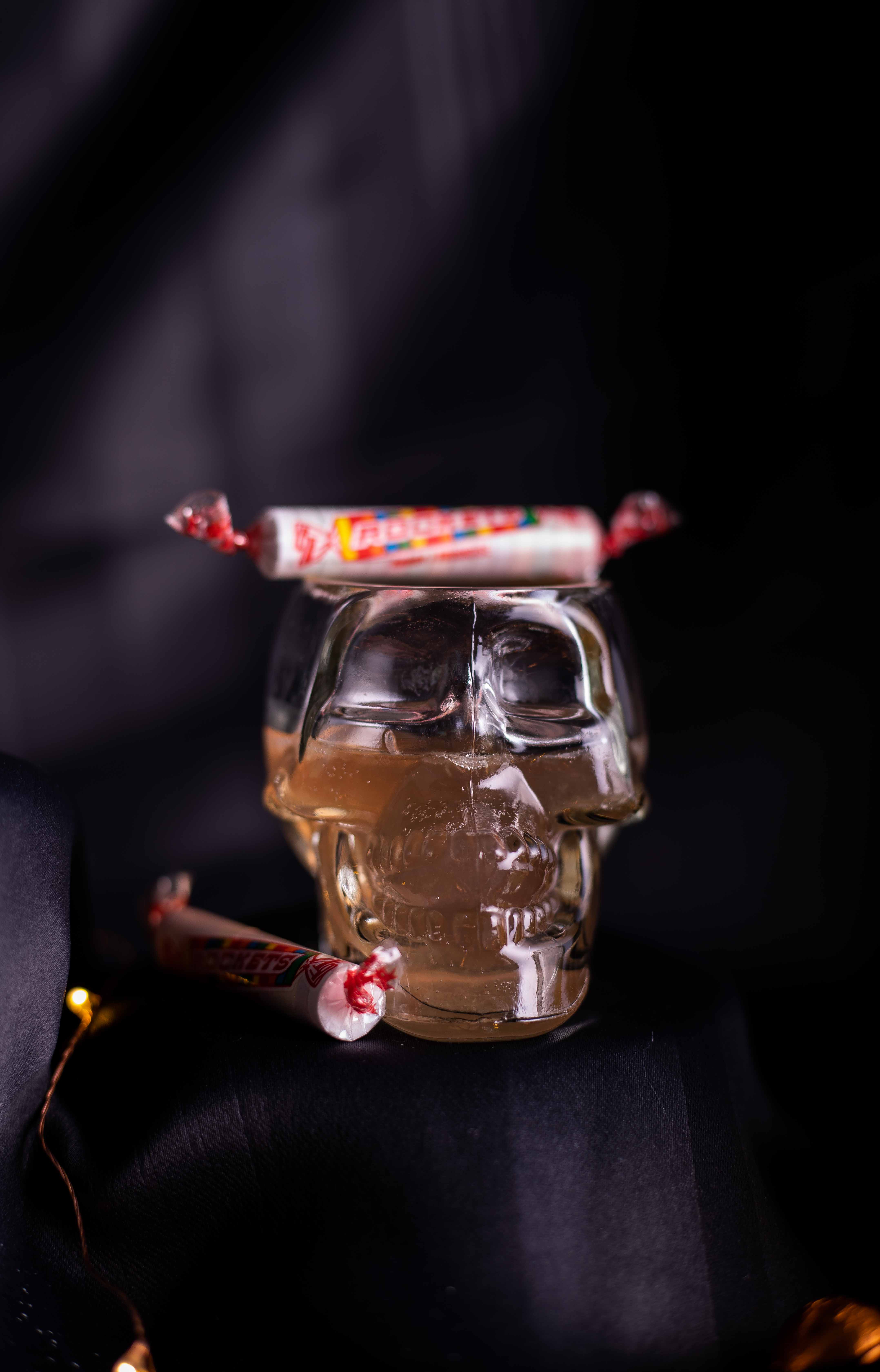 So I never officially went trick or treating in my youth. The religious and Spanish influence in my family meant our door was constantly locked at all times. I think my mom felt bad a few times because we felt left out. So we would go to the Dollar Store and pick up the candies we would want, then turn off the lights in the house, watch a scary-ISH movie and call it a night. That was our tradition, and thinking about it now, I absolutely loved it. Of the candies, I used to feel SPOILED with the little rocket candies. This was hard to nail a flavour for this, but again I went sour with this shots drink.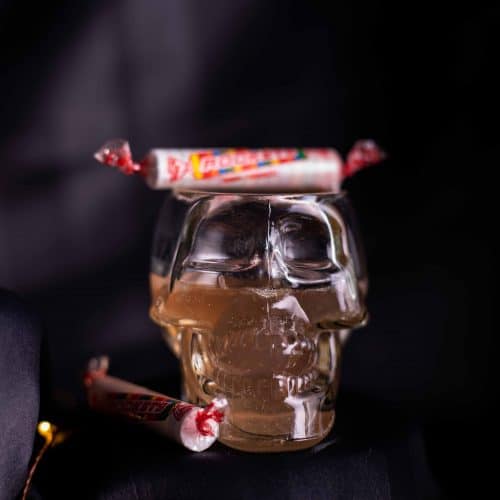 Flying Rocket
A Halloween Inspired shot cocktail inspired by the candy Rockets!
– Difficulty: Easy
Ingredients
2/3

oz

Blanco Tequila

2/3

oz

Lemoncello

1/3

oz

Grand Marnier

1/3

oz

Grapefruit Juice
Instructions
Add all ingredients to shaker, fill with ice and shake vigorously. Strain into 2 shot glasses.
Word to the Worm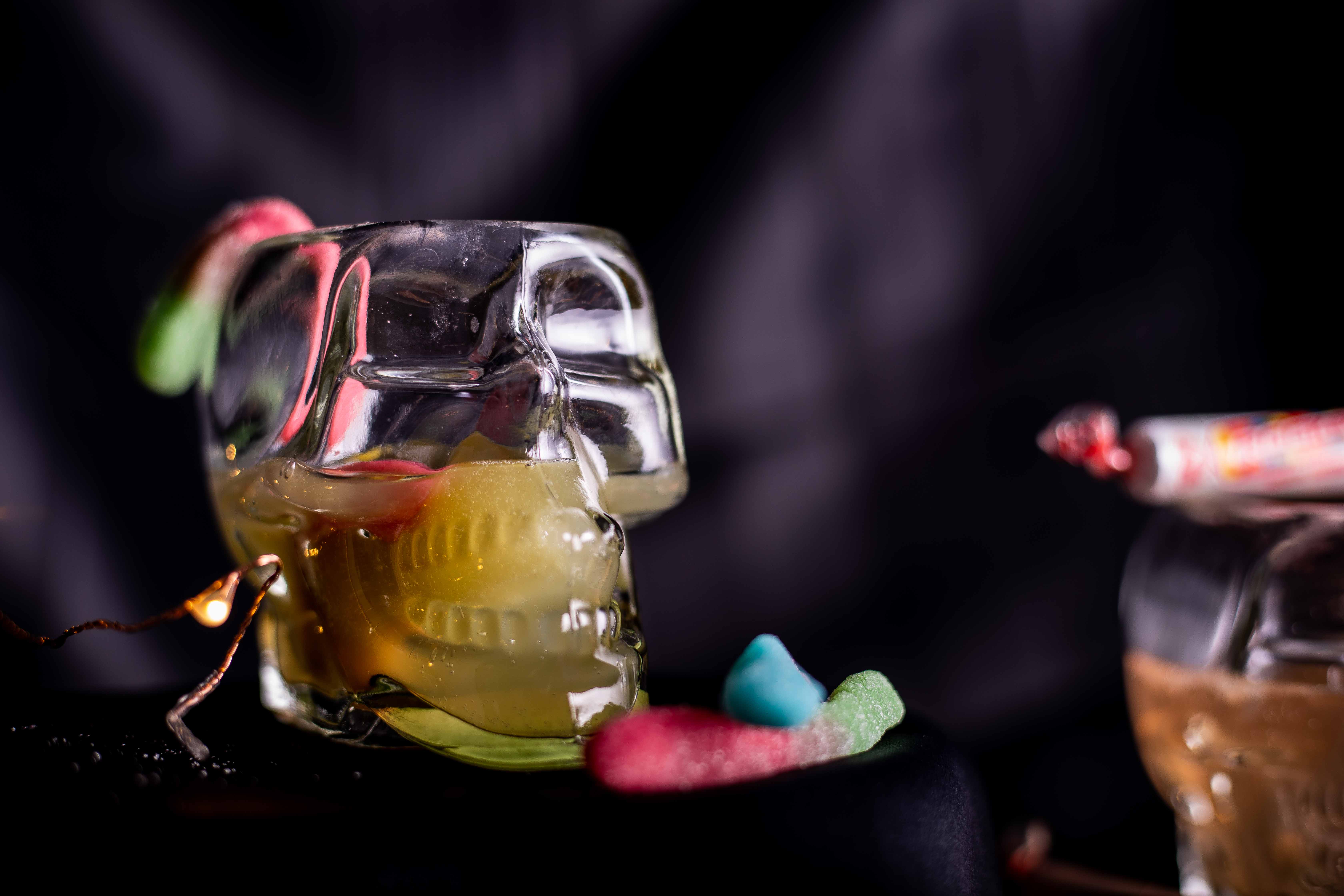 I LOVED SOUR GUMMY WORMS. Halloween or no Halloween, this was my ultimate candy for the LONGEST time. I even ate a bucket as a child that had melted in the car to make the ultimate sour gummy neon worm blob. How I didn't end up being 200 hundred pounds by 10 is beyond me.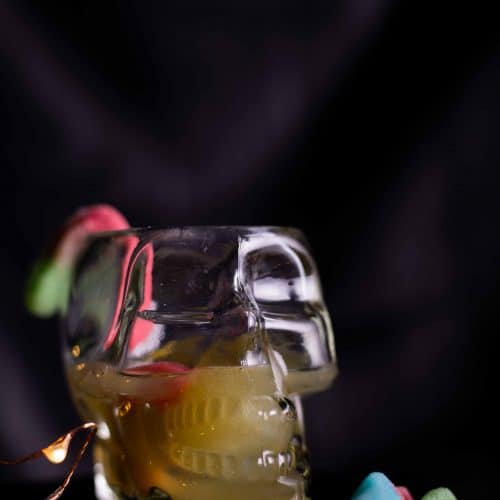 Word to the Worm
A Halloween Inspired Shot inspired by my favourite candy of all – Sour Gummy Worms
– Difficulty: Easy
Ingredients
3/4

oz

Eau Claire's Prickly Pear Vodka

3/4

oz

Freshly pressed Green Apple Juice

1/2

oz

Lime Juice

1/2

oz

Simple Syrup
Instructions
Add all ingredients to shaker, fill with ice and shake vigorously. Strain into 2 shot glasses.
Recipe Notes
Having a juicer handy for the Green Apple Juice makes a WORLDDDD of a difference. If you don't and really want to get close to this recipe, blend a green apple with a touch of water and strain through. It's more work, BUT DEFINITELY worth it. 
Or you can sub it for Green Apple Liqueur instead. I don't have a good example of one, because I don't need more liqueurs on my bar (aka I don't have space). If you do, sub the green apple juice with liqueur and omit the Simple Syrup.
Chocolate Balls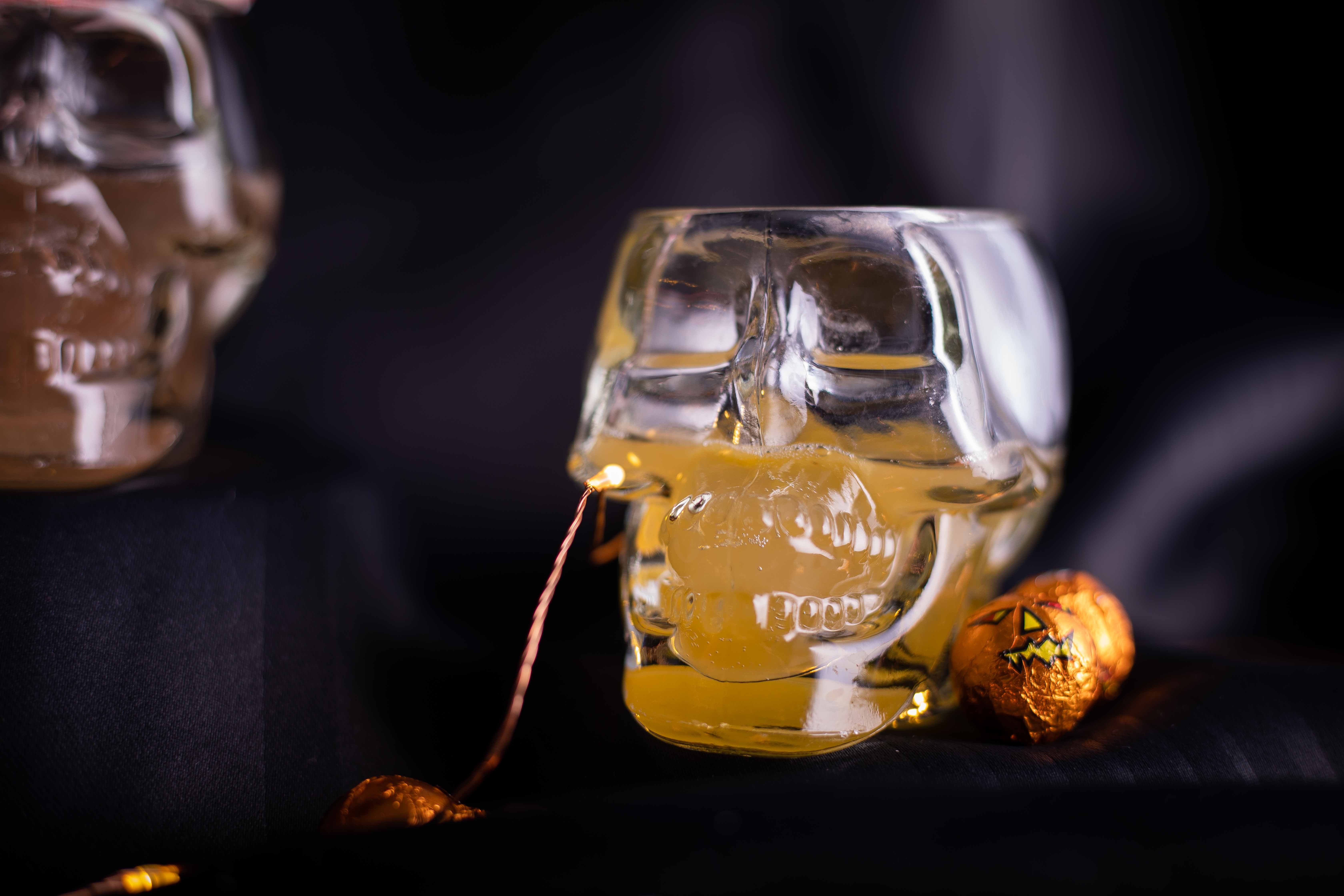 I was always a sucker for those cheap Milk Chocolate balls with themed wrappers around it. We know it doesn't really celebrate halloween and it's just the packaging but I loved it. I decided to mix orange and chocolate in one to a shot glass!
Chocolate Balls
A Halloween Inspired Shot created to mimic the delicious, cheap and cheerful milk chocolate balls with halloween decor and wrapping.
– Difficulty: Easy
Ingredients
1/3

oz

Licor 43

1/2

oz

Creme de Cacao

1/2

oz

Vodka

2/3

oz

Orange Juice
Instructions
Add all ingredients to shaker, fill with ice and shake vigorously. Strain into 2 shot glasses.
And that's it folks! Comment below with some of your favourite Halloween Candies, and let me know which shot recipe you liked best! Happy Halloween!!