I'm shaking up a riff on the classic French 75 into this Halloween inspired imbibe. It's great for those who love a little fizz in their cocktail, plus if you haven't tasted the whisky version of a French 75, you don't know what you're missing!
I've had so much fun with this week's Halloween Day Cocktail Countdown. It's pretty much the only reason I get excited for Halloween, because I don't really celebrate this holiday. With that said, I couldn't say no to picking up this amazing glassware piece from Pottery Barn. I wish I could say this was an ad and that the lovely people of Pottery Barn set this all up, but I paid, full price for these bad boys because I couldn't leave them in the store. Now I grabbed this spooky flute glass last year, and I couldn't find it online in the Canadian online store, but it was available online for the US. I'm absolutely obsessed with them, and don't be surprised if you see me use it again!
Now the first time I tried a whisky version of a French 75 was during a night out with some OG's. Lucy of Jack Daniels and Beth of Glenfiddich came together for a night of drinks and chats, which included this riff created by some stellar bartenders. It was fantastic! And I've been meaning to mix it up for some time now and the timing couldn't have been more perfect.
I wanted to move away from Glenfiddich and show some love to a Canadian spirit this time around. Gibson's Canadian Whisky has been on my shelf FOREVER, and if you've never tasted it, it's a real treat. I like to compare Gibson's to the single malts out there. This is not your typical Rye or Canadian blended Whisky. It's layered, complex and outstanding neat. Of the lineup I received, I was obsessed with the Venerable 18 yr old. I just loved it's tasting notes. It carries a ton of apricot and fall spices that I knew would pair perfectly with this cocktail.
---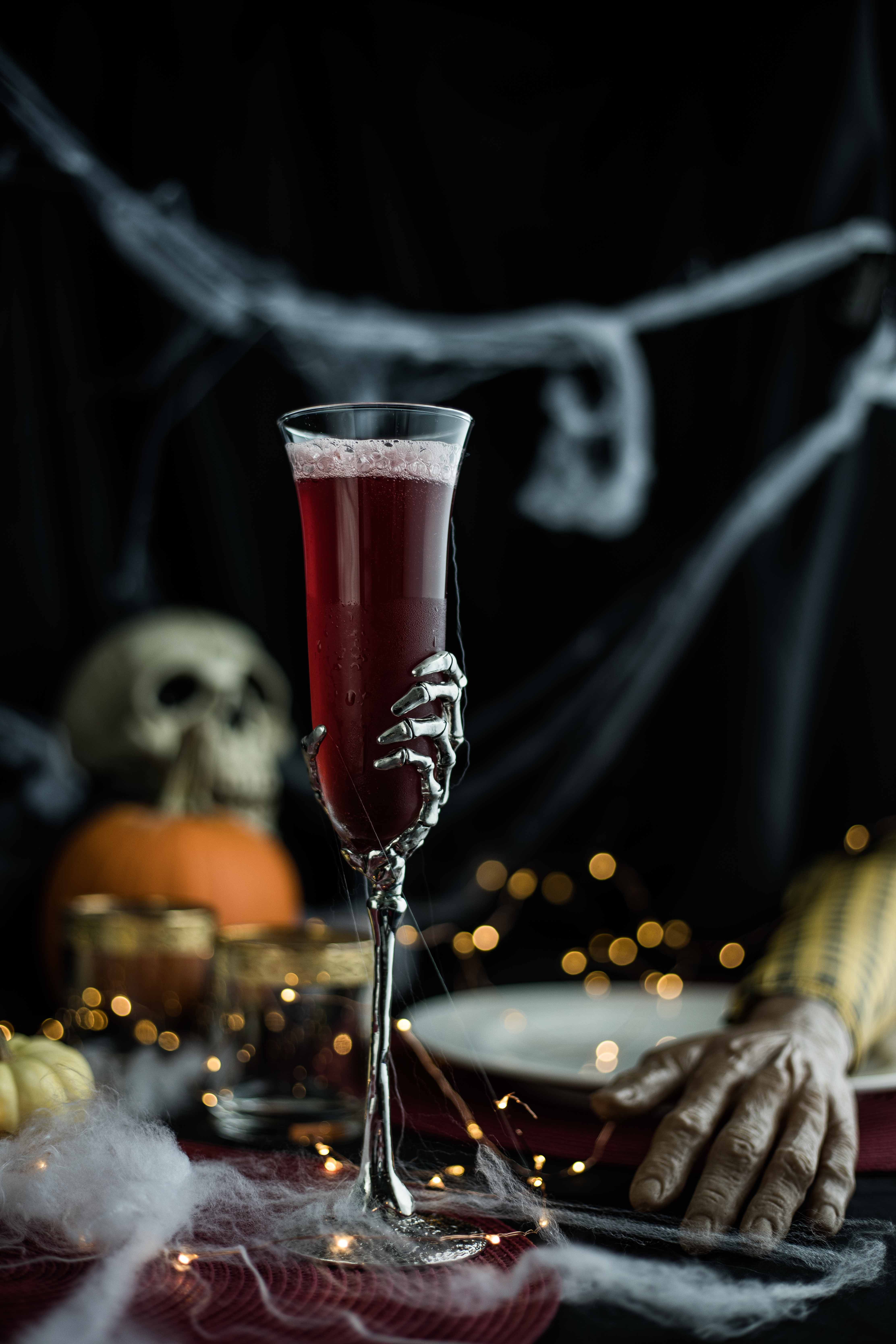 ---
This is one truly Canadian imbibe because it also features one more twist and that's Dillon's Haskap Berry Liqueur. I'll be honest, I picked up this liqueur last year and it was part of their "experimental" collection. I doubt it's still around, but I'm positive if you reach out to them and express interest, you may get lucky! For those of you that haven't heard of Haskap Berries before, it is a berry that's typically grown in the wetland regions of Canada. It brings the best of both Raspberry and Wild Blueberry, and you'll even taste a bit of Honeycrisp Apple! It is that perfect balance of tart and sweet, and as you can already guess, it's a bit rare to find. Most grocers in Ontario don't even carry it, so when you do find it, GRAB IT! It's a fairly "new breed" of honeysuckle, but as people start to learn a little bit more about this berry, don't be surprised if it explodes in the market! I've seen Haskap once before, so when Dillon's whipped up their own liqueur with it, I had to grab it.
I know I chatted a lot about the Haskap Berries, but if you're struggling to find something similar to make this cocktail, go for a pomegranate liqueur or even cassis could do the trick. I would just be mindful of the sweetness level, especially if you switch out for cassis. Add a splash more pomegranate juice to balance it all out.
And that's it folks. I've ranted long enough and I'm sure you're thirsty! So Happy Halloweening Cocktail.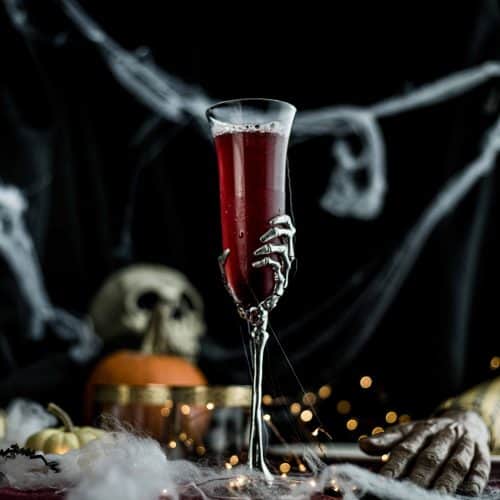 Bloody 75
A Halloween inspired riff on the classic French 75, made with Gibson's Canadian Whisky, Dillon's Haskap Liqueur, Fresh Pomegranate Juice and Sparkling Wine.
– Difficulty: Intermediate
Ingredients
3/4

oz

Gibson's finest whisky Venerable

3/4

oz

Dillon's Haskap Liqueur

3/4

oz

Pomegranate Juice

1

dash

Simple Syrup

2

oz

Sparkling Wine
Instructions
In a shaker, add whisky, liqueur, juice and dash of simple syrup. Fill with ice and give this a vigorously shake.

Strain into flute glass and top with sparkling wine.