What do spider webs, empress gin and halloween have in common? Well, not really much, except that it's the inspiration for today's delicious gin cocktail for our Halloween Cocktail Countdown. For someone who hates spiders, I'm very down for this Itsy Bitsy drink.
This is not my first attempt at a "spiderweb" glass. As you might have already guessed, my first few attempts weren't exactly successful and I moved on. But this year I wanted to give it another shot, being very cautious of my ratios to make things stick! For those trying to figure out how I made this effect, I simply combined icing sugar with a few drops of water.
In hindsight, I would've put even less water, been a bit more strategic with my circles, but I'm much happier with this result than previous years. Plus the ghoulish, draped look seemed to work with my background anyway. The point is, it's not perfect, and that's OKAY! The effort of trying, and learning from your mistakes is what I'm ALWAYS trying to push and encourage here at Liquid Culture. Plus…it still looks pretty damn cool!
For this effect, get a 1/2 cup of icing sugar with 5 drops of water. Stir until it reaches a nice thick consistency. If it's too runny, it won't hold for very long and melt quickly once the drink is poured. When drawing out your design, add a small dollop and add circles all around. Draw it out with a toothpick. Or you can do the carefree look, like I did because my patience ran thin and I was running out of glassware by this point.
Now in terms of the cocktail, I'll admit, I purely used Empress Gin for the colour. I wanted the web to stand out, but I still wanted to keep this cocktail bright and refreshing. Since I didn't want to use a ton of liqueurs and sweeteners, I went with the ever reliable Empress Gin! For those who don't know, it is naturally coloured by Butterfly Pea Flower Tea and it's a Canadian product! It's the ultimate Instagram worthy spirit, and it's tasty too.
---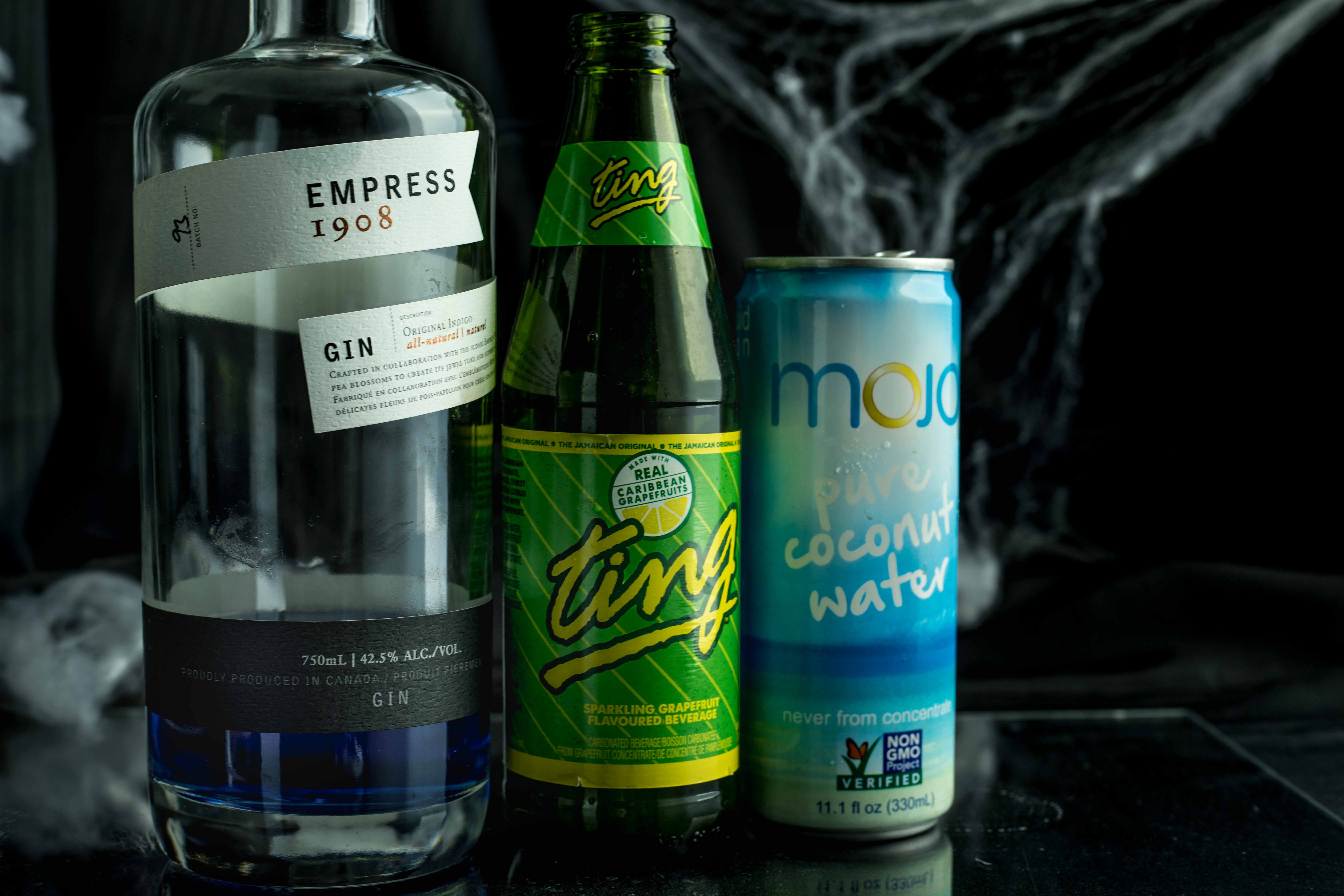 ---
With it's delicate notes, I decided to pair it with my favourite Coconut Water! That, with a bit of grapefruit, I decided to spritz it up with Grapefruit Ting. If you've never had Grapefruit Ting in your life, you don't know what you're missing! Side note: This is a COMPLETELY different cocktail the second you change the products. Make sure to stick to Mojo's Coconut Water and Ting!
This is a realllyyyy easy cocktail to build. Prep the glassware the day before if you'd like, and simply build it on the fly at your Halloween party. I will mention that the volume for this collins glass is quite a lot, hence the measures of the ingredients. BUT, instead of regular ice cubes, I decided to use large ice cubes to help adjust with the volume. MAKE SURE to always keep that in mind, with not just this cocktail but any cocktail here on LC.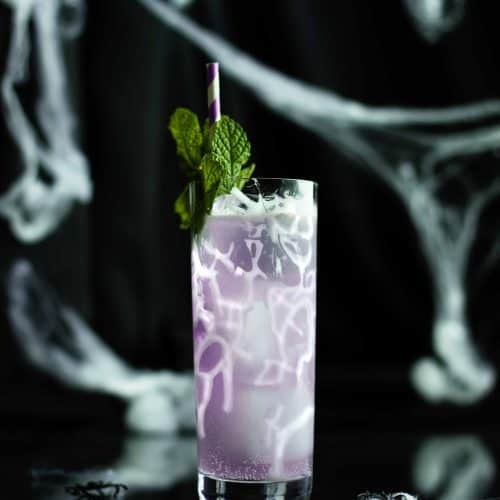 The Itsy Bitsy Gin Spider
A refreshing Gin cocktail made with Empress Gin, Grapefruit, Coconut Water and Grapefruit Ting.
– Difficulty: Easy
Ingredients
1.5

oz

Empress Gin

1.5

oz

Mojo Coconut Water

1/2

oz

Fresh Grapefruit Juice

1.5

oz

Grapefruit Ting

1

sprig

Mint
Instructions
Prep your glassware with your icing sugar to create webbed effect (read above for detail)

Fill your prepped collins glass with ice. Add Gin, Coconut Water, Grapefruit and top with Grapefruit Ting.