With only a few Wednesdays left in the year, Peach Wednesday cocktails will soon be over, but not without a bang! I asked the community for their suggestions on what they would like to see as the remaining peach recipes on Liquid Culture. Today's feature is a result of the voting, and I'm highlighting a Peach infused Pisco Sour with a winter twist of Cedar and Clementine!
As much as I love a good Pisco Sour, I know it is still a spirit and cocktail people know little about. Pisco is a grape-based spirit (a.k.a. brandy) that's commonly distilled in Chile and Peru. These two countries continuously argue about who produces the best Pisco, but with Peru naming the Pisco Sour as their national drink (and a somewhat biased trip to Peru), I lean towards the cleaner, crisp Peruvian style Pisco. In the most simplest of terms, Pisco is like the vodka of Peru. Typically with Pisco, I get a ton of green pepper vegetal notes, that's slightly characteristic of a blanco tequila, but without the sharp edges. The grapes and grassy notes round out the spirit to be incredibly smooth and is commonly chilled and sipped.
I mention that the Pisco Sour is the national drink of Peru, and for good reason. The classic recipes combines a healthy dose of egg whites for a creamy, velvety texture, with citrus and a touch of sugar. The moment I was suggested a Pisco Sour for peach wednesday, I jumped on the opportunity.
Since I'm sharing recipes that feature a Cedar infusion, I knew the Pisco would be more than welcoming in this creation. And to keep with the holiday spirit, clementines seemed like the perfect compliment to the peaches.  Thank you Mateo for this suggestion, and I hope you and everyone else in the Liquid Culture community can enjoy this delicious imbibe!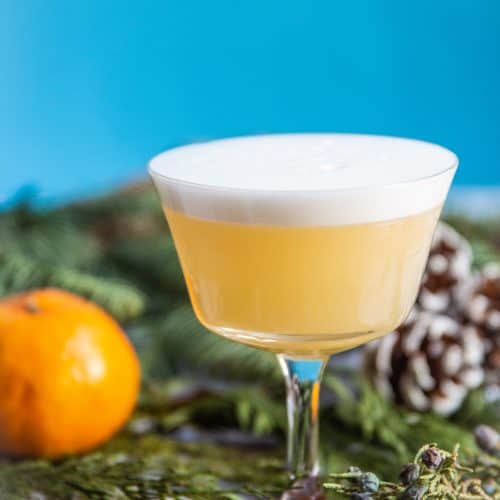 Cedar, Clementine and Peach Pisco Sour
A winter-inspired Pisco Sour that infuses cedar syrup, fresh clementine and peaches!
Difficulty: Intermediate
Ingredients
1

Egg White

1.5

oz

La Caravedo Pisco

1

oz

Freshly Squeezed Clementine

Approximately 1 Clementine

1

Yellow Peach

de-pitted

1/3

oz

Freshly Squeezed Lemon

2/3

oz

Cedar Maple Syrup

3

dashes

El Guapo Holiday Pie Bitters
Instructions
In a shaker, muddle peach to a pulp.

Add the rest of the ingredients into shaker and DRY shake (without ice) vigorously for 15 seconds

Add ice to shaker and shake until tin is cold to the touch

Strain into your favourite coupe glass. Enjoy.