Say hello to a whole new world of cocktails! If you're unfamiliar with clarifying cocktails, you are in for a real treat as I show you how to whip up this amazing Clarified Cucumber Cleanse.
---
---
Have no clue what I mean when I say I'm clarifying a cocktail? To put it simply, with the use of heavy creams/milk, and the right combination of sours, you can clarify ANY cocktail so that it's left as a clear, colourless product!
More question marks? Well, I'm not going to bore you about it here, because I already did when I whipped up my first clarified cocktail called the New York Clarified Sour. Make sure to give this a read if you really want to learn more about the science of clarifying cocktails.
Now if you're one of the few that know what I'm talking about, well you're about to fall in love with Spring once more with this unbelievably refreshing serve! It combines Bourbon Whiskey, fresh pressed Cucumber Juice, fresh lime and filtered through a Heavy Cream and Coconut Milk Base.
I will admit, I wish there was more of the pouring aspect shown in the video, so you can understand the stress of pouring the cocktail INTO the milk Mixture. But we all learn from mistakes, and I still love the work that my videographer created!
I won't bore you with too much details today, and I'll just jump right into the recipe for you! But what I'd love to learn from my community is…what clarified cocktail you would like to see next!
---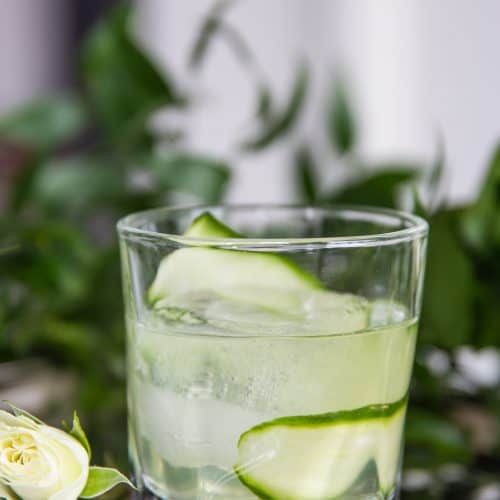 Clarified Cucumber Cleanse
Clarifying a Spring Inspired, Whiskey and Cucumber based cocktail to the clear and delicate beauty you see here!
– Difficulty: Intermediate
Ingredients
3

oz

Bourbon Whiskey

3

oz

Cucumber Juice

*

1.5

oz

Simple Syrup

1.5

oz

Lime Juice

1.5

oz

Coconut Milk

1

oz

Heavy Cream
Instructions
In a spouted container, pour bourbon, cucumber juice, simple syrup and lime juice. Give this a stir.

In a bowl, mix together coconut milk and heavy cream until combined (milk and cream can be cold, but recommended room temperature)

Add the "cocktail mixture" in the spouted container INTO the milk mixture. Cover with a lid and let it sit in the fridge for a minimum of 30 minutes or UP TO 24 hours.

Grab a fine sieve mesh and line it with a coffee filter. Pour the chilled mixture through the coffee filter and the cocktail should come out crystal clear. This process takes some time, so let it drip at its pace.

Once it has all filtered through, pour your cocktail or leave it in the fridge in a sterile container for up to 2 weeks.

For the cocktail, make a cucumber ribbon, and pour the cocktail over one large ice cube.
Recipe Notes
*The Cucumber Juice was simply fresh pressed cucumber. If you don't have a juice, simply blend up fresh cucumber with a splash of water and strain.
Reminder that all Simple Syrup recipes are a 1:1 ratio of water and granulated sugar.
ALSO, I highly recommend doubly up this recipe! You'll finish off this in one sitting, and remember that the cocktail stays fresh for at least 1 week when refrigerated.