This week's #LCFeature showcases my love for Tiki cocktails and a Drinkstagrammer from my favourite city; Chicago! They titled it the Spring Sacrifice, and with Spring in full swing, I thought this was very appropriate to share today.
If I had to move to anywhere in the U.S., Chicago would be top of the list. Problem is, it's very unlikely I'll get any work done, and I'll spend WAY too much money at the bars and restaurants. So I'll just stick to my visits once a year to fill that void. So when @the_pegmakers_masala tagged me in a post with a tiki cocktail, I was all over it. Mixing Rum, Coconut and Orange, very little could go wrong here.
Now the thing you have to know about Chicago, is that it has some of the BEST Tiki bars in the country (I would say world, but I haven't explored enough to feel confident with that statement). This tiki drink brought me back to my times at Three Dots and a Dash and Lost Lake, and they are a cocktail journey unlike any other. I will admit that I tweaked the recipe slightly from the original creation to adapt to my personal preference, which I'll be leaving you with that recipe here! So thank you @the_pegmakers_masala for doing what you do and sharing your love of cocktails in the Gram world <3
---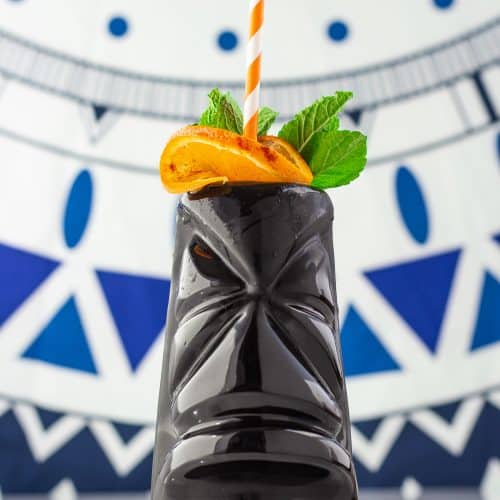 Spring Sacrifice 2.0
Inspired by Instagrammer @the_pegmakers_masala, this tiki cocktail is a great way to ring in the Spring weather and vibes.
– Difficulty: Intermediate
Ingredients
1.5

oz

White Rum

Wray & Nephew Overproof

1

oz

Demerara rum

El Dorado 12 yr Recommended

1/2

oz

Orange Brandy

Antica Liquore Recommended

3/4

oz

Coco Lopez Coconut Cream

1

splash

Half & Half Cream

1/2

oz

Lemon Juice

1/2

oz

Pineapple Juice

3

dashes

Orange Bitters

1/2

oz

Club Soda

2

pinches

Paprika

1 pinch for garnish

1

sprig

Mint

For garnish

1

slice

Orange Wheel

For garnish
Instructions
In a shaker, combine all ingredients except Soda, Mint and only put 1 pinch of paprika inside the shaker.

Fill the shaker 1/4 of the way with crushed ice, give it a short shake and dump all contents into the tiki mug.


Top your tiki mug with crushed ice and churn/swizzle til your cocktail almost reaches the top.

Top with Club Soda and garnish with Mint, Paprika and Orange Wheel
Recipe Notes
Demerara Rum means rum from Guyana. I know we don't get a ton of variety here in Ontario, so I opted for El Dorado 12 yr for this cocktail, but if you have access to Rum Society, or Enmore, definitely give those a try!