Not to be confused with the Independence Day of Mexico, Cinco de Mayo is a great way to honour and celebrate Mexican Culture and Heritage. And to me, what better way to celebrate than with a cocktail in hand and with your friends by your side? Wow, that sounded cheesy, but you get the point. Cocktails bring people together and I'm sure everyone will be racing over to your place for this Green Ginger Paloma!
First off, I can't believe that with all the recipes I have up on Liquid Culture, I've only ever whipped up one Paloma. Am I sleeping or something? I love tequila, I love citrus, I LOVE grapefruit, so what am I doing neglecting this classic cocktail. It took a girlfriend of mine to remind me of a Paloma for Cinco de Mayo and I knew immediately what I had to create!
Now the reason I decided to whip up a Green Ginger Paloma was for one very selfish and "Adulting-Hard" reason. Your girl is 30 now and hangovers are not fun on Monday mornings. With Cinco de Mayo landing on a Sunday this year, the last thing I needed was a sugar laced cocktail that would leave me dead for the start of the work week. And with my crazy packed schedule, this hustler (me) doesn't have time for it. So I wanted to create a cocktail that would feel good, as I'm sure most of you are thinking the same.
With that said, I bring out the Ginger for everything. For Colds, Fevers, Flu, Hangovers, Allergies, pretty much EVERYTHING can be cured with Ginger and I absolutely love the taste. Now I did something different this time around and created Parsley, Cilantro and Ginger Ice Cubes. You can thank me later for this, but first let's whip it up!
---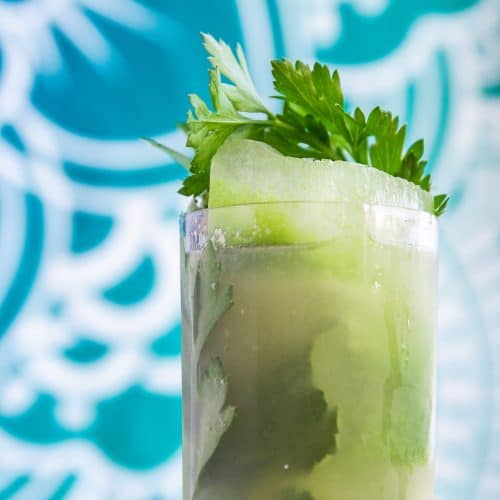 Parsley, Cilantro and Ginger Ice Cubes
This delicious Ice Cube recipe just melts into the Cinco de Mayo Paloma cocktail!
– Difficulty: Intermediate
Ingredients
1

cup

Fresh Parsley

Stems removed and chopped

1/3

cup

Fresh Cilantro

Stems removed and chopped

3

inch

Fresh Ginger

roughly chopped

2

cups

Boiled Water

2

tbsp

Granulated Sugar
Instructions
In a food processor, add fresh parsley, cilantro and ginger with 1/2 a cup of boiled water and pulse through until well combined.

Strain through a fine mesh strainer into a spouted container and discard the dried, pressed out herbs.

Add the sugar and rest of the boiled water into the spouted container, give it a stir until the sugar has dissolved.

Pour into the silicone 8 Large Ice Cube Molds. Place into the fridge for a minimum of 8 hours before use.
Recipe Notes
This recipe is made for the 8 silicone Large Square Ice Cube molds. It can definitely be stretched out in the normal fridge sized cubes if you'd like, but I preferred the large ice cubes for its slow dilution.
---
Let's get to the point we are all here and that's for the cocktail recipe! This in itself is very easy to execute. Simply shake up the tequila, agave nectar and fresh squeezed grapefruit juice, and strain over the large Green Ice Cubes. Now, depending on your glassware, the large Ice Cubes may not work, and you may want to use a smaller mold instead. To be honest, I wanted to use the large molds so that I could melt it down to the exact size I needed for the glassware before serving up the cocktail. That's me being extra, and if you're like me, well it's nice to know I'm not the only one out there. BUT it's okay if you stick to using the smaller molds. No one will judge you. Plus we are all here to have a good time and celebrate everything that is wonderful about Mexico, so let's start sipping!
---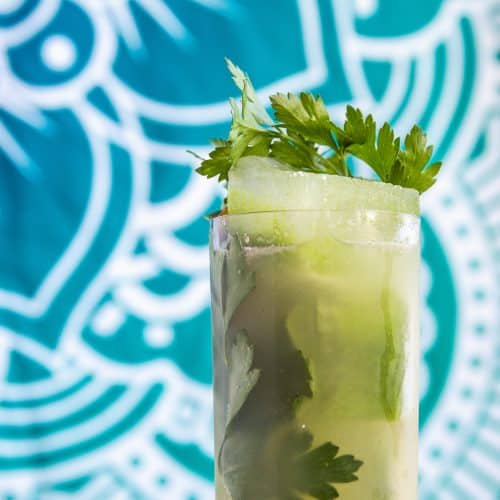 Green Ginger Paloma
Celebrating Cinco de Mayo with this herbaceous riff on a Paloma, made with fresh graprefruit, blanco tequila and Parsley, Cilantro and Ginger Ice Cubes.
– Difficulty: Intermediate
Ingredients
2

oz

Blanco Tequila

Tromba used here

1/2

oz

Agave Nectar

1

oz

Freshly Squeezed Grapefruit Juice

2

oz

Grapefruit Soda

Jarritos, San Pellegrino or Pink Ting are great options here

1

pinch

Salt
Instructions
In a shaker, add the Tequila, Agave, Grapefruit Juice and Salt. Fill shaker with ice and shake vigorously.

Strain over 3 large Flavoured Ice Cubes, and top with Grapefruit Soda. Garnish with parsley and cilantro.