As part of the Liquor.com feature, I'm showcasing cocktail recipes that have been influential in my "mixology" career. Today's feature celebrates a very unique and inventive technique that I absolutely love now. I finally learned the art of clarifying cocktails, and I'm pretty much ready to clarify anything!
Clarifying cocktails with Milk seemed like a very foreign and difficult concept for me. Again, we introduce these notions in our heads that something will be challenging and we don't do it. That was very much the case when I first heard about clarifying cocktails, but again, it didn't stop me from wanting to learn for my community.
The whole appeal of clarifying cocktails is that you strip all the colour from the cocktail, and you're left with a delicious, slightly 'luscious' mouthfeel. The other thing about clarifying cocktails is that it acts as a preservation method! Simply batch 1/2 a litre of the cocktail and ensure it's in a sterile container, and you can simply pour a cocktail straight out of the fridge for 2 weeks! It can last longer than that, but you tend to lose a bit of citrus and flavour by that time. I dive into a lot more of the chemistry, tips and tools you need in my first clarified cocktail recipe. I created a New York Sour that was a true gem, which you can find linked here.
I've been writing a ton for the other Liquor.com posts, that I just want to keep this simple and get to the point. Looking at my library of clarified cocktails, I realized I never mixed with my favourite Agave Spirits! So this time around, I brought out the Blanco Tequila, Mezcal, with some fresh pineapple, orgeat syrup and fresh lemon. This is actually VERY simple to throw together, and please don't feel intimidated by the techniques. I promise that if you follow this recipe, you will get the same result! What cocktails have you clarified before?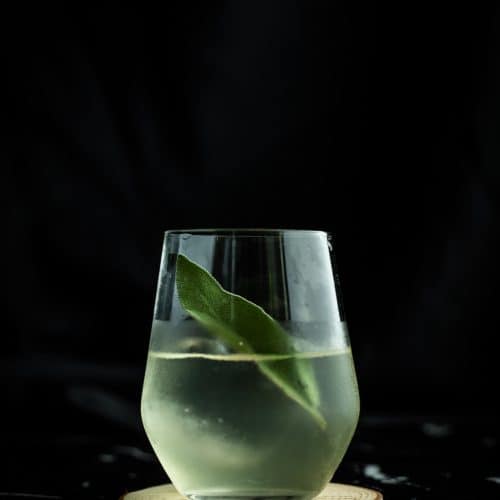 Clear as Piña
Featuring a colourless and clear cocktail that uses the clarification method. See how cream can transform your next sour!
– Difficulty: Expert
Ingredients
1.5

oz

Mezcal

2

oz

Blanco Tequila

4

oz

Pineapple Juice

1.5

oz

Freshly squeezed Lemon Juice

2

oz

Orgeat Syrup

3

oz

Heavy Cream

4

Sage leaves

For Garnish
Instructions
Grab two spouted containers that will be large enough to fit the volumes mentioned above. A mixing glass can work here. In one mixing glass, add all ingredients EXCEPT the heavy cream. Give this a stir.

In a separate spouted container (or bowl), add your cream (room temp or chilled is acceptable) and than slowly pour in your cocktail mixture INTO the cream. Do not stir. Cover and place into fridge for at least 30 minutes and up to 24 hours.

Grab a Fine Mesh Sieve, Coffee Filter and new bowl. Place the Coffee Filter into the sieve and pour the cocktail mixture. This will take some time, so let it filter through without having to hold the vessel the entire time. Keep adding to the filter until you are done.

To enjoy the cocktail, serve over 1 large ice cube and garnish with sage. The clarified cocktail can be left in the fridge for up to 2 weeks.