We've got the second cocktail all lined up for my special #LDCTakeover with Liquor.com, and it uses one of my favourite tools around the house! I'm bringing together some of my favourite flavours with some unique Canadian flair. Say hello to the Prince!
I'll be saying it all week long, but you have no idea how honoured I am to be featured in Liquor.com this week. It was difficult to decide what concept I wanted to showcase, but in the end, I wanted to show my true, authentic self and feature recipes that shaped my "mixology" career. Today's cocktail celebrates the love of my Canadian heritage and one of the best cocktail bars in Chicago!
I've been watching a ton of Fresh Prince lately, so that may or may not have had some influence on the title of the cocktail. But I found it fitting, because this imbibe truly is "princely" and let me tell you why.
The concept of the French Press was inspired by my first visit to the outstanding 'Aviary' Bar in Chicago. I fan girl hard over this place, and with every visit to Chicago, I always make sure to pop in. One of my first cocktail experiences was in the 'Porthole Infuser', which is a unique device first made exclusively for The Aviary. It allows your cocktail to infuse in this stunning vessel, and for the guest, it offers a unique opportunity to see and taste your cocktail transform!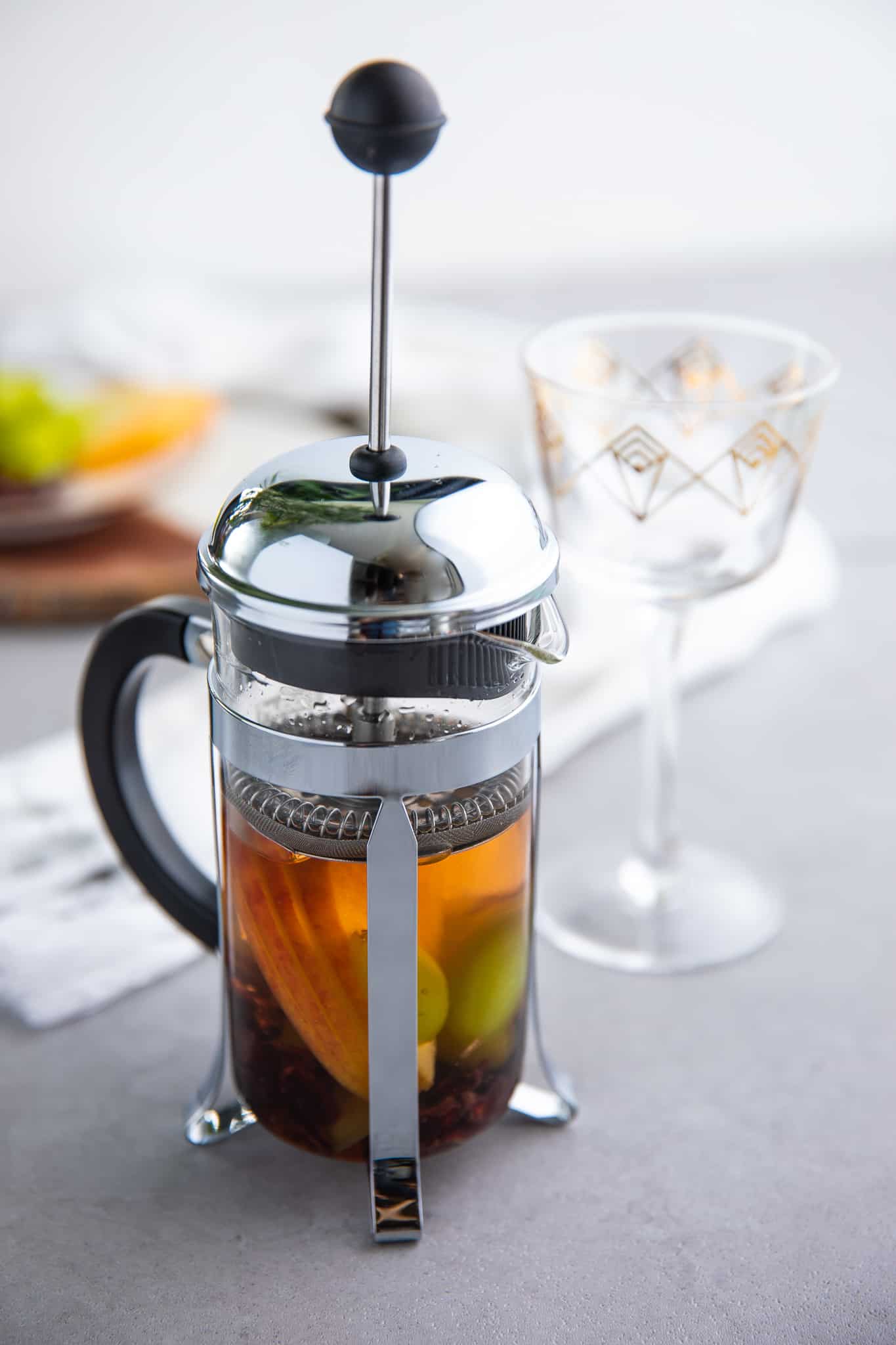 This concept is GENIUS, and I was so excited to try something similar at home. Unfortunately, the moment I came home and tried to order it myself, I discovered that it's QUITE expensive (American vs Canadian Dollar is not so bueno right now), and to get it shipped to Canada was another arm and a leg. I felt stuck, until I had my "voila" moment with the French Press.
I wanted this to be something everyone can attain, and get back to the roots of Liquid Culture, which is the fact that I'm trying to make cocktails APPROACHABLE. With that in mind, the French Press has been an absolute saviour, and a great way to step up your cocktail game at home. I even featured it in an episode on CTV's The Social, which you can find attached here! The girls love it, my community seems to go gaga for it, and now I'm ready to share on Liquor.com.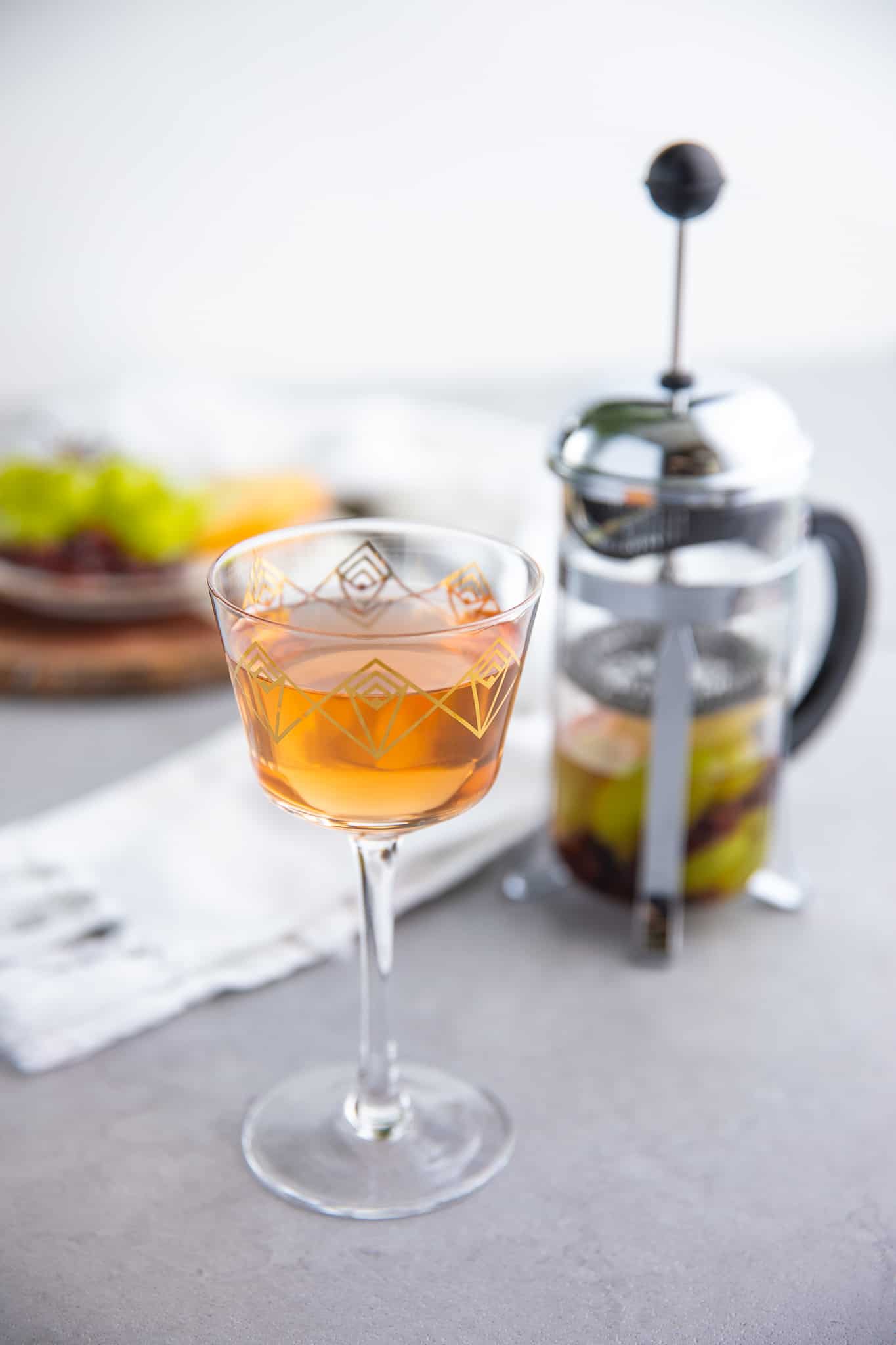 Wanting to represent my home of Canada, I decided to use one of my favourite Whisky's in the market. Because our whisky production isn't as heavily restricted, we're able to produce some very unique spirits, including the colourless Whisky, White Owl from Alberta, Canada. Achieving this clear and colourless whisky, involves filtering it through a charcoal bed. Did you also notice how I didn't call this a Rye? That's because although Canadian Whisky is traditionally called Rye, it doesn't require a minimum percentage of Rye grain. That's why you'll find that Canadian Whiskies typically have a blend of corn, barley and rye! I couldn't find the exact details of the percentages used in White Owl, so we will safely assume it's a bit of everything.
Mind you, although it's clear, it packs a ton of body and flavour. It must be barrel aged for a minimum of 3 years, and you get a lot of citrus and anise notes, with caramel and spiced notes coming out of the barrel. I'm always surprised by this product, because it's refined while striking at the same time. I'd like to think it's very 'Canadian'!
I wanted to keep this cocktail fairly simple in terms of flavours. With the addition of Verjus, I wanted to highlight those grape notes, and I decided to tie in some Honey as well. With the presence of whisky in this cocktail, the idea of Jack Daniel's Honey just seemed to easily slip in. YES, I am a BIG fan of what JD is doing. I've been converted because of my girl Lucy, our Canadian National Brand Ambassador, but I wouldn't be out here supporting a product that I truly didn't find impactful for your bar. I have some traumatic memories of JD Honey pre-Liquid Culture, but that's all changed. One of my favourite cocktail recipes to start off an evening with is this Honey Aperitivo Julep, that will EASILY change anyone's perspective on the brand! Plus their Gentleman Jack and Single Barrel selection can shift even the snobbiest of whisky aficionados.
That, combined with Bitters, Cinnamon, Honey Crisp Apples and dried apricots, you have a real winner when it comes to having your own "all-in-one" infusion cocktail. Levelling up your cocktail game at home just got that much easier!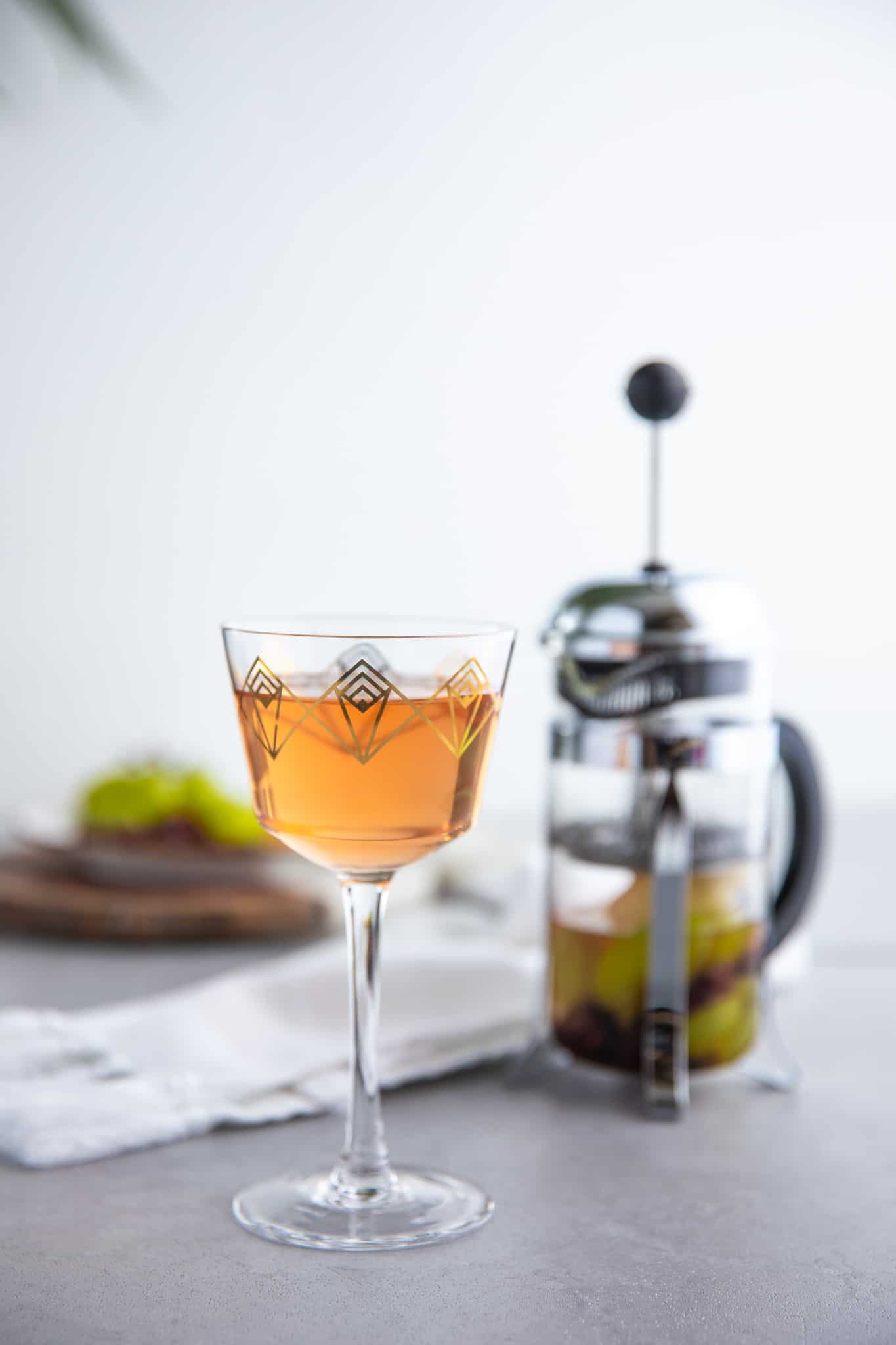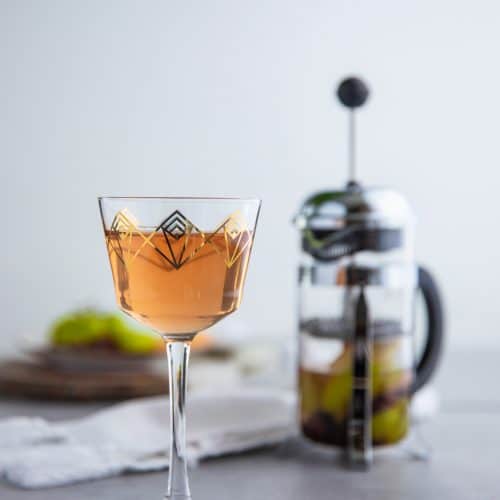 French Prince
A special infused cocktail combining White Owl Colourless Whisky, Jack Daniel's Honey and Verjus, infused in a bed of dried apricots, cinnamon, honey crisp apples and grapes!
Ingredients
Dry Ingredients
6

White Grapes

halved

5

Thinly Sliced Honeycrisp Apples

1

Cinnamon Stick

snapped in half

1/5

cup

Diced Dried Apricots

1/5

cup

Dried Raisin

2

Orange Peels
Cocktail Base
4

oz

White Owl Whisky

¾

oz

Jack Daniel's Honey

3

oz

Verjus

Featherstone Winery Verjus used here

6

dashes

Angostura Bitters

1.5

oz

Simple Syrup

1:1

2

oz

Water
Instructions
Combine all cocktail base ingredients into a spouted container, just it a quick stir (do not add ice). Toss into the fridge for 20 minutes to chill.

Once it has chilled, grab your French Press and add your dry ingredients.

Cover and place back into the fridge for 5 minutes before serving. Pour into coupe glass, or if you'd prefer, over 1 large ice cube in an Old Fashioned Glass. Pour little by little, to let it continuously infuse and transform! Good for 2 cocktails