I'm revitalizing a classic recipe from my archives for my first Liquor.com feature. See how my love of peaches, gin and cream come together in this riff of a Ramos Gin Fizz.
I won't lie, I am feeling pretty shocked and honoured that Liquor.com wanted to feature me on their socials. When the team first reached out, I'm positive I almost put the email in spam, until I randomly decided to opened it up and the team member actually knew my name. So I just wanted to give a massive shout out and thank you to the members that "found" me and believe in the Liquid Culture vibe.
When it came to deciding what cocktails to feature on their socials, I couldn't come up with a concept for the life of me. Do I do all peaches? Do I feature the city I love? Do I use old cocktail recipes and photos? I wanted to connect with the Liquor.com community in an authentic way, and that's when the concept of my most 'influential' cocktails came to mind.
Every bartender and home bartender can relate to this concept. We all have that one experience, with that one cocktail. Whether you whipped it up yourself or had it shaken up for you, it created that "A-Ha" moment that changed how you viewed mixology. I have had a ton of those moments, before and after Liquid Culture, and that's why I wanted to share with you my journey.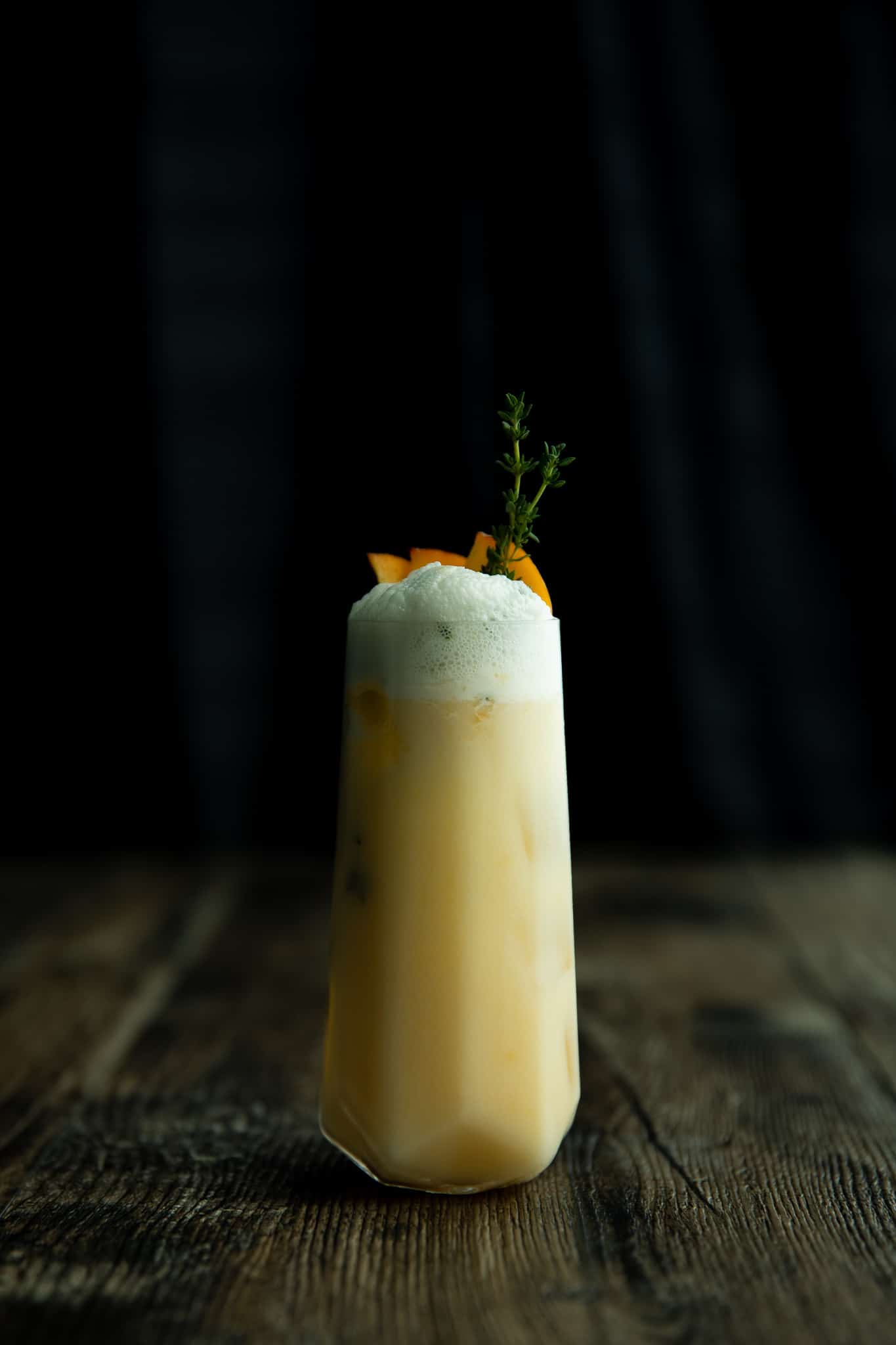 I decided to start off with a cocktail that is very near and dear to my heart for a few reasons. For one, this was one of the first cocktails I EVER created on Liquid Culture. It's even on the site now, with probably a terrible short write up, and the photography was meh. It's called the Peaches and Cream, and it's a riff on a classic Ramos Gin Fizz.
For those of you that have been following Liquid Culture for some time now, you know my obsession with peaches. I created unique boozy peach recipes EVERY Wednesday for a whole year, even when they were scarce and very expensive. So it only seemed fitting that I would start off with my original love.
Most importantly though, this cocktail broke a barrier that I had as a bartender, which was working with cream. I didn't understand it, crave it, which automatically made me "think" I hated it for a long time. If anyone asked for a White Russian, I would give the automatic vomit face, having no clue as to why they found it appetizing.
The thing about Liquid Culture is, it's all about breaking those boundaries. So having this "hate on" for cream, went against everything I stood for and this is my OWN BRAND! I had to get over it, and it was the first time I truly enjoyed and understood how dairy/cream can construct a perfect imbibe.
So in honour of one of my very first creations, I decided to give it a 2.0 face lift. This new edition makes this already stellar cocktail into a refreshing dream. If there is anything you whip up from my Liquor.com collection, it needs to be this one!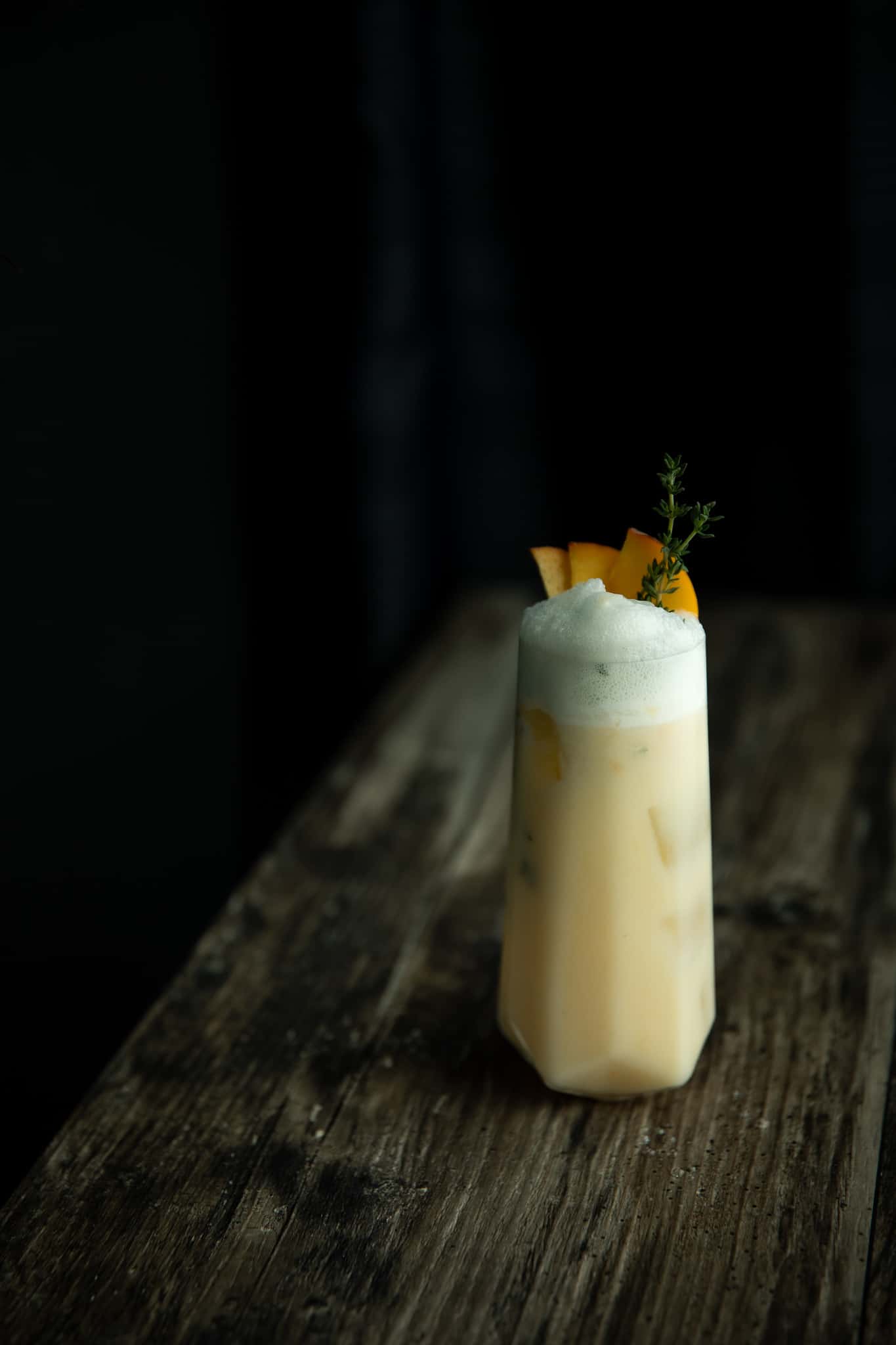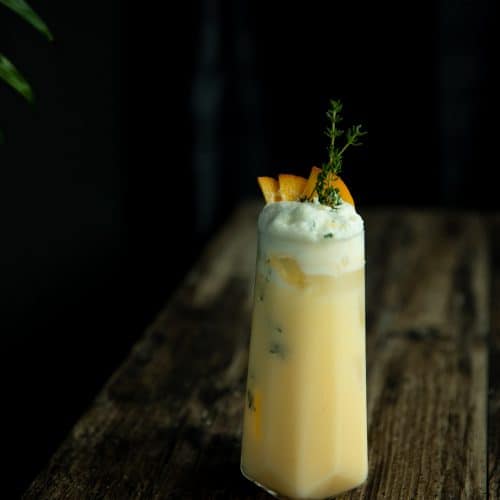 Peaches and Cream 2.0
Revitalized the classic Peaches and Cream recipe by Liquid Culture for a special feature on Liquor.com!
Ingredients
1.25

oz

London Dry Gin

¾

oz

RinQuinQuin

¾

oz

Thyme Simple Syrup

¼

Fresh Peach

Quartered

1

oz

Freshly Squeezed Lemon Juice

1

Egg White

½

oz

Heavy Cream

35%

1

dash

Angostura Bitters

1

oz

Club Soda
Instructions
Grab a shaker and muddle peach to a pulp.

Add the Gin, RinQuinQuin, Thyme S.S., Fresh lemon, Egg White, Cream and bitters. Give this a Dry shake.

Fill shaker with ice, and give this another vigorous shake.

Strain over Collins Glass filled with ice. Let it sit for 30 seconds before topping with soda.

Garnish with Peach Slices and/or Fresh Thyme.
Recipe Notes
The Thyme Simple Syrup recipe is simple enough. Have 1 cup water and 1 cup granulated sugar simmer with 8 sprigs of Thyme for 5 minutes. Let it come to room temperature, and strain. It can be left in the fridge for up to 2 weeks.