This title can seem very confusing for those popping into the site, so let me explain how Drake, Pineapples and a boozy popsicle came together for today's #LCFeature.
The thing I love about #LCFeature is that the mic is on you! Whether you have a bottle at home you aren't sure what to do with, or have a fun cocktail recipe that you love and want me to share, I'm here to do that for you. Now, not all my #LCFeature's will be on the website, because the reality is, I've shifted my focus with Liquid Culture which means less time writing on here.
But this week, I had to do a write up for the team, because it comes with a funny story. My girl, Grayce of @moussetaco, hit me up last week and asked me what to do with her bottle of Virginia Black Whiskey. In all fairness, I completely knew where she was coming from, because it's not exactly the Whiskey of choice for my Whiskey Aficionados. For those unfamiliar with the story behind Virginia Black, it is a product of Creator Brent Hocking (of Tequila DeLeon) and Canadian's very own Drake.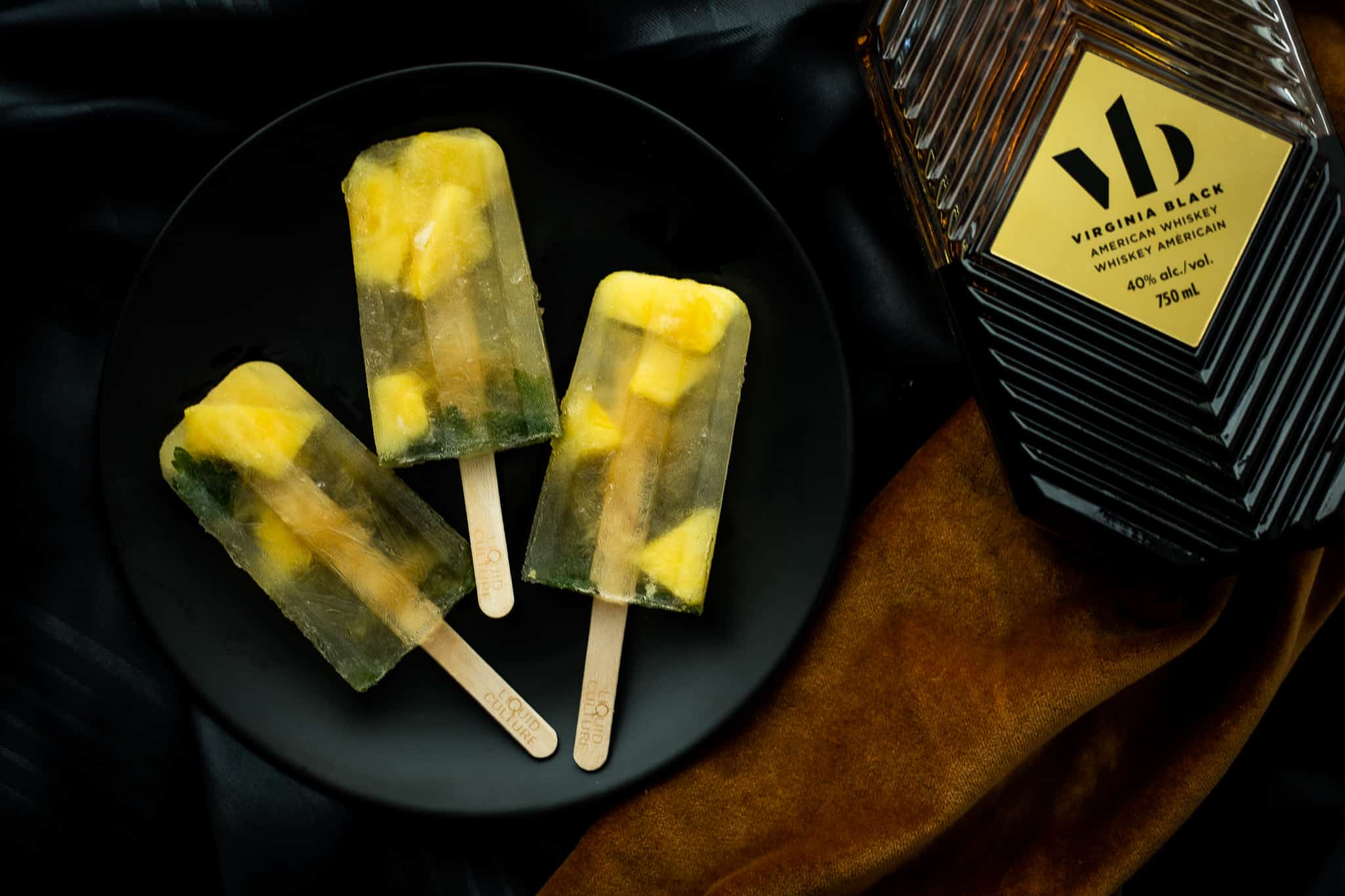 Now for those of you who didn't know, for the past couple years I've had the opportunity to work at the Scotiabank Arena, which hosts our lovely Raptors, Leafs and all the top musicians you can think of. So for Drake's concert, I was tasked to whip up 3 special boozy popsicles! Of the 3 flavours, included a Virginia Black Pineapple Sour with some fresh mint. I don't fan girl too hard when it comes to Drake, but even I got excited thinking that Drake may have one of Liquid Culture's creation. This was RIDICULOUSLY tasty, even I was shocked. So did Champagne Papi have a taste? Well even if he didn't, you guys can here!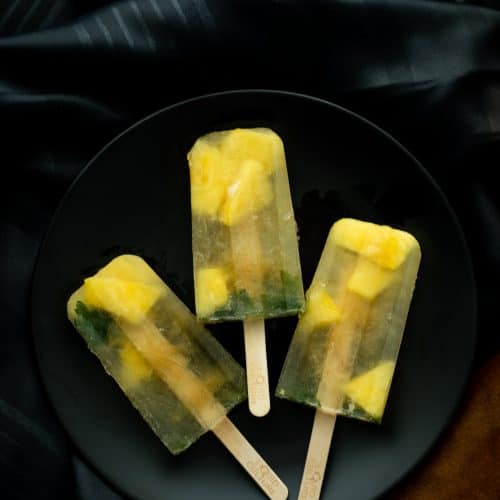 Drizzy Drake Piña Pop
Featuring a delicious Pineapple Mint Sour made with Drake's very own Virginia Black, stirred together into this delicious popsicle!
Ingredients
2.5

oz

Virginia Black Whiskey

3

oz

Simple Syrup

1:1 ratio

6

oz

Pineapple Juice

1.5

oz

Freshly Squeezed Lemon Juice

2

oz

Water

20

small diced Pineapples

20

Leaves of Mint
Instructions
Measure your Popsicle Molds. This recipe is good for 10 3oz containers

Fill your molds with pineapple chunks and mint

In a spouted container, add all your liquids together. Give this a stir and pour into prepared molds.

Let it sit in the fridge for at least 5 hours before use. Make sure to run hot water along the outside of the mold for at least 5 seconds, so you can gently pull out the popsicles without it cracking.
Recipe Notes
Try to go as fresh as possible with the pineapple. If you're picking up a mix of concentrate, than lower the sugar in the recipe slightly and add a touch more water.