This recipe need no words. If your mouth didn't water, than I don't know what will. Except maybe you haven't heard of Pisco, and for that, I'm ready to share some wisdom!
Creating boozy gelatos for Liquid Culture has proven to be a lot more difficult than I would have imagined. It didn't help that I nailed the ice cream recipes right away, so I felt very discouraged when my gelatos weren't working. There's a reason why good gelato recipes are hard to find online, BECAUSE LET ME TELL YOU, they are keeping Nonna's recipe a secret! If you're browsing through Pinterest and it says "2 ingredient" gelatos, don't pay attention. Those two ingredient gelatos don't have the consistency you want, or typically the flavours or punch you're looking for. So I went back to the drawing board.
This is without a doubt my favourite gelato recipe I've created on Liquid Culture, and I'm starting to think I may have the ratios just right when it comes to this boozy dessert.
---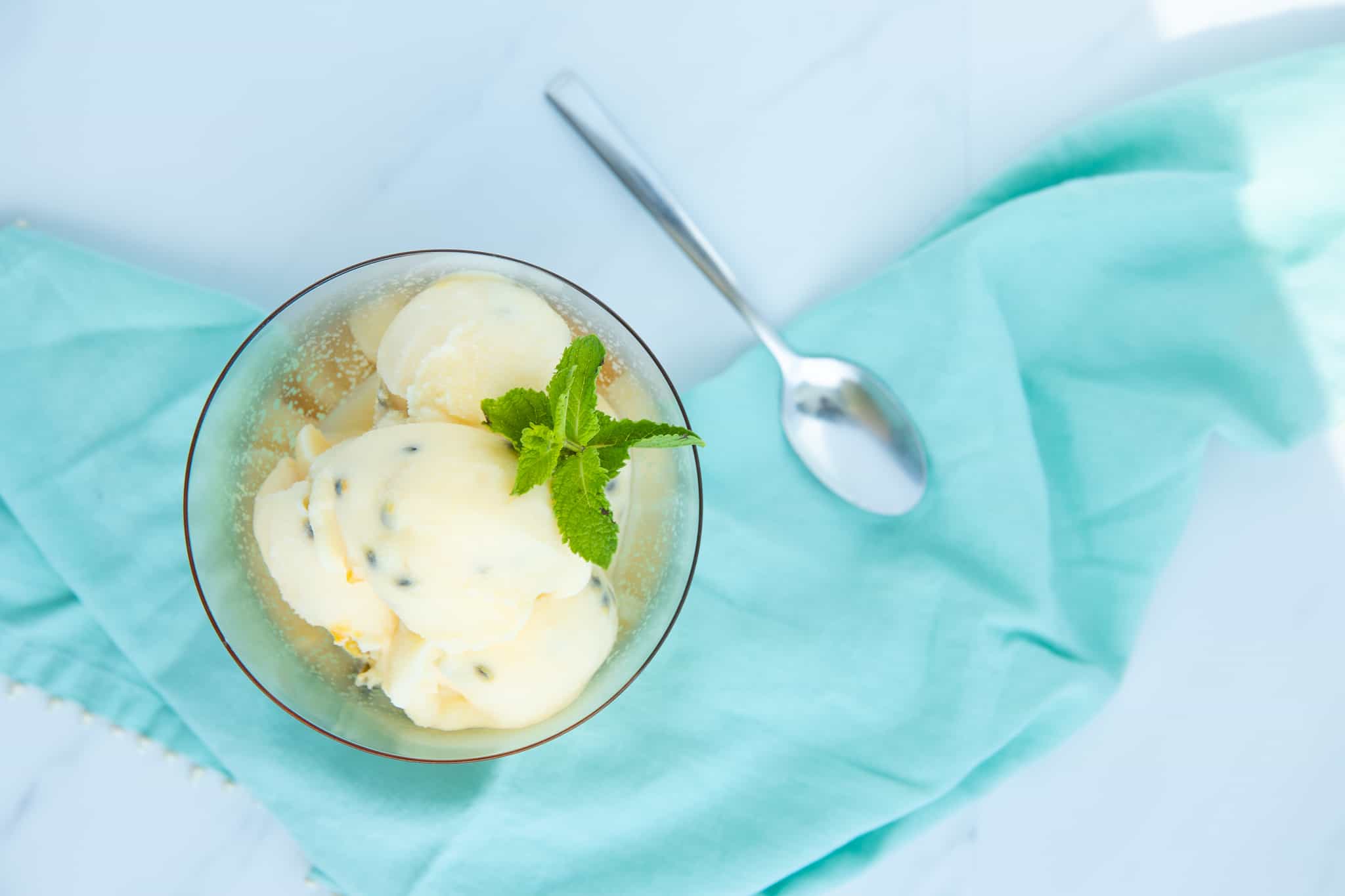 ---
Since I'm still learning when it comes to boozy gelato treats, I'm trying to keep things as SIMPLE as possible. So bringing Passion Fruit and Pisco seemed like a NO-BRAINER! I'm obsessed with Passion Fruit, and I knew it would work wonders with Pisco.
If you've never heard of Pisco, it's a grape distilled spirit. Being fruit based, it fits under the category of Brandy, but I find most people associate that with Cognac and the flavours are quite far from it. If I had to compare it to anything, it really tastes like Rhum Agricole or slightly like Cachaca! I know a lot of my friends in Ontario may not have heard of Rhum Agricole, so just think of this as the Vodka of Peru (and Chile). Pisco is native to these two countries, but my biased opinion (having been to Peru and tasting a ton from both countries), Peru is a clear winner for me and should be your first choice if you've never tried the spirit.
With a bit of whole milk and patience, this gelato finally came together and I can feel confident about sharing a recipe I love with you today! Happy #IceCreamSundazeee y'all!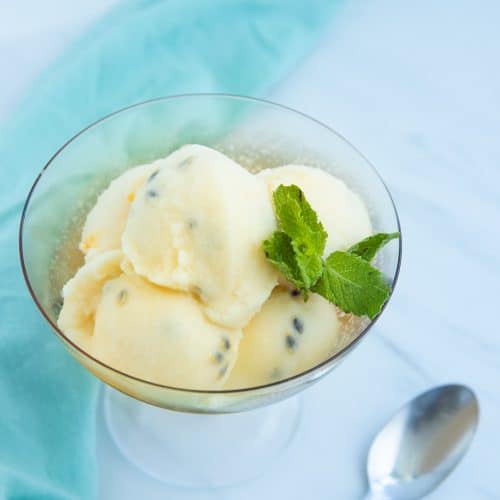 Pisco Passion Fruit Gelato
Say no more, because all you'll want to do is eat this outstanding summer boozy gelato infusing Pisco from Peru and Passion Fruit!
– Difficulty: Intermediate
Ingredients
1.25

cups

Granulated Sugar

1

tbsp

Cornstarch

1

cup

Whole Milk

2/3

cup

Heavy Cream (35%)

1/2

cup

Pisco

Caravedo Pisco Used Here

2

cups

Passion Fruit Juice

Rubicon Passion Fruit Juice Used Here

1

tbsp

Freshly Squeezed Lemon Juice

4

fresh

Passion Fruit

Using inside seeds (optional)
Instructions
In a medium saucepan, whisk granulated sugar with cornstarch, while gradually adding the whole milk and cream.

Whisk constantly over medium heat until it starts to bubble and thicken.

Pour the mixture into a new bowl, sitting in an ice bath. You will want the liquid to be cool to the touch before adding the rest of the ingredients.

Once cooled, pour in pisco, passion fruit juice, lemon juice and optional passion fruit seeds, cover the bowl and put into the fridge for 3 hours or up to 24 hours.

Pour your mixture into the ice cream maker and follow the manufacturer guides. This took about 30 minutes to get it to the right consistency.

Pour into an air tight container and put into the fridge for an additional 3 hours before serving.
Recipe Notes
The passion fruit seeds are optional because I just love the seeds and that added texture, but I know not everyone feels the same. This is completely up to you!