I'm adding a little summer sunshine in this riff on a classic Martinez cocktail. It infuses some of my favourite peach flavours, a special strawberry bitters with an outstanding gin.
I'm really trying to put in a conscious effort to create cocktails that aren't my usual concoctions. We all know my heart beats for a Negroni, Manhattan's are always a win, but I never really sip on a Martinez often. So when it came to creating something different for today, I thought about creating a summer edition to this classic.
If you don't know what a Martinez is, it's a classic cocktail that combines Gin, Vermouth, Maraschino Liqueur and bitters. Now, I need to be real with everyone here for a minute. I really don't care for Maraschino liqueur. Yup, I said it…it's just not my palate. I understand its place in a cocktail, and yes, I can appreciate it, but I'm not running towards my bar to mix with it TBH.
So I took it out, and I brought out the flavours of summer that I love. This was an easy choice, as I've been addicted to RinQuinQuin, which is a Peach Aperitif. It isn't your regular Peach Schnapps or liqueurs. It's so much more delicate and floral. The best way I could describe it is that it's the love child of Peach Schnapps and Lillet Blanc.
---
---
The classic Martinez cocktail uses an Old Tom Gin style. If you've never heard of it, it's between that heavy hearted Genever with a Classic London Dry style. So I decided to grab the Willibald brand from my bar, which ended up being the perfect match here. Plus, I'm all about supporting the local team, and this Ontario gin is way up there for me!
For the vermouth, I switched out the sweet variety, and put in a Blanco instead. I picked up a vermouth that is all the rage in Europe, but it hasn't cracked the Ontario market just yet. It's called Yzaguirre Vermouth. Don't ask me to pronounce it, but I can tell you that it's a fantastic vermouth. It has a delicate nose of tea and vanilla, with citrus notes that pull it all together. It's also barrel-aged for 1 year, which gives it a slight weight that is OUTSTANDING on its own.
---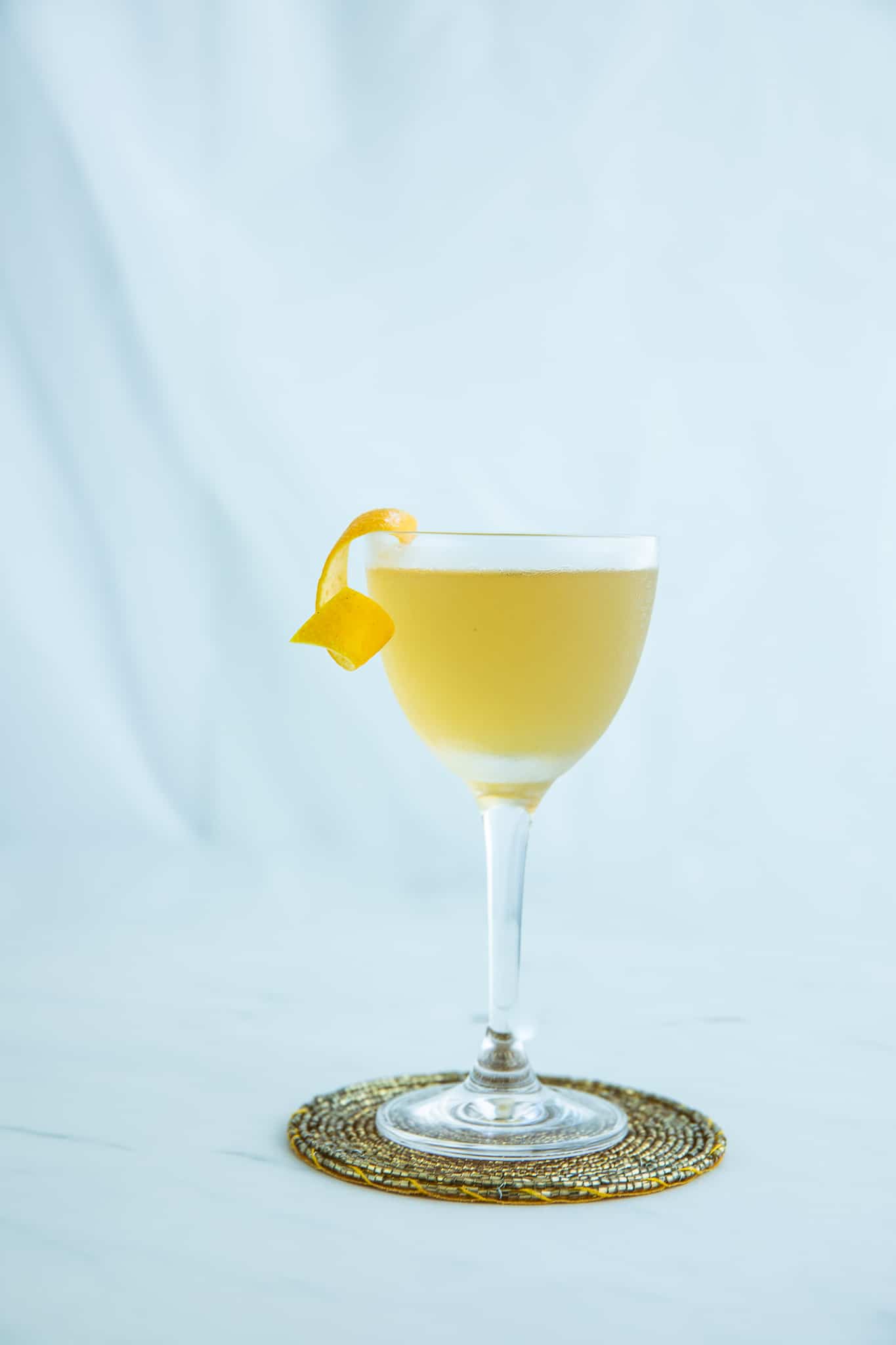 ---
Lastly to finish off this cocktail, I threw in a dash of St Germain Elderflower Liqueur to add to the floral notes going on in this cocktail, in addition to Ms. Better's Green Strawberry Mah Kwan Bitters. I know I don't typically splurge on bitters, but I'm really happy I picked this one up. If you can't find it in your local markets, no one is going to hurt you. But I would recommend grabbing some aromatic bitters or bitters that will compliment the peach notes.
Wow, I didn't mean to rant as much as I did, but I wanted to explain my thought process with this cocktail. This is a cocktail meant to be sipped, and every drop will bring out all these unique layers. Also, I'm pretty sure I'm clinging on to this cocktail because I'm not ready to let Summer go. Cheers!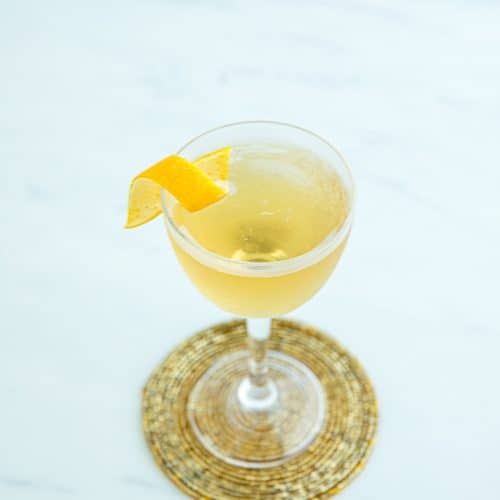 Summer Martinez
I'm bringing some new life into the classic Martinez cocktail with some of my favourite flavours, including peach, green strawberry and vermouth!
– Difficulty: Intermediate
Ingredients
1.5

oz

Willibard Gin

Old Tom Gin Style

1.5

oz

Yzaguirre Blanco Vermouth

1/2

oz

RinQuinQuin Peach Aperitif

1

dash

St Germain Elderflower Liqueur

2

dashes

Ms. Better's Green Strawberry Mah Kwan Bitters

1

Lemon Zest

for garnish
Instructions
In a mixing glass filled 3/4 way with ice, pour all ingredients (except Lemon zest). Give this a good stir for 40 seconds.

Strain into a Nick and Nora Glass. Garnish with Lemon Peel