This is the result of a bright and sunny swizzle that met a ton of different spirits and a hit of ginger. If there was any cocktail that could wake you up, this would be it.
I stumbled upon a cocktail recipe in the Imbibe book by David Wondrich, and the mix of spirits got me very intrigued. It's called the Mississippi Punch, and it combines Brandy, Jamaican Rum and Bourbon. This doesn't sound like the most appetizing mix, but when I tasted the creation for #TBThirsty, I was shocked. The flavours came together so well, that I knew I had to continue this trade of thought.
So with this thought in mind, I thought about whipping up a cocktail with a similar profile, but with some of my favourite go-to spirits. Most of the brands I'll mention are wonderful on its own, but I've grown to love whipping them in a cocktail!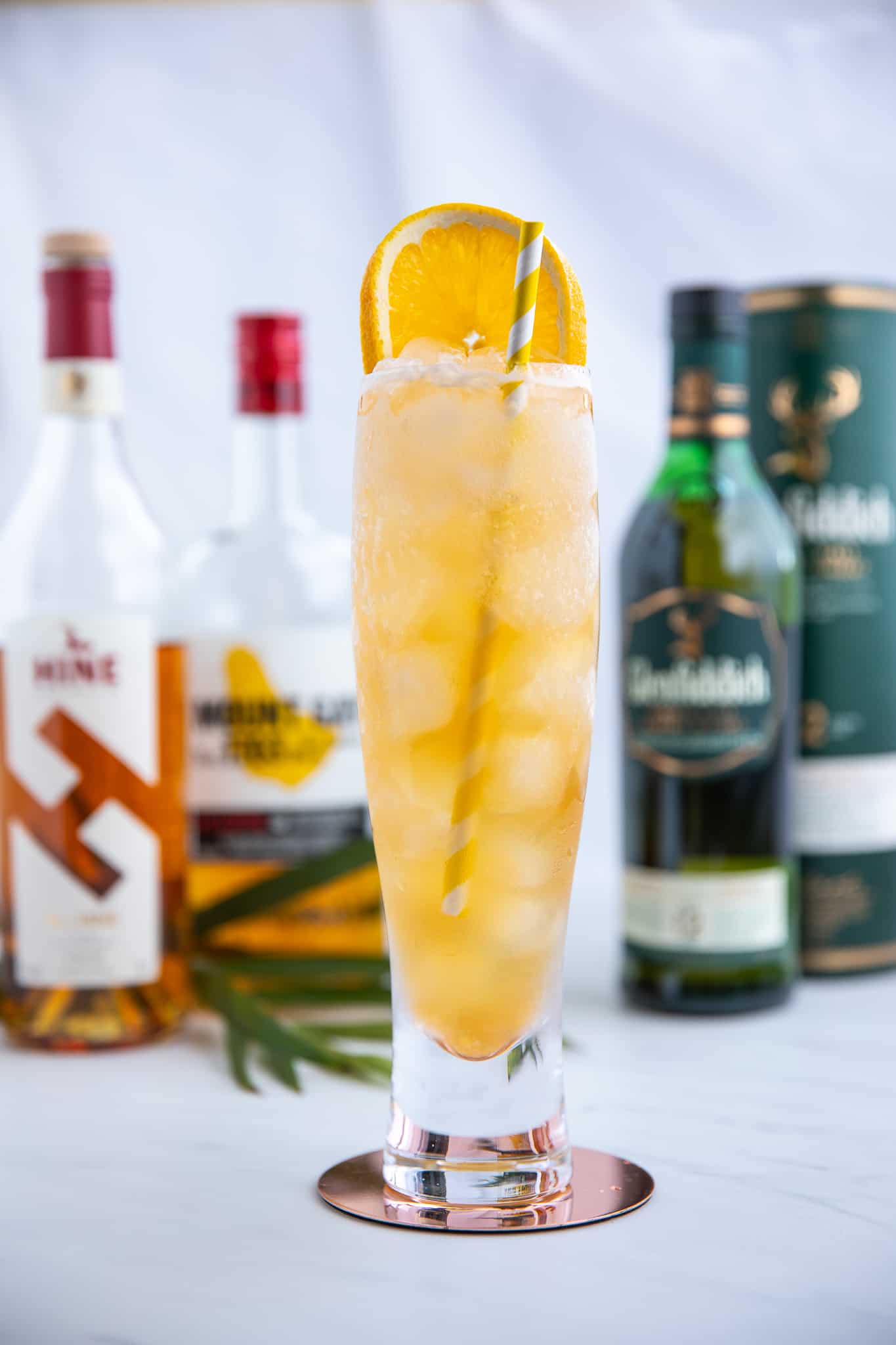 First things first is the Brandy. I don't picture my preference ever steering away from Hine Cognac. They produce some OUTSTANDING Cognac, and the masterminds behind Hine even created a Cognac with bartenders in mind. H by Hine Cognac delivers a high quality cognac for any cocktail, while still offering a delicious cognac if sipped on its own. Because cognac can come with that expensive price tag, H by Hine offers a more affordable options for bartenders around the world, without sacrificing quality. I know this may sound like a paid post, but I swear to you it's not.
Finally I got to whip up something with Glenfiddich's 12 yr old Scotch. There's no question that the Glenfiddich brand is producing some outstanding libations. I'm currently addicted to the Project XX, among many more in their lineup. So I decided to switch out Bourbon for Glenfiddich's 12 yr old, because it has this medley of apple and vanilla that I KNEW would work wonders with lemon and ginger.
Then we have the rum. Probably the first question I ask Rum distillers now is whether or not they add sugar to their rums. I've been around enough Rum enthusiasts to know that added sugar is a MAJOR no-no, and I'm following that same train of thought. Of some of the brands available in Ontario, Mount Gay is a RELIABLE, no-sugar added, reliable rum from Barbados. It's definitely a staple brand on my bar, that never disappoints. Now I must warn you, if you don't have Mount Gay in the house, switching out this rum can really change up this cocktail. If there's one thing you take away from all of this, is that Rum is the most DIVERSE alcohol category. Switching out brands, or countries WILL drastically change your cocktail. Whenever you have the time, dive into some Rum Education, you'll be shocked at what you find.
So with all that, I mixed things up with a ginger syrup, freshly squeezed lemon and orange juice with a dash of bitters. It's actually quite simple, once you have the ginger syrup complete. Don't believe me? I guess you'll just have to whip one up yourself. Warning: This is for my adventurous imbibers. It's a spirit-forward cocktail which I know won't appeal to everybody.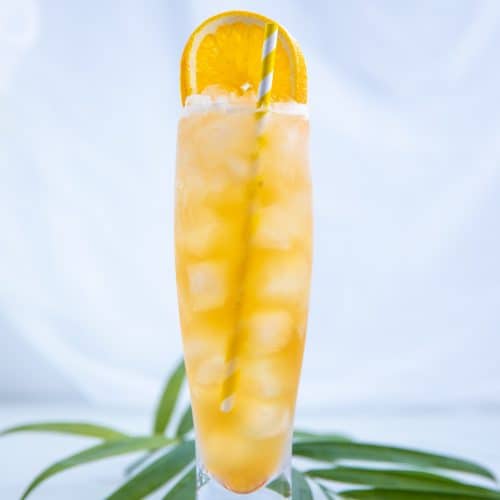 Sunny Ginger Swizzle
A delicious, spirit-forward blend of Mount Gay Rum, Hine Cognac and Glenfiddich's 12 yr old Scotch.
– Difficulty: Intermediate
Ingredients
1.25

oz

H by Hine Cognac

1

oz

Glenfiddich's 12 Yr Old Scotch

3/4

oz

Mount Gay Rum Eclipse

1/3

oz

Freshly Squeezed Lemon Juice

1/3

oz

Freshly Squeezed Orange Juice

1/2

oz

Ginger Syrup

2

dashes

Angostura Bitters
Instructions
In a shaker, combine all ingredients, add a handful of cracked ice and give this a hard shake.

Dump into pilsner glass and top with crushed ice.

Garnish with orange wheel.
Recipe Notes
To make the Ginger Syrup, mix 3/4 cup Honey, 1 cup Hot Boiled Water with 2 inch ginger freshly grated over a small saucepan. Let this boil and reduce down to a simmer for 3 minutes before straining. Can hold in the fridge for 2 weeks.