If you didn't get a chance to stop by the rum competition last week and taste the cocktail I created, don't fret, because I'm leaving you with the recipe right here! Check out how I combined my love of Guava and Coconut into one.
For those of you that didn't know, last week I was competing against some of my favourite people, as we whipped up a punch recipe on behalf of Rum Royale and Mount Gay. Guests of the festival got a chance to taste each of the competitors rum punch creation (including my own), and would vote for their favourite punch. We had an incredible turn out, with a good 200+ people lining up for our creations. It's been a few months since I've had to bartend for a massive crowd, so as you can imagine, it woke me right up.
The sweats were very real, and the punches were absolutely delicious. All 3 of us came up with some tasty treats, and I wanted to share my creation with everyone on Liquid Culture.
Now I have to state that the drink I'm showing you here has a lot more coconut than what was served. There's a few reasons for this:
When you're batching for 300 drinks, ratios are going to be adjusted
I never physically made the punch for the festival. Instead, we send off our recipes to the trusty hands of the Rum King in Toronto, Robin Wynne, and he'd balance it with what it needs.
Cream can be tricky when batched a day in advance, so it had to be dial down, and lastly and most importantly…
With big groups, you gotta keep things simple!
The recipe I'm going to be featuring today, is great for immediate sipping, and good for 4-6 people. If you're looking to batch it a day in advance, know to adjust the cream.
You might be wondering why I created this cocktail in the first place. Well, while researching what Barbadians love to eat and drink, I quickly realized we had something in common; a love for Guava Paste. In particular they call it Guava Cheese, which got me thinking to my childhood and how we would eat guava paste with slices of mozzarella cheese. I know it sounds super odd, but clearly I was already developing my boujee cheese board skills at a young age. So instead of adding cheese to a cocktail, because that doesn't sound all that appetizing, I added coconut cream for the dairy component. From there, the rest is easy. A rum punch is 4 main components:
One is Sour
Two is Sweet
Three is Rum
Four is Weak
This speaks to the construct of a classic rum punch, with the weak component being water. Now often times, you will find that the ratios are slightly adjusted. For example, I added a touch of water to my recipe, so I didn't have to shake up my cocktail for too long. If I didn't plan on shaking the cocktail at all and just chilled it straight, I would have added more water. If I planned to shake the punch a ton, than I would have lessened the water or simply taken it out. This goes back to the fundamental importance of ice and water in your drink, that I so passionately share.
Okay, I'm thirsty, you must be thirsty, so let's get on with it!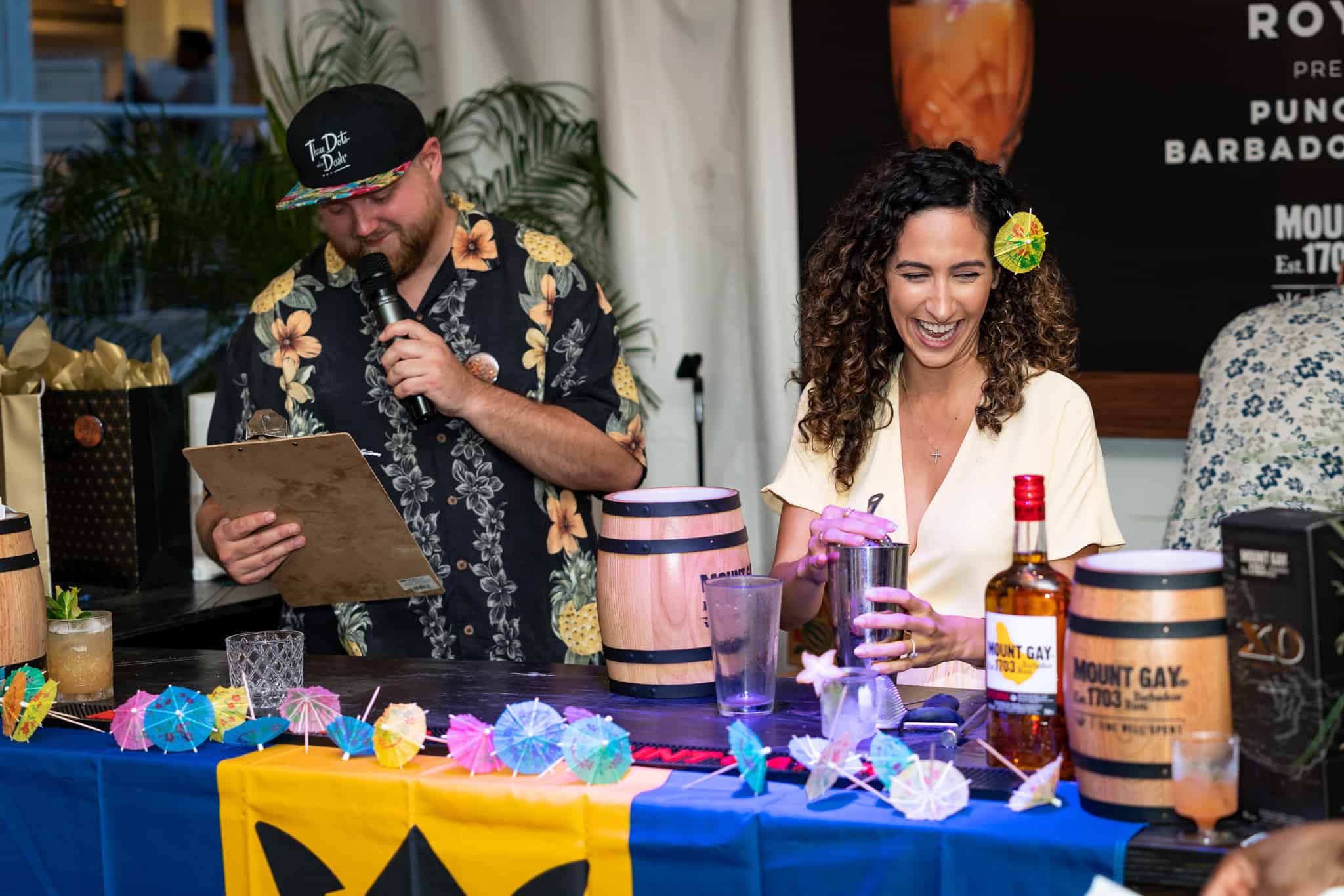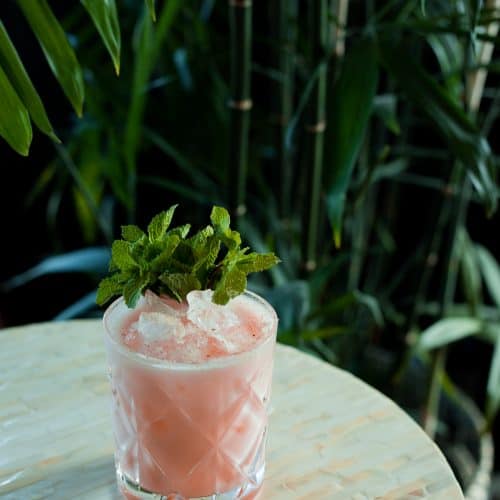 Mama Guava
A crowd favourite at the Mount Gay Rum booth hosted by Rum Royale. Check out why guava and coconut work so well in a punch.
– Difficulty: Easy
Ingredients
7

oz

Mount Gay Rum Eclipse

4

oz

Coconut Syrup

see recipe below

1.25

oz

Freshly Squeezed Lemon Juice

3

oz

Guava Nectar

8

dashes

Angostura Bitters

1

oz

Chilled Water

Nutmeg

Freshly grated for Garnish

4

Mint Sprigs

For Garnish
Instructions
Combine all ingredients and chill (covered) for 2 hours before serving

Place into large punch bowl with large block of ice OR Pour a serving into a shaker, give a quick shake and strain over crushed ice

Garnish each individual glass (whether single cube with punch bowl, or crushed ice serving) with mint and freshly grated nutmeg.
Recipe Notes
The Coconut Syrup is so simple, that I decided to simply put it into my notes:
1 can of Thai's Coconut Cream Unsweetened
1 cup Hot Water
1.5 cups Granulated Sugar
1/2 tsp Cinnamon Powder.
Blend all the ingredients above and strain. Can keep in the fridge for 1 week.