I created this cocktail with one vision in mind, to celebrate that Winter is ALMOST OVER! There's no hiding the fact that as much as I LOVE Canada, I can only handle about 1 month of snow before I am completely over it. So as clear as I can see Spring just around the corner, I had to make a clarified cocktail to celebrate the last official days of Winter in Ontario. This whisky-based cocktail is the ultimate deception, because I've stripped all the cloudiness into this delicious sip featured here.
First off, if you're new to the clarified cocktail obsession I have going on, you may want to give my Clarified New York Sour a read. It goes IN-DEPTH of the methods, rule of thumb and trials I went through to make it work, but boy am I happy I did! This marks my 4th clarified cocktail I've created with Liquid Culture, and believe me, it won't stop there. The most important thing to note is that you include enough acid and milk for the product to curdle, let it hang out in the fridge for a bit, before filtering out the product. Once you've done this method about 2 times, you'll quickly get the hang of it and want to make all your cocktails this way.
Going back to the Winter influence, I wanted to highlight some of my favourite flavours of winter, which immediately brought pomegranates to mind. I knew with layers of cinnamon, nutmeg and cardamom, I'd have that perfect warming effect in an ice cold, clear cocktail. I threw in a dash of fresh orange juice to marry the flavours, and I used the deliciously spiced Bastille 1789 Handcrafted Whisky. For a sweeter-styled Whisky, it's a great product coming out of the Cognac region in France. It's subtle and gentle with its tasting notes, including vanilla, fresh citrus peel and toffee, while on the palate is has a subtle introduction of honey that ties all the flavours to this cocktail. I really do love this bottle, but if you can't seem to find this product, that's okay! Something like the El Dorado 15 yr old rum would work wonders here, but if you want to stick with whisky, Bourbon would definitely be the natural choice and even Jack Daniels would play nicely with these flavours.
So there you have it! You have a range of spirits to choose from, because I don't like to assume that you have an unlimited budget for cocktails. Make sure to start off with the basics first, before adding to your bar cart some unique styles.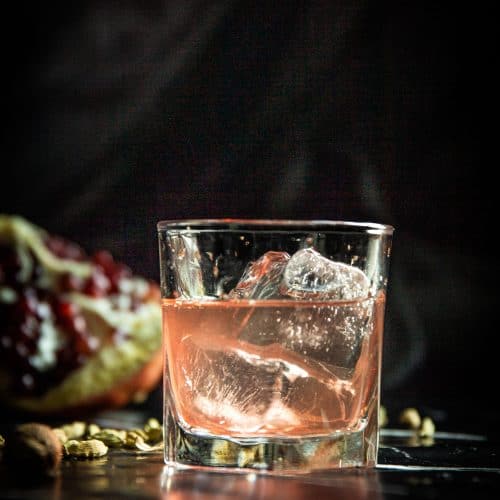 Pomegranate and Nutmeg Sour
An ode to Winter with this clarified Pomegranate cocktail - Includes Bastille Whisky, Pomegranate Juice, Orange, Cinnamon and Nutmeg
- Difficulty: Intermediate
Ingredients
4

oz

Bastille Whisky

3

oz

Fresh Pomegranate Juice

1/2

oz

Fresh Orange Juice

1/2

oz

Freshly Squeezed Lemon Juice

1/2

inch

Freshly Grated Ginger

1

Cinnamon Stick

6

dashes

Cardamom Bitters

1.25

oz

Simple Syrup

75

mL

Heavy Cream

1

Nutmeg

Freshly grated for garnish
Instructions
In a spouted container, add Whisky, Juices, bitters, ginger and syrup and give this a stir

In a separate spouted container, pour heavy cream. Pour cocktail mixture INTO milk mixture. Add cinnamon stick and cover container with plastic wrap for 1 hour (can leave in the fridge for UP TO 1 DAY, but take out the cinnamon stick).

Grab a mesh sieve and coffee filter and filter out the cocktail. This will take some time, so just leave it be until it's completely filtered. Once filtered, it can be stored in the fridge for 1 month.

When ready to create the cocktail, grab 1 large ice cube, pour your cocktail and grate with fresh nutmeg over top.