Caught my LIVE demo with Grace Foods and curious how you can make the cocktails at home? Or simply need a recipe to refer too? Liquid Culture has you hooked up as I share all the goodies here!
For this special campaign with Grace Foods, we wanted to give you easy cocktails to sip by the pool so you can Chill and Grill all summer long (at least what is left of it). They've got some outstanding products I was already using in the first place, so I was honoured to whip up some Summer cocktails for the team. Plus they have a great lineup of juices from their Tropical Rhythms lineup that's easy to mix with cocktails! Curious what I mixed with? Check out below for details!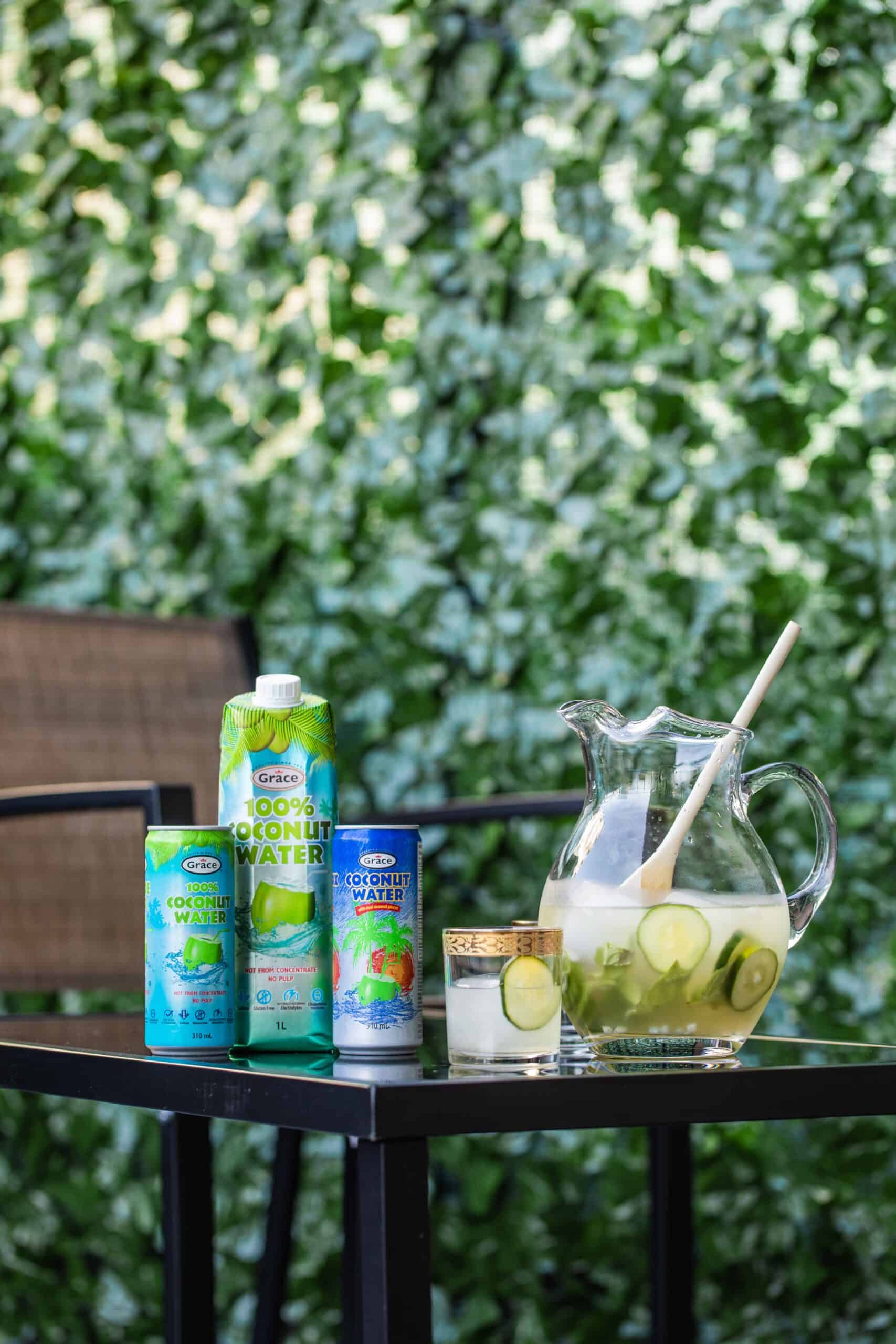 Having wanted to create a cocktail that was light and refreshing for a punch, this wasn't exactly the easiest task. Luckily, there are certain spirits that are great to have on hand when you want to make something easy, bright and fresh for every palate to enjoy. Clear spirits tend to be that for me, for example Vodka, Gin, Tequila. Then you lengthen the cocktail so it's balanced and not just filled with a 40% ABV spirit. That's when I like to use Vermouths, Aperitivos, Sherries, Liqueurs, you name it, to help give you that added level of complexity to your cocktail. Plus it's easy to layer in, and can really brighten up the punch recipe. BUT one thought to always keep in mind is that LESS is MORE. And by that I'm referring to flavour. If you're mixing a million different spirits, you're just creating your own jungle juice and it's harder to balance the flavour unless you're adding more sugar or more water.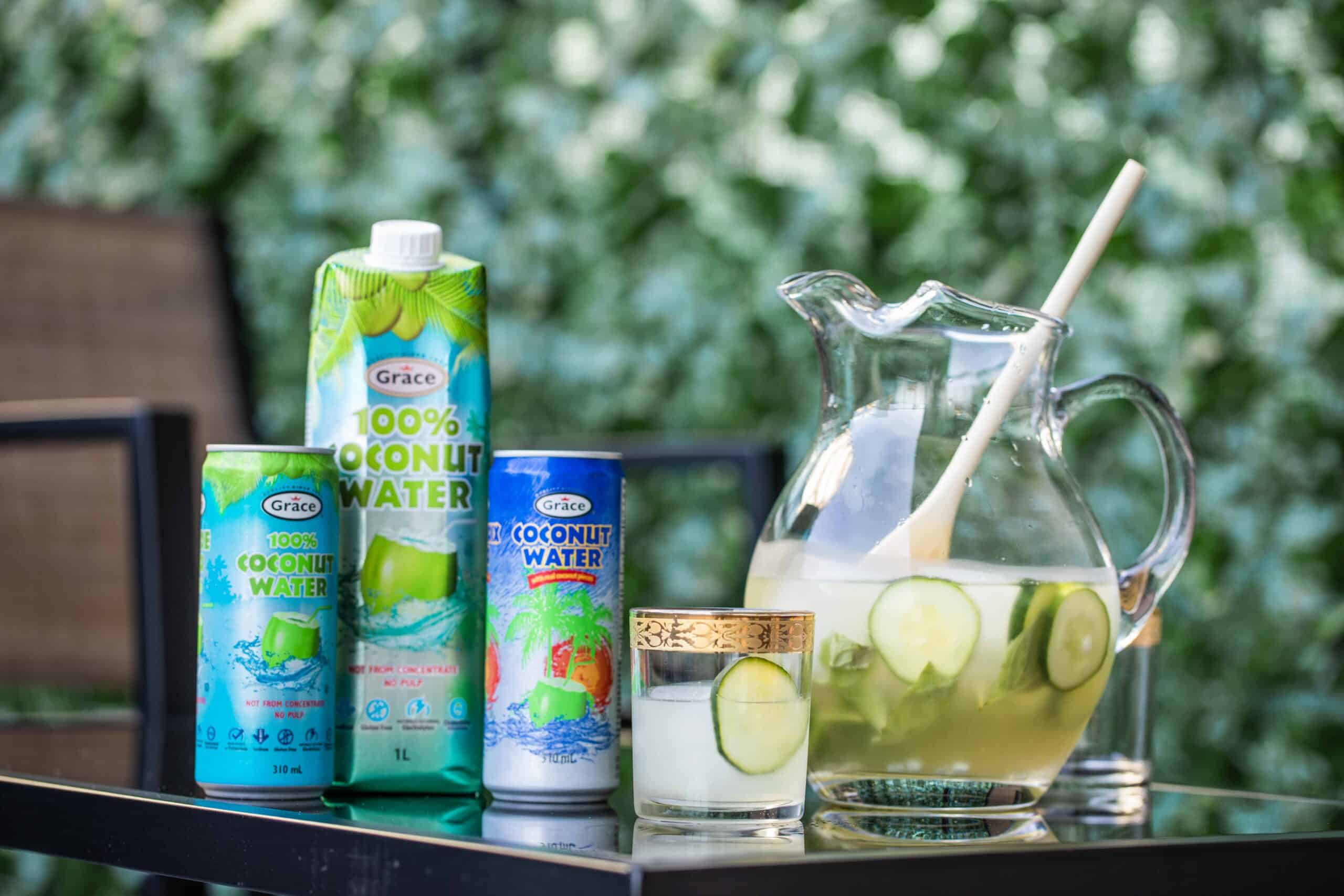 Light and Breezy – Coconut Gin Punch Recipe
For this punch, I wanted to keep it simple for my audience, with easy to find the ingredients and highlighting one of the stars of the Grace lineup, and that's their Coconut. Their 100% coconut water is definitely a favourite for me, and I wanted to make sure the flavour really came through. So I decided to be somewhat delicate with the flavours I chose for this punch, avoiding anything too aggressive on the palate. This is also the reason I chose to use Dry Vermouth to help lengthen this cocktail, because a Fino Sherry could quickly overwhlem a cocktail with it's unique tasting notes.
If you love coconut and you love cucumber, you won't need anything else, and this is a great punch to have that's approachable to most palates. Aka, your guests are unlikely to complain! See below for recipe details.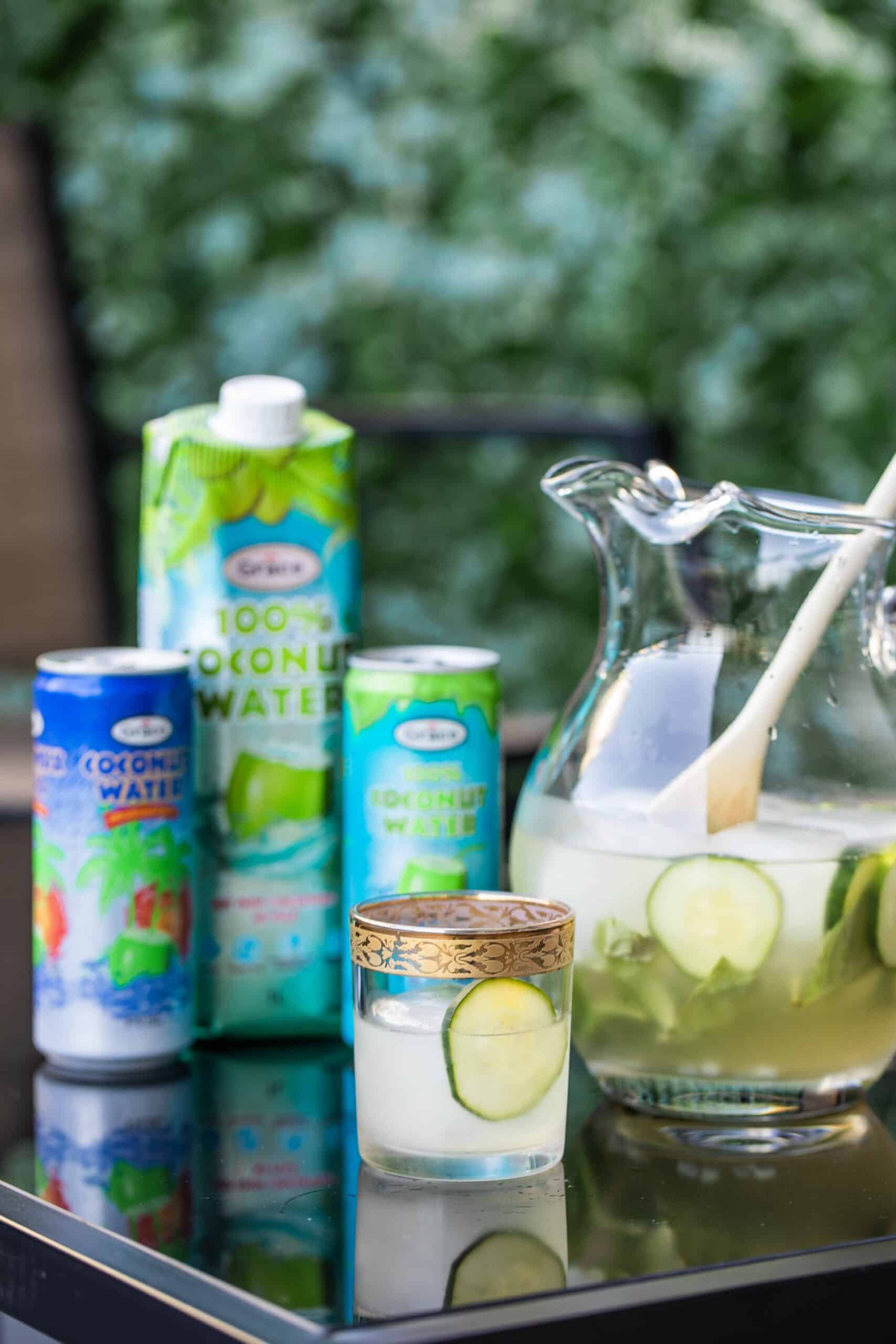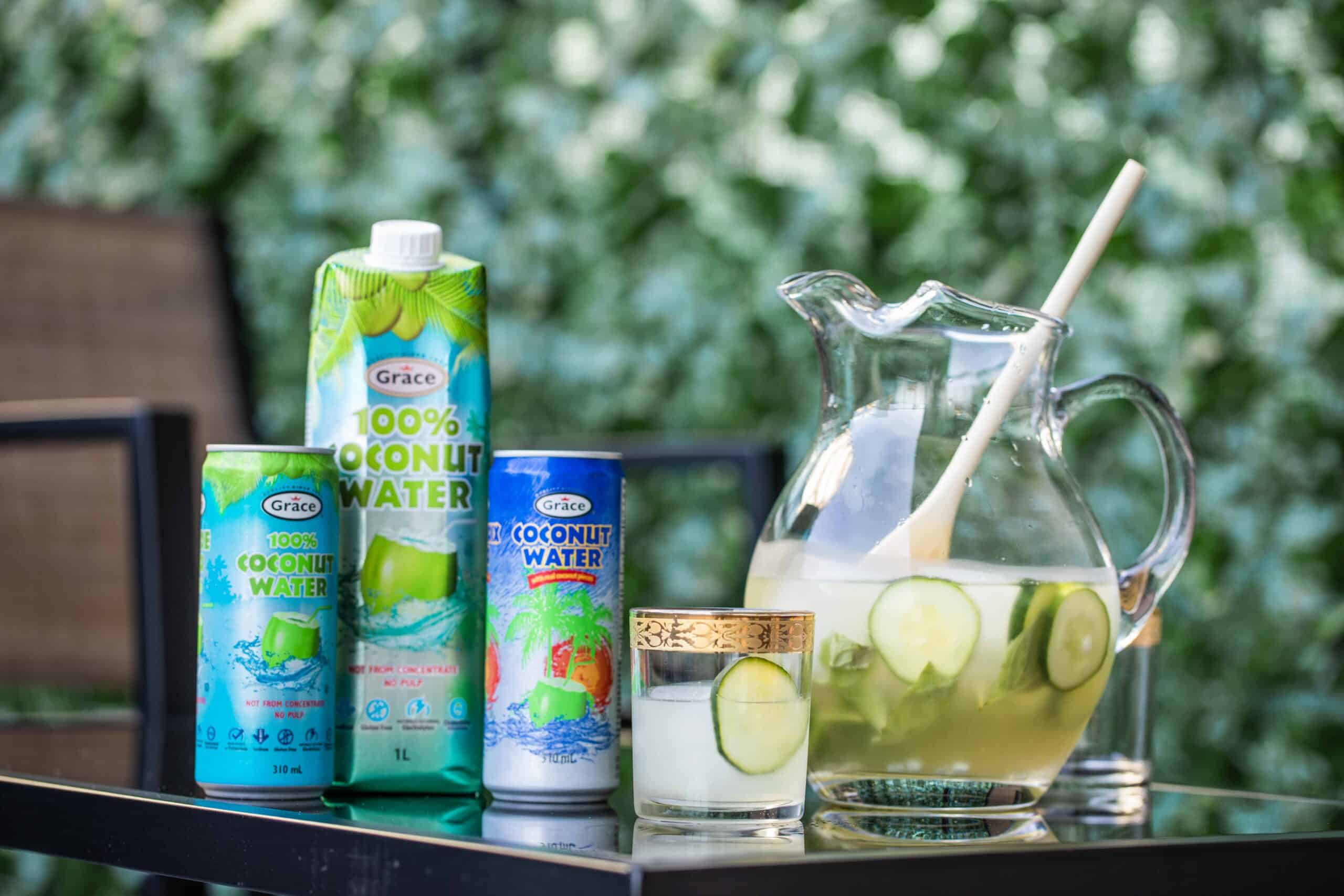 Light and Breezy
Put together this EASY punch that combines Cucumber, Basil and the star of the punch, Grace's Coconut Water!
– Difficulty: Easy
Ingredients
4

oz

Gin

London Dry

4

oz

Lillet Blanc

10

oz

100% Coconut Water

3

oz

Freshly Squeezed Lime Juice

3

oz

Simple Syrup

4

oz

Sparkling Water

1/2

Cucumber (approximately 1/2 cup)

sliced into wheels

4

dashes

Bitters

6

sprigs

Basil
Instructions
Grab a pitcher and fill with large ice cubes, basil leaves and cucumber slices.

Fill with the rest of the ingredients, give this a stir. Let it sit for 10 minutes in the fridge before serving.
Recipe Notes
If you would like to create this punch in advanced, simply put 1 large ice cube to the mix and leave it in the fridge until you're ready. If you want to make it more than 3 hrs in advanced, I would add less basil and toss it in closer to your serving time so it doesn't quickly overpower the flavours in your punch.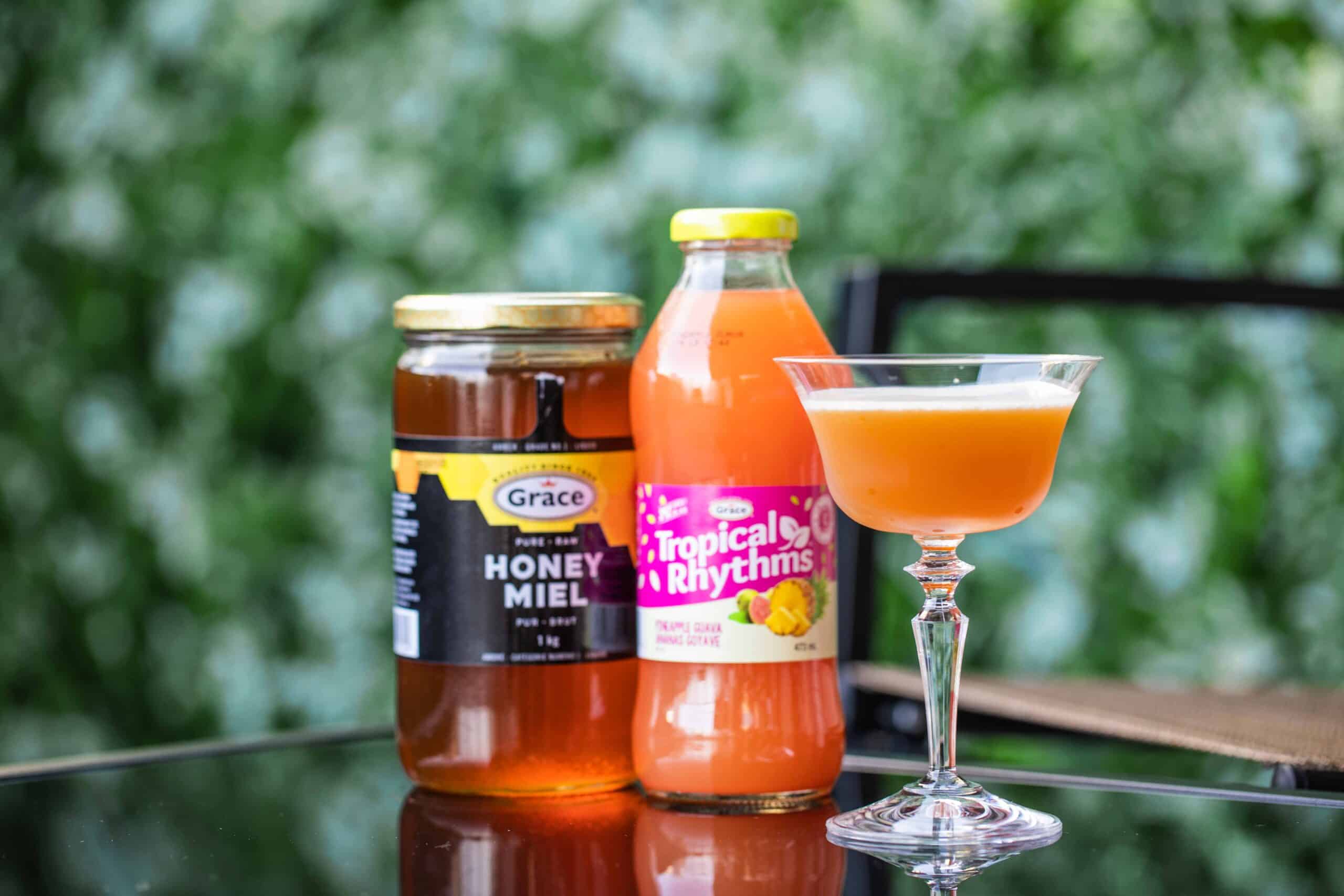 Grace Me Daiquiri – Pineapple and Guava Daiquiri
Could there be a more iconic rum cocktail other than the daiquiri? I don't think so. Having loved the classic and playing around with the different ratios, this is actually a classic that can be easily adapted, which is exactly what I'm doing here. You could easily switch up the flavours of Grace's Tropical Rhythms selection, such as Island Mango and Sorrel Ginger. But for this daiquiri, I kept it simple with the pineapple guava, because I can't get enough guava in the summer.
Want to switch up the juice flavour? You definitely can! Just be mindful of the sugar levels before mixing. I always say add less sugar and build off that, because once there's too much, it's hard to save the cocktail.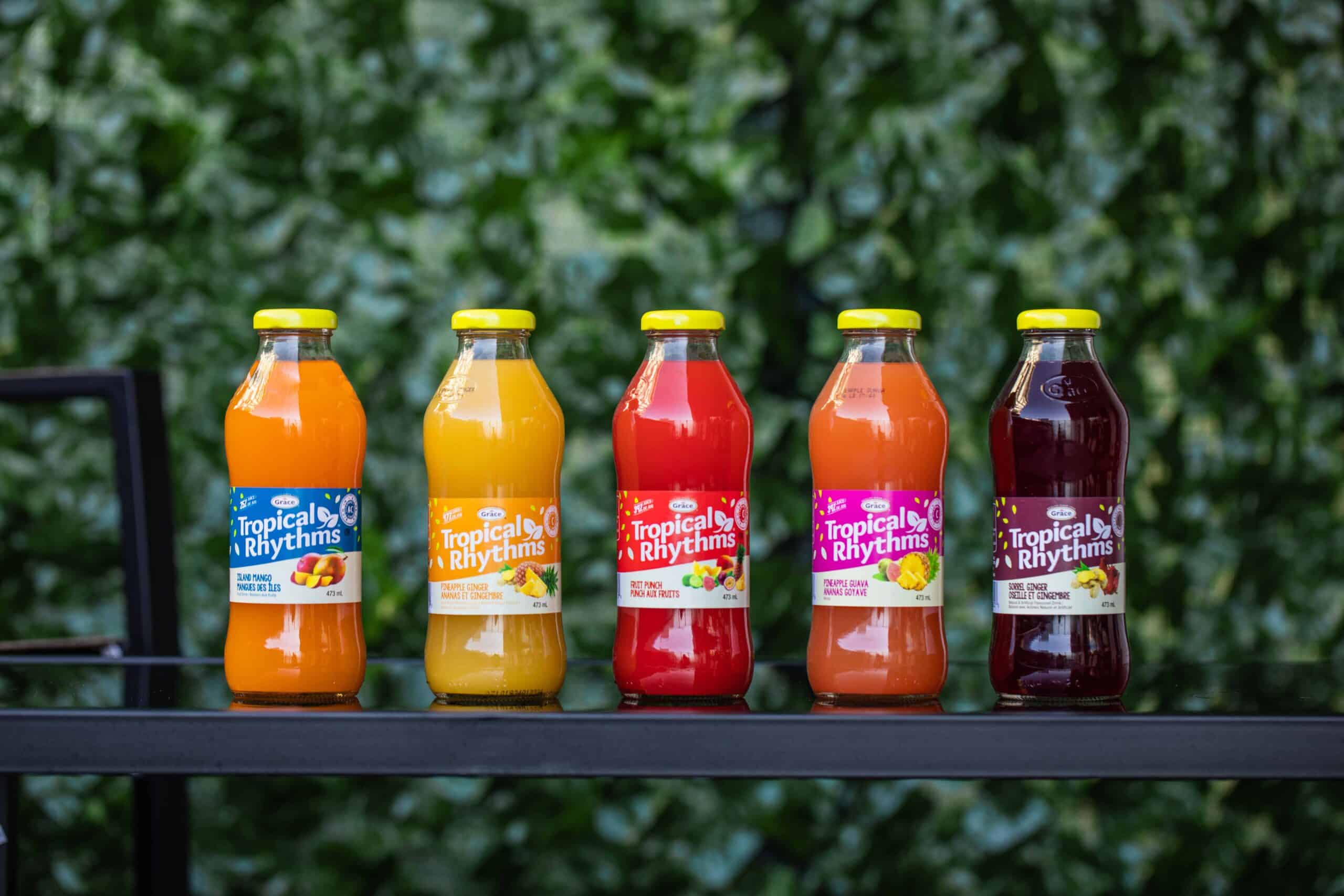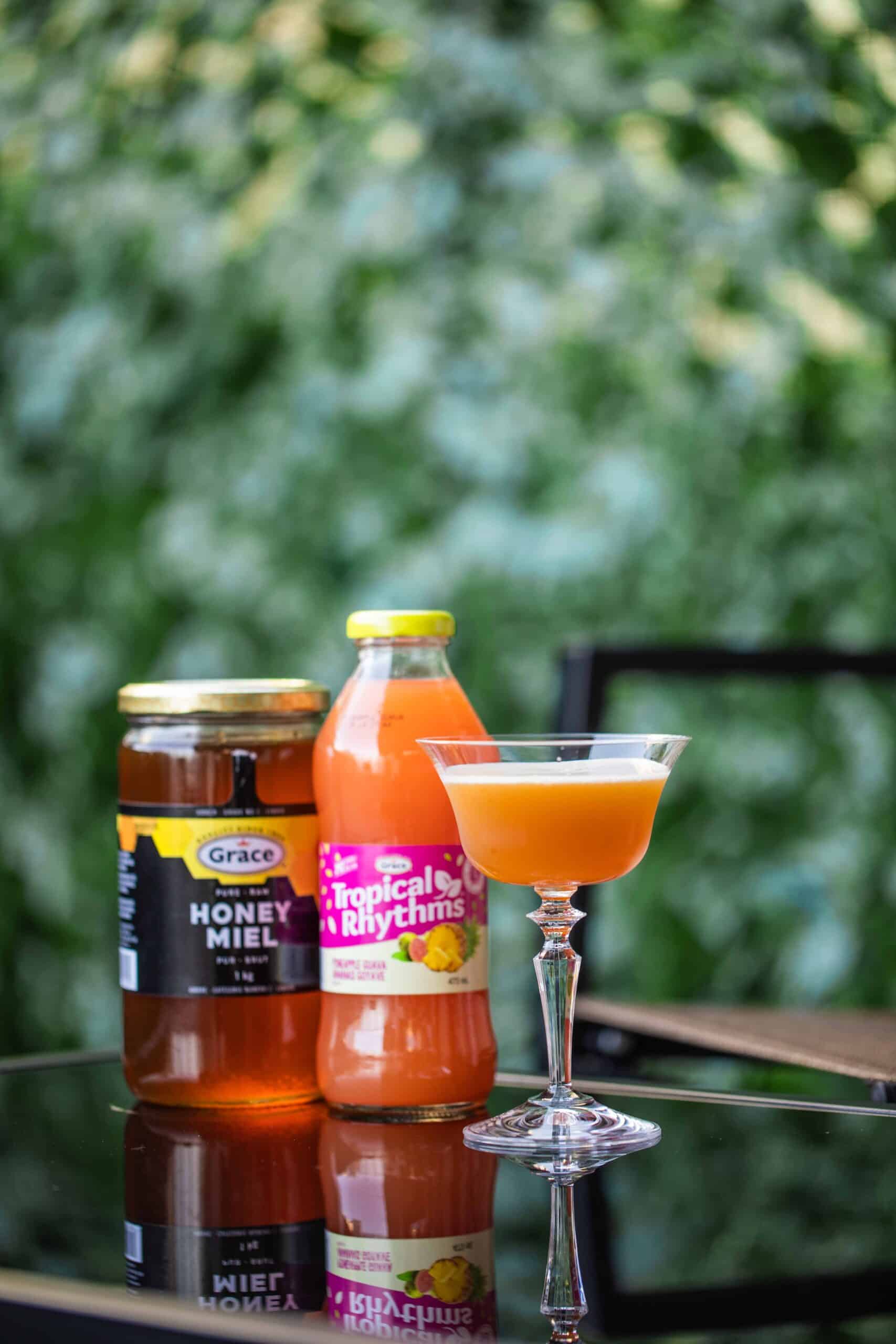 Grace Me Daiquiri – Pineapple Guava Daiquiri
Using Grace's Tropical Rhythm juices, we're creating a delicious Rum Daiquiri with Pineapple and Guava Juice!
– Difficulty: Easy
Ingredients
1.5

oz

Gosling's Black Seal Rum

3/4

oz

Freshly Squeezed Lime Juice

3/4

oz

Tropical Rhythm's Pineapple Guava Juice

3/4

oz

Honey Syrup

1:1 ratio
Instructions
Grab a shaker, fill with ice and add all your ingredients.

Give this a vigorously shake and strain over your favourite coupe glass.
Recipe Notes
Curious about that Honey Syrup? It's just a simple combination of 1 part Grace's Honey with 1 part boiled water. Give this a stir and you're all set to go!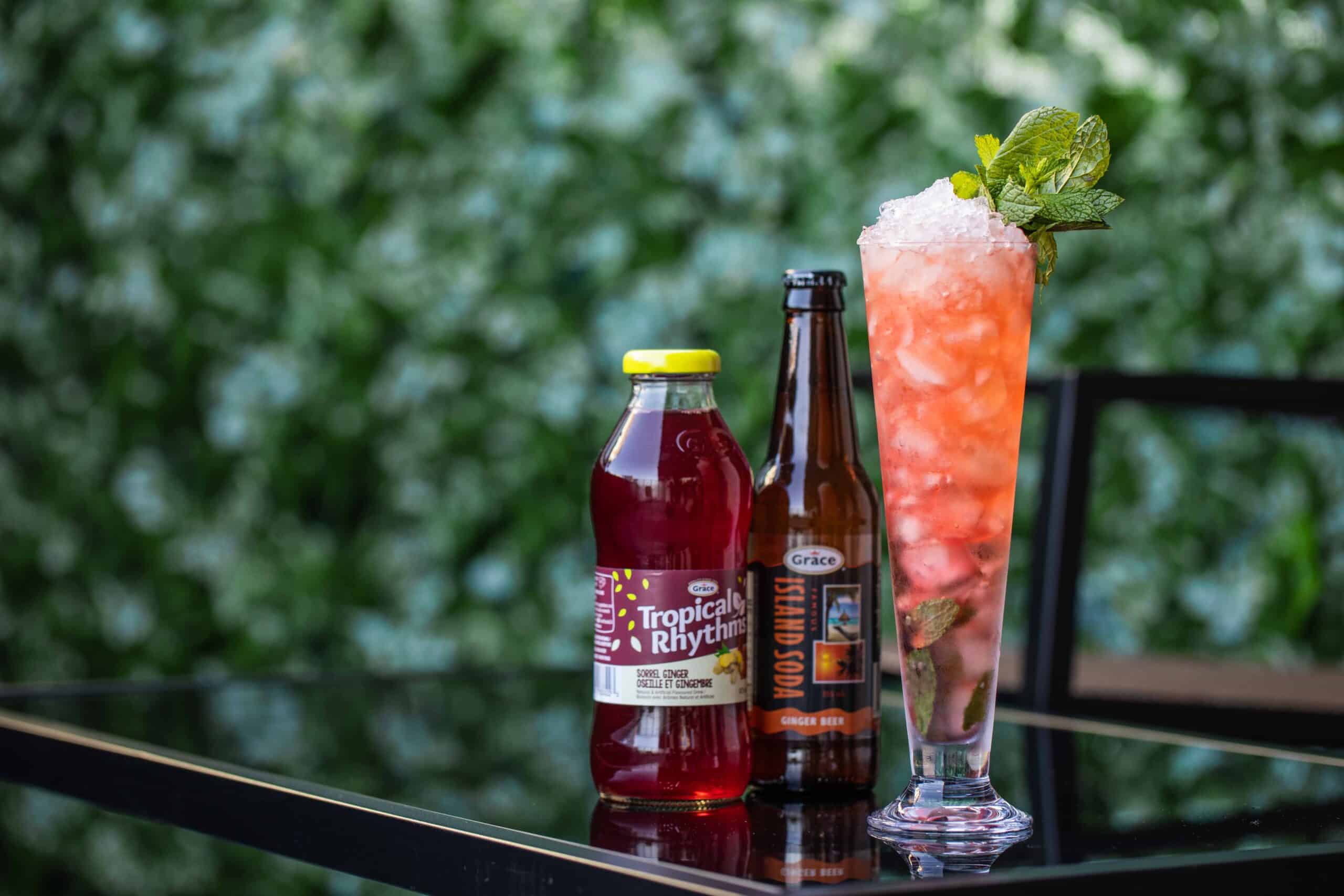 Sorrel Ginger Slide – A Rum Swizzle flavoured with Sorrel and Ginger!
With International Rum Day having just past, I'm definitely having a rum craving. And with that, nothing is more refreshing to me than a swizzle! The concept of a swizzle is that you use a swizzle tool to help incorporate your cocktail, typically made in a tall Pilsner glass with crushed ice. Mint is definitely the key here, and try not to sway from the ratios to make sure everything is in one delicious glass. The key things you need for a swizzle is a strong ABV spirit (40% alcohol or more), bitters for the spice, and mint but even that's flexible with any leafy herb you'd like to incorporate.
This is a true gem, combining some Appleton's Rum for that delicious funky style you typically find with Jamaican rum. It's then mixed with Grace's Tropical Rhythm's Sorrel Ginger Juice. PLUS we use my favourite product off the Grace line and that's the ginger beer. There's nothing, and I mean VERY FEW ginger beers I mix with my cocktails with, and when I can't make my own syrup, Grace is definitely my go to.
Want to know how it's made? Check out the recipe below for details!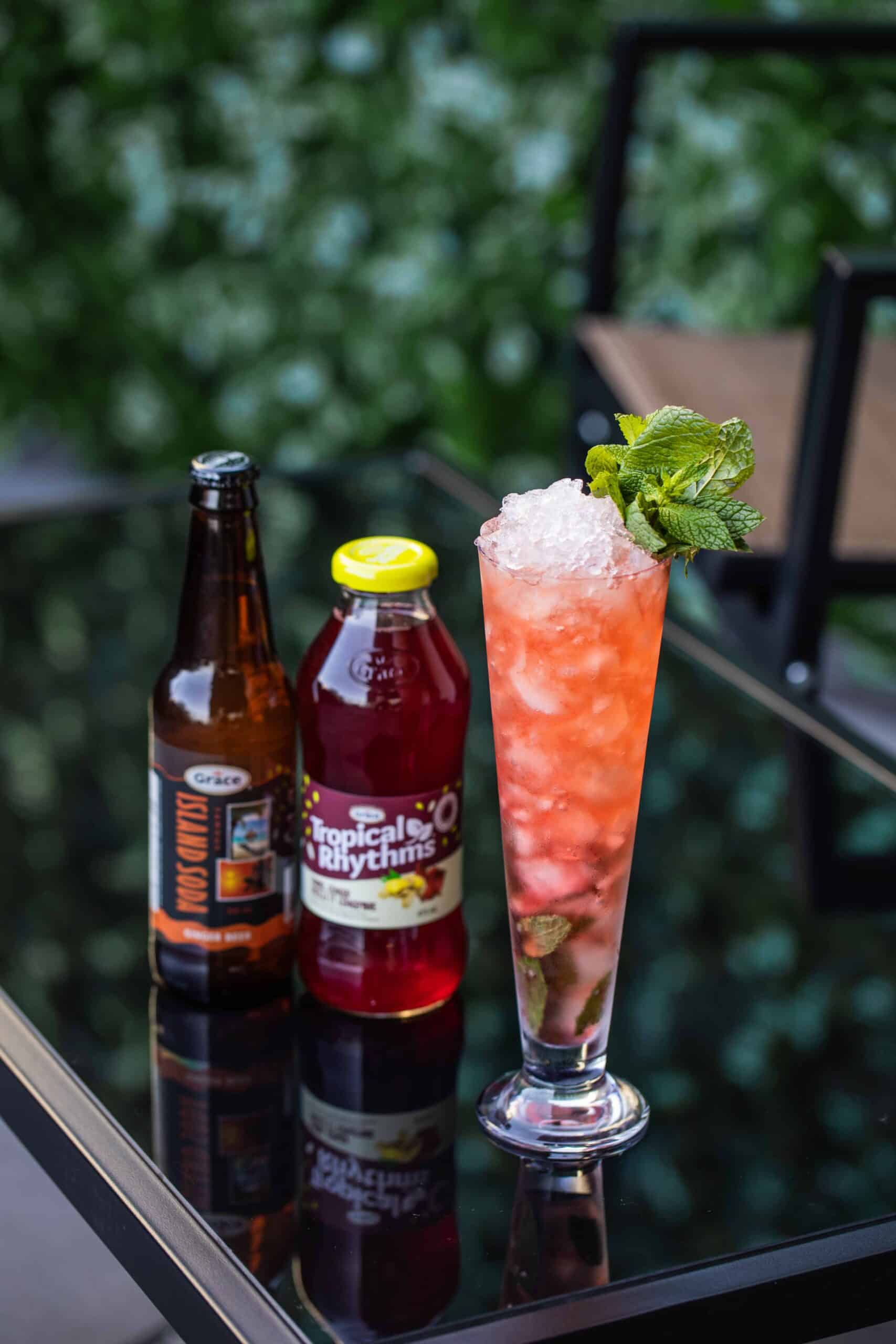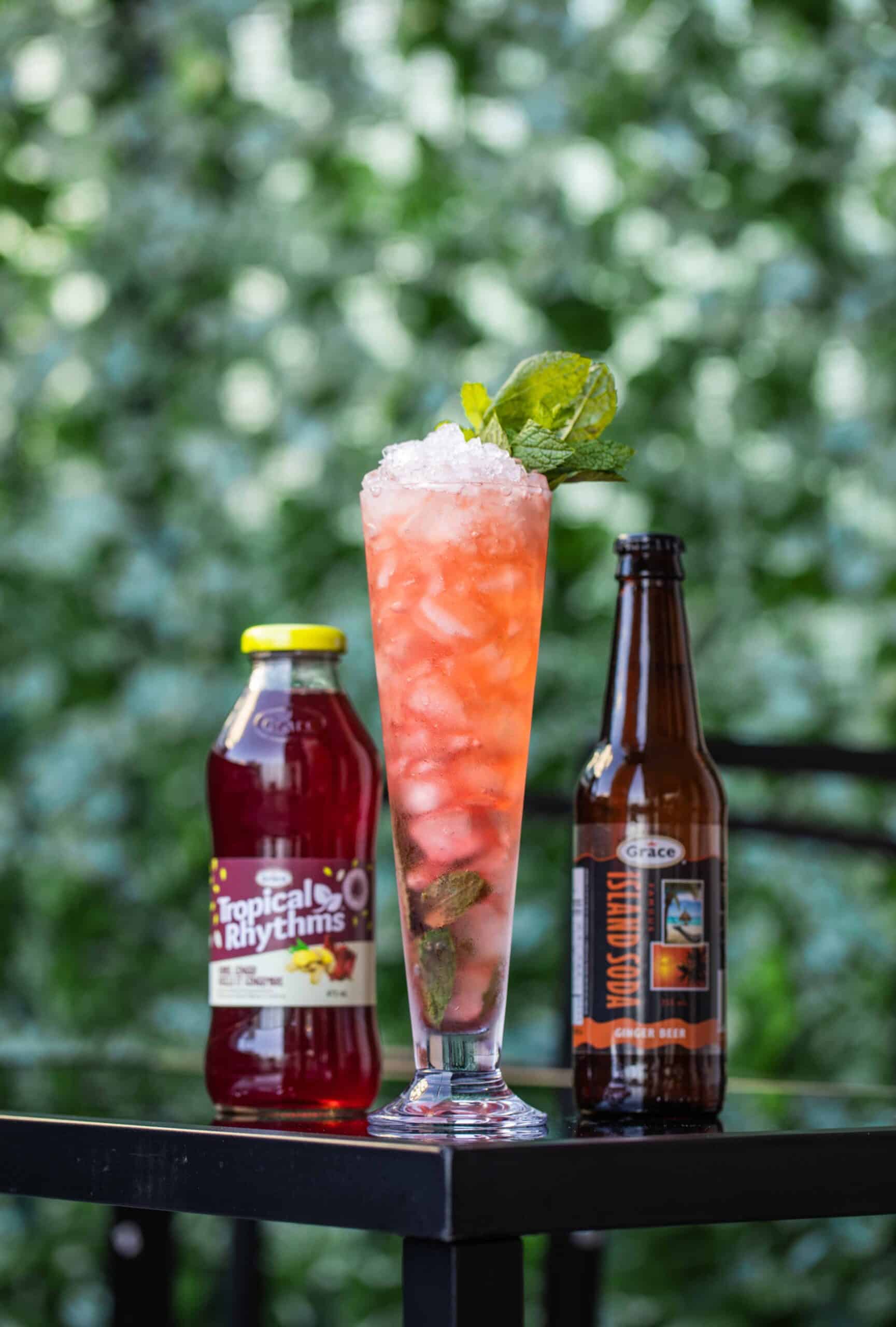 Sorrel Ginger Slide
A delicious swizzle cocktail using Grace's Tropical Rhythms Sorrel and Ginger juice, plus their ginger beer!
– Difficulty: Intermediate
Ingredients
1.5

oz

Appleton's 8 yr old Rum

2/3

oz

Tropical Rhythm's Sorrel Ginger Juice

1/2

oz

Lemon Juice

2/3

oz

Brown Sugar Simple Syrup

1:1 ratio

2

dashes

Hibiscus Bitters

1/2

oz

Grace's Ginger Beer

3

sprigs

Mint
Instructions
Muddle or gently press 2 sprigs of mint leaves to release it's aromas and place into your pilsner glass.

Add the rest of the ingredients (except Ginger Beer).

Fill your pilsner glass 3/4 of the way with crushed ice.

Swizzle/churn your cocktail until combined. Top up with crushed ice once more.

Top with Ginger Beer and garnish with mint leaves.
Want to watch the segment on how I put these all together? Head over to the Grace Foods Canada IGTV page and see all the magic happen!