So the title maybe a tad confusing, but it will all make sense once you continue reading. Today's #LCFeature chats all things trademark battles, Devin from Spirit & Oak/Booze Letter and Pisco!
Let's first talk about the reason I chose Devin as my #LCFeature this week. I met Devin for the first time at an Irish Whiskey tasting (off to a great start). Now the community of spirits enthusiasts is a bit small in Toronto, at least for those of us that are continuously pushing out new content and recipes on the gram. So I had already been following Spirit & Oak for some time, but I had no idea who was the creative mind behind it. Fast forward to today, I am now religious to his weekly Boozeletter Subscription (you have to sign up! Check it out here) and I can't wait for our next encounter which I'm assuming will include Mezcal.
Devin recently tagged Liquid Culture in a post about a Trademark battle between Glenfield and Glenfiddich, and it reminded me of the Trademark battle that hit very close to home for me. For those of you who don't know, I took a trip to Peru a few years back and had one of the most outstanding distillery tours of my life. That's a BIG statement right there. The distillery was called Pisco Porton, a product you rarely find in Ontario but I knew of it through my research and travels. When I heard the unfortunate news that they lost the trademark case again Patron, my heart sank. I met the people involved and couldn't help but think about the Abuela who cooked up an outstanding meal with our tasting and our lovely tour guide.
Moral of the story is, Glenfiddich lost their case, while I thought that the case against Pisco Porton and Patron was wildly different, and went in the opposite favour. It's not all doom and gloom though. Pisco Porton is still around, under the new name of La Caravedo Pisco, and I'm happy to share that we have a distributer in Ontario that can sell private orders of this AMAZING Pisco! So this cocktail is in honour of the OG Pisco Porton, Devon's exclusive Daddy Van Winkle launch (kidding, but see the link for the joke), and all the amazing work and effort that's put into Boozeletter.
Sure, I could have whipped up a classic Pisco Sour for everyone, but I wanted to create something unique for this community. Because of Devin's love for Whiskey, I decided to mix up this Pisco with a dash of White Owl Whisky. It's a Canadian Whisky that has been filtered through to create a crystal clear product. The product itself is VERY similar to Pisco, but with a slight spiciness from the charred barrels and grain, complimenting each other very well. That, and with my obsession over Gonzales Byass Nutty Solera, I've combined the three spirits into this delicious swizzle serve. It infuses the Raspberry Syrup I made last week (yay to recycling syrups!), with fresh lemon and mint. You literally can't go wrong with this cocktail here.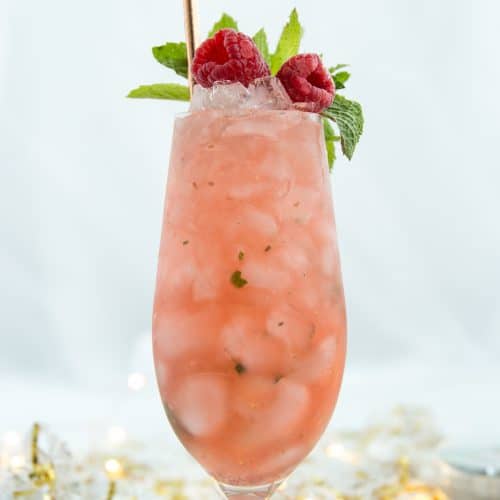 Daddy Van Pisco
A cocktail dedicated to the talented writer of Spirit & Oak and his Boozeletter with this Pisco Whisky Serve. Combines Raspberry Syrup, Fresh Lemon and Mint!
– Difficulty: Intermediate
Ingredients
1.5

oz

La Caravedo Pisco

1/2

oz

White Owl Whisky

2/3

oz

Gonzales Byass Nutty Solera

1/2

oz

Raspberry Syrup

2/3

oz

Freshly Squeezed Lemon Juice

8

Mint Leaves

+1 sprig for Garnish

4

dashes

Bittered Sling's Kensington Market Bitters
Instructions
In a shaker, rip up the mint leaves and add the rest of the ingredients

Add a small handful of crushed ice, give it a short shake and dump into pilsner or any tiki mug

Fill the rest of the glass with crushed ice, swizzle/churn ice until it reaches the top.

Garnish with fresh Raspberry and Mint
Recipe Notes
If you want to learn how to put together the Raspberry Syrup, follow the link attached!
Bittered Sling Kensington blend is Toronto's own version of Angostura Bitters. Believe me, it's worth every sip, but if you don't live in Canada and/or don't have access to it, I won't be too upset if you switch it up for Angostura!