In honour of the Kentucky Derby this weekend, I'll highlighting the history of this #TBThirsty with one of the most sought after Julep Recipes of its time. Meet the Joe Redding's Julep.
You have no idea how tempted I was to call this the Joe Reddington (This is for my #BlackList nerds who love the show and Raymond Reddington). But I'm not here to re-write history. Instead I want to shed some light on some classic cocktails that are often forgotten.
I won't dive into too much details of the Mint Julep (because I'll be bringing it up tomorrow), but what you need to know is that the Mint Julep was the first TRUE American Drink. In today's version, you will find that Bourbon or Whiskey is the common spirit of choice, but it all started off with Brandy! Back then, enthusiasts would criticize bartenders for making such a bold change to the classic, as I'm sure they are watching above, crying over some of the versions we serve today.
This particular version though is quite unique, and one of the only Julep recipes found from the 1900's. It all started with a German Immigrant Bartender that was wildly known as the Julep King of Mississippi. Even decades later, enthusiasts would say that no one came near to the Julep that was created by John George Vennigerholz. A newspaper at the time had mentioned his influence, and the unfortunate fact that he kept his Julep recipe to his grave. We will never know what he created, but to keep the readers' hearts afloat, they included a Julep recipe from the reputable bartender Joe Redding in Louisville (Home of the Derby everyone!).
This unique Julep brought a bit of hope and life into what they believed to be closest to John's creation. And it's VERY different from what we know today. It combines Cognac, Rum and PORT! And if it didn't have a bouquet of Mint on top, then it wasn't a Julep. Now the exact instructions on how to make this is a bit tough for me to picture, but I'm going to do my best to translate my interpretation (remember, Bartenders are a bit scatter brain when it comes down to writing down cocktail instructions…me included).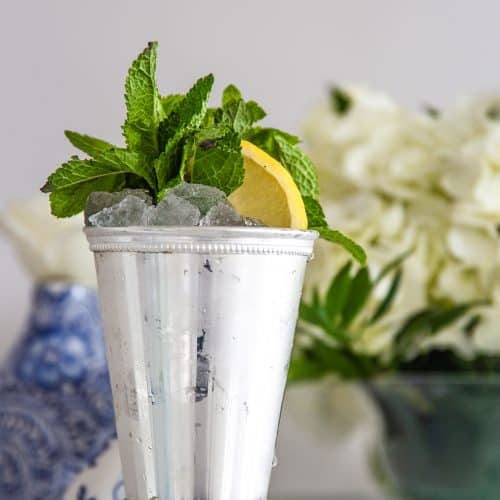 Joe Redding Julep
Looking back at a classic Julep recipe in honour of Derby Weekend – This version combines Cognac, Rum and Port with a huge bouquet of Mint!
– Difficulty: Expert
Ingredients
2

tsp

granulated sugar or super fine

2

tsp

Water

1

oz

Cognac

H by Hine Cognac used here

1

oz

Old Jamaican Rum

Appleton 15 yr Rum Used here

1

oz

Old Ripe Port

Taylor Fladgate 10 yr Used Here

2

bunches

Mint
Instructions
Grab a tumbler and mix sugar and water, stirring until lightly dissolved

Add ice to the brim of the tumbler (half crushed, half moderate medium size)

Add 3 mint leaves (stems removed) to the top of the ice and slowly pour each spirit over

Grab another tumbler and continuously pour between each tumbler – Back and Forth (I did it 8 times) – Half way in this process, add 1 bunch of mint leaves (2 sprigs with stems removed) and continue to toss between the two tumblers

Pour into Julep Tin, add a bit more crushed ice for the top of the glass and add a bouquet of Mint with sliced lemon
Recipe Notes
These were the instructions as laid out by the Imbibe book (written by David Wondrich). Obviously we have come up with simpler ways to get it done, but there's something about this classic serve that makes me want to stick with what the experts did back then. It's how they intended this to be drunk. So cheers to them!