With all my boozy ice cream and spritz creations lately, I started to crave a spirit forward sipper. So having wanted to create something bright for summer that can be sipped, I asked you for your votes on IG on what flavours you'd like to see! With a structure of a Manhattan, I built this Single Malt cocktail that I absolutely love and plan to enjoy this summer. See how Orange and Whisky come together so well.
If you're new to the concept of #DrinkYourGram, I started it as a way to give you cocktail recipes YOU WANT. By voting on my IG stories every Tuesday, you get a chance to shape the cocktail you'd like to create at home. For this week, having craved a spirit forward cocktail I wanted to know what flavours you would like to see. So I asked you to vote on the following:
What do you prefer for a Spirit Forward Cocktail?
58% voted Manhattan (vs Martini)
Mixed with
82% wanted it with Vermouth (vs Sherry)
Made with
83% voted Citrus (vs Chocolate)
Cocktail needs
65% Rock(s) (vs no rocks – in case you didn't know, it means ice)
It's funny, because when I first tasted this cocktail, the combination brought out a lot of chocolate notes I didn't expect. But don't let this throw you off. This is very much a bright, spirit forward cocktail that you can enjoy at any point of the night.
Now the Orange Colombo is a new favourite for me, and the Aperitif component gives it the herbaceous notes that compliment the Spanish vermouth I have paired. If you don't have a Spanish Vermouth, pick up a French Dry style. Also, with it being Summer, I knew I wanted to go heavier on the Blanco Vermouth to keep things bright. Hence why the ratio isn't your typical Manhattan.
The only thing that remotely makes this close to a Manhattan is the fact that this recipe has vermouth and whisky in it. That's it. And when it came to choosing a whisky, I went with the Glenmorangie Single Malt for it's complexity. It offers a ton of stone fruits and spices I love, but I wouldn't object to a Straight Rye or even Bourbon for that matter. Play around with what you have at home and see what combination you love! So without further ado, the recipe!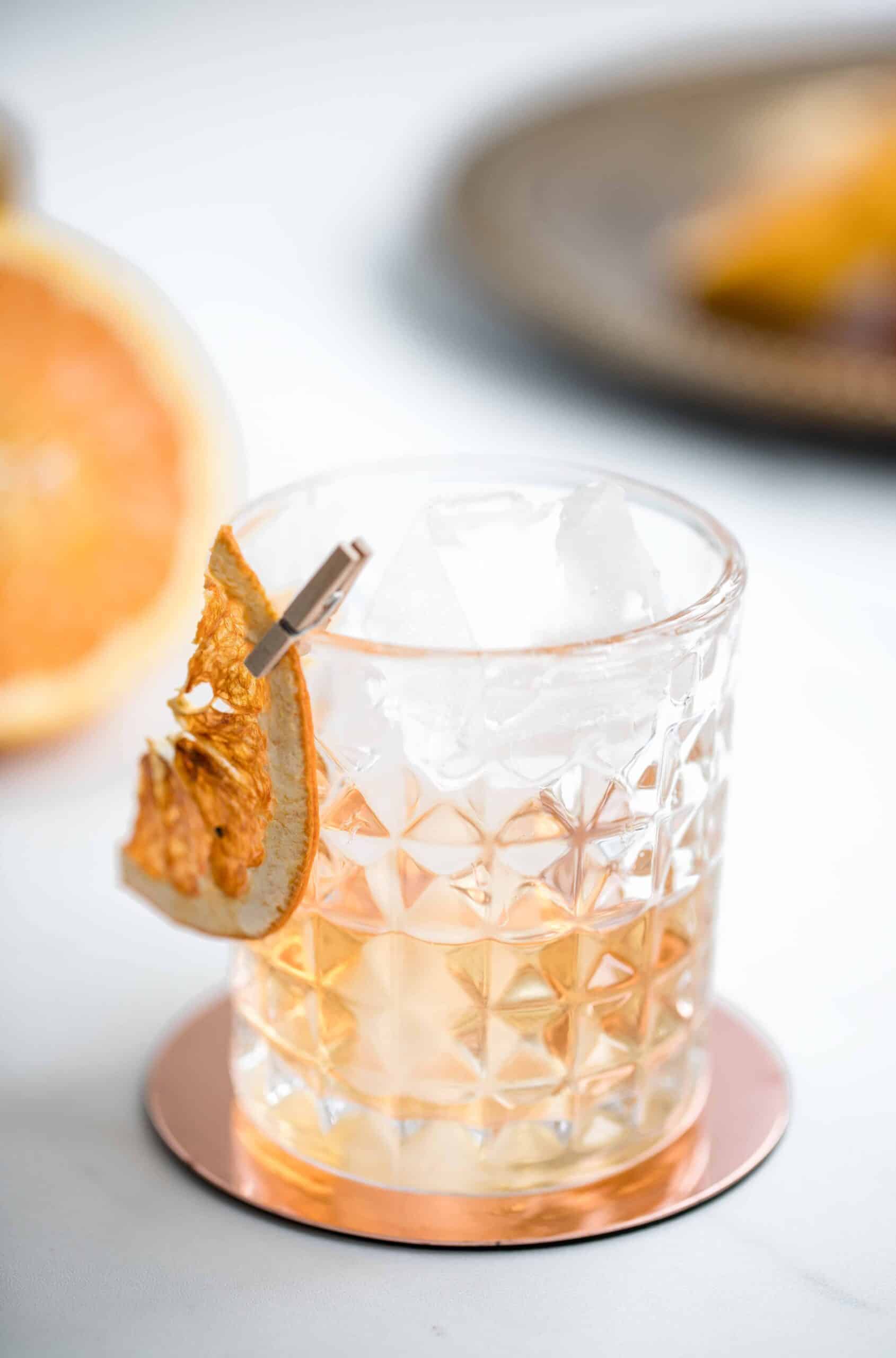 Grace L'Orange
This spirit forward cocktail is bright and made with sip worthy ingredients, perfect for summer.
Difficulty: Intermediate
Ingredients
1 and 3/4

oz

Glenmorangie Whisky (Original)

1/2

oz

Orange Colombo Aperitif

3/4

oz

Yzaguirre Blanco Vermouth

1

dash

Peychaud's Aromatic Bitters

1

Dehydrated Orange Slice

for Garnish
Instructions
Fill a mixing glass with ice and add all your ingredients (except garnish). Stir well.

Strain over a few large rocks and garnish with dehydrated orange