It's tempting to lick your screens, I get it. But what should get you more excited is how easy it is to throw this together. See how I combine Fresh Kiwi, Tequila Blanco, Coconut Water and Lime for the ultimate adult treat! Want to know how this Sorbet is made? Head down below for details.
---
---
#IceCreamSundazee is back and I'm excited to share a simple, fresh sorbet that mixes with my favourite spirit. Now for those of you new to the making ice creams at home, there are a few things you should know:
2 Days Prior: Toss in Ice Cream Maker into your freezer. Before you go to bed, just don't forget to toss it in.
Next Morning: Blend/Make your Ice Cream base. This doesn't take a ton of work, but you need to let it chill. So make it, toss it into the fridge and cover for a minimum 6 hours.
Later that Night: Add your chilled Ice Cream Base to the Ice Cream Maker. Let it churn slowly for approximately 20-50 minutes, depending on recipe. Pour into container. Cover. Toss into Freezer.
Enjoy the following Day: That's really it. Give it time to sit and solidify some more. Before serving, make sure to let it sit at room temperature for 10 minutes or 30 minutes in the fridge.
It's all about being patient, but does it make you work very hard? Not even for a second.
---
Now Sorbets and Ice Creams have two very different approaches, and for those looking to dive more into the life of Ice Cream, I actually highly recommend getting the New York Times Cooking App and follow along some of the notes the experts share. There's too much for me to dive through here, PLUS I think it's important to support the work the experts have done. It's incredible and worth paying for, plus I believe you can get the first month free!
I kept debating whether I would use Coconut Milk for this recipe, but I was actually quite pleased that I didn't. Although I LOVE coconut, I wanted to keep this sorbet as light as possible, so I stuck to the water. If you want more coconut flavour, add a bit of coconut milk or coconut extract so the volumes don't drastically change.
Curious how you can make this at home? I'm sure you wouldn't be here if you didn't. Check it out below!
---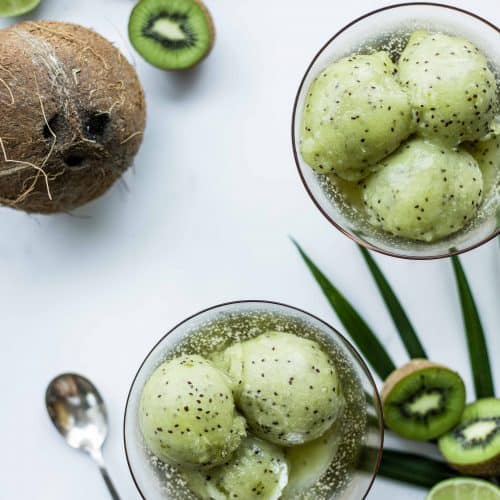 Kiwi Coconut Margarita Sorbet
Combining Blanco Tequila, Fresh Kiwi and Coconut Water for the ultimate margarita.
Difficulty: Easy
Ingredients
3

cups

Kiwi

Skins removed and discarded. Approximately 8-10 kiwis

1.5

cups

Coconut Water

3

Limes

8

oz

Blanco Tequila

Altos Blanco Tequila used here

1.5

cups

Granulated Sugar

1/2

tsp

Fine Sea Salt or Maldon Salt
Instructions
Roughly chop 1 lime (pits, skins, juice, everything) and place into a blender with the sugar and salt. Blend/pulse until lime peels are fairly small.

Add the rest of the ingredients (for the rest of the limes, simply squeeze out the juice), and blend until smooth.

Pour into a bowl and let this sit in the fridge for at least 4 hrs or overnight.

Following the instructions of your ice cream maker, add your chilled mix into the bowl and stir for a minimum 45 minutes.

Pour into a freezer container and cover. Let it sit for 3 hours before use.

Before serving, let it sit in the fridge for 15 minutes.