A good syrup can go a long way, and I have no idea why I never jumped on the Cordial train. Today you'll find a recipe for a homemade Plum Cordial that has all the zest and bite I love in Plums. It will go a long way, and it's much easier to put together than you may have realized.
If you're unfamiliar with Cordial, you may have noticed the neon green stuff that they sell at the Grocery Stores. I always hated them, much like Grenadine because they were artificially produced, high in sugar and just all around gross. Think of them as Syrups, and it's famously used in the classic Gimlet cocktail.
There was no way I would buy the Cordial stuff in the market, so I went to my trusty 'Death & Co' book for a reference. One, if you don't have this book, it's an essential for any bartender, PERIOD. Secondly, they share some of their syrup recipes, including a lime cordial that calls for its zest, juice and time to marinate in the fridge. So with that same idea in mind, I decided to create a Plum Cordial as I was looking to create something unique for my friends at Collective Arts. With their new Plum & Blackthorn Gin, I wanted to highlight more of its flavour with this amazing cordial. See how to blend it up below!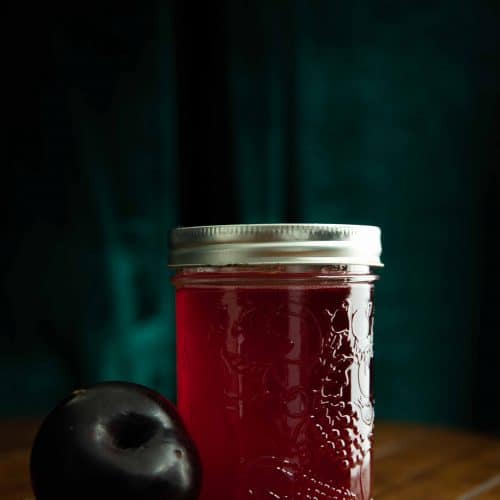 Plum Cordial
If you're familiar with the store-bought lime cordial, this recipe is going to become your new best friend and go-to. See how this simple recipe is thrown together.
– Difficulty: Easy
Ingredients
4

cups

Black Plums

Pit removed and quartered

2

tbsp

Orange Juice

1

zest

Orange

(zest entire orange)

2

cups

Granulated Sugar

1/2

cup

Water
Instructions
In a blender, add all your ingredients. Pulse approximately 10 times, until it's completely broken down.

Pour into non reactive bowl, cover and place into the fridge for 24 hours.

After the 24 hrs, simply strain into container/jar. Store in fridge.
Recipe Notes
Leave this in the fridge for no longer than 10 days.