If it hasn't been obvious enough, I'm going through a Sherry phase. This Fortified Wine offers so many possibilities when it comes to cocktails, especially when you throw an Amontillado to the mix. This time around, I got a chance to experiment with Alvear's Fino Sherry, and I gotta tell you, it's one of my favourite Fino's in the market. I decided to let the Fino shine in the most simple way, and I put together a refreshing, Low in Alcohol Julep paired with some Chamomile and Citrus. Perfect for a Dry-ish January? I think so!
If you're new to sherry, or just haven't converted to it's funky, aromatic style, I think one of the most approachable ways to enjoy a Sherry is in a Julep or Cobbler form. It makes sense. Historically, Sherry Cobblers were imbibed at every bar and one of the first classic cocktails to include this fortified wine. Plus, some of my favourite Juleps have been made with Aperitivo's, and with Fino Sherry being low in alcohol and very bright, I figured it would work.
---
---
The Alvear Fino comes with a bit of a nutty flavour that I thought would pair well with Chamomile. I pulled one of my old Syrup recipes that uses Chamomile, and it was a perfect match. I just added a 1/2 ounce of the syrup with a dash of citrus. This cocktail takes VERY LITTLE time to make, plus it's great as a low-alcoholic option for those participating in a dry-ISH January. The only thing I HAVE to stress is that you use CRUSHED ICE. There are no if's, and's or but's about this. Crushed ice is essential to getting the cocktail diluted quick enough, making this cocktail almost too easy to sip.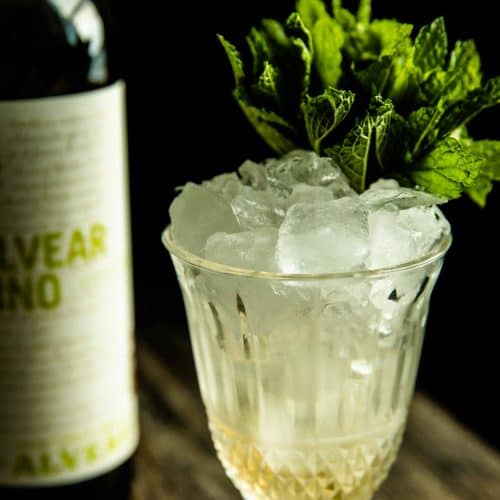 Fino Camomile Julep
Featuring a very easy, Low in Alcohol Julep made with Alvear Fino, Chamomile Syrup and a touch of citrus for a refreshing imbibe.
– Difficulty: Intermediate
Ingredients
2

oz

Alvear Fino Sherry

1/2

oz

Chamomile Syrup

1/3

oz

Freshly Squeezed Lemon Juice

1

bouquet

Mint Leaves

the more the merrier
Instructions
In a Julep Tin or Thick-Glassed Vessel, add your sherry, syrup and lemon. Fill your glass with 1/2 Crushed ice and stir/churn. Continue to add more crushed ice and stir/churn until you have a dollop of crushed ice on top.

Add your bouquet of mint, add your reusable/paper straw and enjoy!