So you may have remembered all the French Press Cocktails I used to make. The reality is, it was the affordable substitute for what the Porthole Infuser does. I was spoiled this Christmas with this unique tool, and I can't get enough of it. This is the first cocktail I ever made with the Porthole Infuser and I can't wait to share.
It felt as if my cherry was being popped when I first opened the infuser. HAHA yes I am this dramatic, but I was nervous to work with the infuser, thinking I couldn't create a cocktail good enough for the vessel. Obviously that thought didn't fester long, because I decided to stick with the classics for my first attempt. By classic I mean I used some very common flavour pairings I knew well. That included some Bartlett Pear, Cinnamon and Cognac. Literally a no brainer if you give the cocktail time to infuse. Now I'm assuming a few of you have questions about the Porthole Infuser so I'll just start.
How much time does it need to Infuse?
This really depends. The pears I picked up where pretty ripe, so I knew it would easily incorporate in the spirit. So I decided to lay it out first, I took photos of the infusers, and just let it sit until I was done shooting for the day. So realistically, I finally tasted the product at about 1 hour, and it was OUTSTANDING. I was so impressed, I whipped it up again in the evening for my family to try and it wasn't as tasty after 15 minutes (plus I had left it in the fridge). So here's my suggestion, with the amount of "dry ingredients" I put into the Porthole Infuser, I would leave it in for an hour at room temperature. If you're really thirsty, I would double the amount of pears, add a few more pecans and throw in a zest of orange for good measure.
To Chill or Not to Chill. That is the Question.
The reason I say this is because the recipe calls for water, and I really debated how much I would include. Because if I stirred it all before, than sure I would put less water. Or if I added a large ice cube to my glass and simply pour the cocktail over, that's an option too but debates my ratio once more. In the end, even though I didn't add an ice cube to my photo of the poured cocktail, I would. Keep the water ratio the same, and live is good. Or maybe because it's heavy on the Cognac, you don't need the ice (pretty much how I felt).
How's the Clean Up?
You know what, not as bad as I thought. There's instructional videos available, and it's fairly simple to put together and take apart. Want to catch the video, it's available here!
How many drinks can it hold?
Well, how much can you drink? *Wink Wink* I'm kidding, we are all about responsible drinking here. But realistically the portions are set for 4 guests enjoying a glass. But splitting it between two people in an evening, say a date at home, will be a great way to enjoy the porthole infuser.
I do however HIGHLY recommend that you pour just a couple ounces in your glass instead of filling it up. This gives the chance for the cocktail to develop and infuse more in front of your eyes. Just adds to the whole experience!
---
---
Now I've ranted a ton about the product, but I'm sure you're getting thirsty. Let me explain how to put this together here!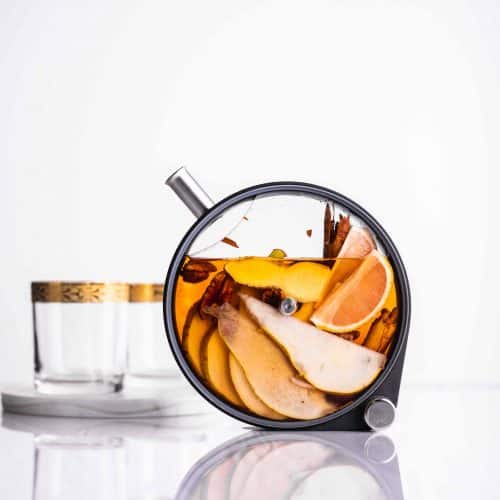 The Royal Pear
Stirring up a cocktail fit for royalty in this Porthole Infuser, we've got Cognac, Eau Claire's Prickly Pear Equinox with Disaronno, Verjus, Pears and Pecans!
– Difficulty: Intermediate
Ingredients
Dry Ingredients
1/2

Bartlett Pear

thinly sliced

1

Cinnamon Stick

2

slices

Lemon

used "pink lemons" here

1/4

cup

Toasted Pecans

4

Ginger Slices
Cocktail
5

oz

H by Hine Cognac

1.5

oz

Eau Claire's Prickly Pear Equinox

3/4

oz

Disaronno

2

oz

Verjus

Featherstone used here

1/3

oz

Simple Syrup

2

oz

Water
Instructions
Add your dry ingredients to your porthole infuser and close.

In a spouted container, add your cocktail ingredients and stir.

Pour into the porthole infuser and let this sit for 1 hour (for faster infusion, double the dry ingredients)

Grab your glassware, fill it with 1 large ice cube and pour your infused cocktail. Cheers!