This cocktail is a delicious blend of some of my favourite flavours, and is one of the four unique cocktails crafted for the ladies on The Social. Blending El Dorado 12 Yr Rum, Disaronno Amaretto, Seared Peach and fresh paprika, you got a cocktail you can love all summer long!
If you've been following Liquid Culture since Day 1, than you know my OG love for peaches. With summer approaching and peach season sweeping in, this is the perfect fruit to match up with your tiki party.
The concept of this special drink segment was to create fun and unique cocktail recipes for your Summer Tiki Party. Now just because it's tiki, doesn't mean every cocktail is served in a tiki mug. Instead, I serve this delicious imbibe up, mixed with a wonderful Demerara rum, Disaronno Amaretto, seared peach with a touch of paprika. It's a refreshing hit of spice, sweet, citrus and heat that I LOVE in a cocktail.
---
---
If you'd like to see how this cocktail is made, make sure to follow this link for my episode on The Social. Hold tight if it isn't up yet, because it is filmed live. But in case you can't wait, check out the recipe here!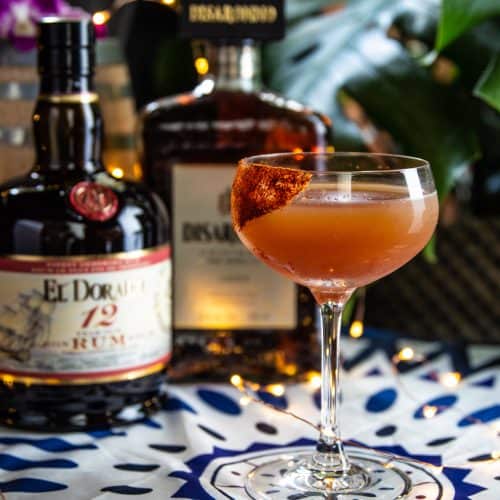 Hot for Peaches
A delicious tiki cocktail, served up with El Dorado 12 yr Rum, Disaronno, seared peach, fresh lemon juice and paprika for kick!
– Difficulty: Intermediate
Ingredients
1.5

oz

El Dorado 12 Yr Old Rum

½

oz

Disaronno Amaretto

1/3

oz

Demerara Syrup

1/3

oz

Freshly Squeezed Lemon

½

Warmed Peach

2

Pinches

of Paprika
Instructions
To warm half a slice of peach, sear it over the stove, place into the oven at 350 degrees Fahrenheit for 20 minutes, or BBQ.

Prep your glassware by rimming your coupe/martini glass with paprika (use lemon juice along the side of the glass and dunk into bath of paprika)

Add peach warmed peach to shaker and muddle to a pulp. Add 1 pinch of paprika, along with the rest of the ingredients.

Fill your shaker half way full of ice and shake vigorously

Double strain over rimmed coupe glass
Recipe Notes
For the Demerara Syrup, it's a simple 1:1 ratio of Demerara Sugar and Boiled Water. Let this come to room temperature before use.