As part of the line up for the Tiki Special featured on CTV's The Social, I whipped up an easy, low ABV cocktail for the gals combining Cocchi Rosa, Coconut Water and fresh Pineapple Juice. Whether you enjoy a cocktail or hate the taste of alcohol, this beverage is for everyone, and it's the perfect summer sip!
So as EASY as this cocktail is to throw together, I can't stress ENOUGH the importance of the ingredients used here. It works because the ingredients are like nothing in the market and truly irreplaceable. The reason I say this is because I've had a long time "beef" with coconut water. The canned stuff just never seemed to do it for me. It tasted too watered down, and it never tasted like the coconut water I would have back home, fresh from the shell. WELL PEOPLE, I've found it. I've found the miracle elixir that has me forever religious to Mojo's Pure Coconut Water. The only thing is…this may be a hard product to track down. At least in Ontario it seems to be.
I know, I know, I keep doing this to you, but if you really want to taste the real deal, than Mojo needs to be in your life. The second you taste it, you won't go back to anything else. Can you tell I'm a fan?
---
---
Then we have the low ABV spirit. When I mean low ABV, it means the alcohol is low in alcohol percentage. You'll find these spirits hit just below the 20% mark, where as most the traditional based spirit is distilled at 40%. What I love is that this cocktail allows you to enjoy a beverage in moderation, while still feeling connected with your colleagues and friends.
Cocchi is not something new to my repertoire. I've been a fan of their lineup for a very long time, and this Italian aperitif is forever my go-to. The Cocchi Rosa ended up being a sweet and delicate accompaniment for this cocktail and the coconut pairing. So with that, some fresh Pineapple Juice, a DASH of Demerara Syrup, you have a winner. Don't believe me? Well you'll just have to whip it up and try it yourself!
To see the episode and myself live on The Social, make sure to follow the link here!
---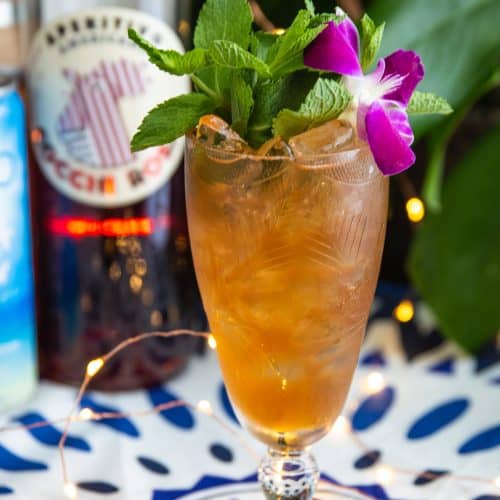 Coco Rosa
A low ABV cocktail (low in alcohol) that everyone can enjoy this summer, combining Cocchi Rosa, Coconut Water and fresh Pineapple Juice!
Ingredients
1.5

oz

Cocchi Rosa

2.25

oz

Mojo Coconut Water

1/2

oz

Pineapple Juice

1/3

oz

Demerara Syrup

*

4

Mint Leaves

+ sprig for garnish
Instructions
In a shaker, add all your ingredients and give this a good shake.

Strain over fresh ice and garnish with mint.
Recipe Notes
*The tiki theme calls for special sugar, which is why I use the Demerara Syrup I've created here. It's a simple ratio, but if you don't have access to Demerara Sugar, use a Simple Syrup recipe ratio of 1:1 (1 part boiled water to 1 part granulated sugar).