This punch may be one of my favourite contributions to the Liquid Culture library. Featured as one of the tiki cocktails on The Social, this delicious imbibe combines Flor de Caña rum, Briottet's Banana Liqueur, and BG's Reynold's Velvet Falernum!
We have some pretty iconic flavours going on in this punch. We have the DELICIOUS and premium ron (aka Rum) from Nicaragua called Flor de Caña, Banana's play a vital role to this cocktail and then you have the tropical spices of Velvet Falernum. These are all classic flavours and ingredients you find in a lot of Tiki Cocktails and I'm going to explain why!
---
---
First off, you can't have tiki without Velvet Falernum. Okay, that's a slight exaggeration, but you'll notice that a TON of classic cocktail recipes of the Tiki Era use Velvet Falernum. It's basically a tropically spiced syrup that has a bit of kick to it, and it's typically used in cocktails, or simply mixed with soda or ginger ale. You'll find most recipes of Velvet Falernum will use a ton of spices, ginger root, and citrus, to create someone of a cordial and acts as a sweetener for your beverage. I will admit, it's not the easiest product to find in the market, but if you love the Tiki decor and glassware I used, you can pick up Velvet Falernum from the same site! Head over to The Crafty Bartender if you want to grab some of this syrup and other bartending gear!
The second thing I wanted to address was the BANANA LIQUEUR. I want my community to know that I try and source out the best QUALITY products out there, and when it comes to liqueur, it can be a bit scarce for the Ontario market. But I searched and searched, and Briottet offers some of my favourite liqueurs in our market, including this delicious Creme de Banane Liqueur. And luckily for my Ontario family, you can order this product through the LCBO online store! I can't stress ENOUGH how important it is to grab a quality banana liqueur, because it makes a world of a difference in this cocktail. Now if you have access to the Tempus Fugit Banana Liqueur, pick it up. Unfortunately, we don't have this in Ontario, but for my friends around the world, give this delicious spirit a try!
Lastly, we have the Nicaraguan Ron. Ron is the Spanish translation for Rum, so whenever you see the "Ron" on the label, you know the heritage of where the Rum is sourced. The thing you need to know about Rum is that it's one of those spirits that's so vastly different from countries, to ages, and whether it is spiced, that I don't recommend switching out the product. Vodka is one of those categories that it's easier to switch out brands and styles of Vodka, but Rum is the complete opposite. So when it comes to this cocktail, you want to go with a "Column Still Lightly Aged" Rum. These styles of rum tend to be lighter-bodied, and much more refined. By lightly aging the product, you're introducing the spirit to the barrel without it completely taking away its unique characteristic. Flor de Caña is one of my favourite premium rums in my collection that you definitely need to try!
---
---
Now if you're going gaga over the punch bowl I used on the show, you can order it online through The Crafty Bartender. Pretty much all the glassware used on this segment was provided by them, and I'm so happy that they were able to share some of that with me. Lucky for you….I was also able to get my community a DISCOUNT CODE! Simply enter in TIKI15 on The Crafty Bartender website checkout and get 15% off all tiki items! This code is valid until Sunday, June 16th!
If you want to see how this cocktail is put together, you can watch my latest cocktail segment with the ladies on CTV's The Social, just follow the link here. Otherwise, check out the recipe below!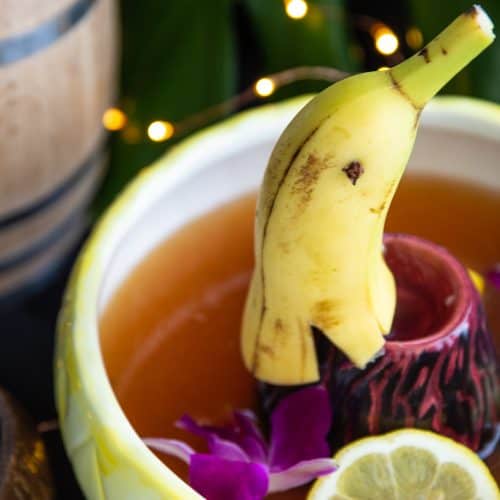 Banana Boat
A delicious Rum Punch infusing Flor de Cana Rum, Banana Liqueur and Velvet Falernum!
– Difficulty: Intermediate
Ingredients
6

oz

Flor de Cana 7 yr Rum

2

oz

Banana Liqueur

Briottet Liqueur used here

1

oz

Velvet Falernum

BG Reynolds

4

oz

Freshly Squeezed Lemon Juice

2

oz

Pineapple Juice

6

dashes Angostura Bitters

2

oz

Grace Ginger Beer

3

Cinnamon Sticks

6

Cloves

6

Lemon Wheels
Instructions
In a pitcher, combine Rum, Banana Liqueur, Velvet Falernum, Lemon juice, Pineapple Juice and bitters. Fill the pitcher 1/2 way with ice and give this a stir for approximately 20 seconds.

When ready to serve, strain the cocktail into a punch bowl, filled with a couple extra large ice cubes.

Add the rest of the ingredients and spices.

When setting up individual servings, have individual cups filled with a single large ice cube. Garnish with wheels in punch bowl.