We're bringing out the Porthole Infuser for this special Dill, Cucumber and Pinot Grigio inspired recipe thanks to #NoDrinksWasted. A community member reached out, wanting a recipe that was made with wine BUT NOT a Sangria. Well for me, I always love experimenting with wine in cocktails, so this was the perfect challenge. Also a great way to bring out the Porthole Infuser once again with this Porthole Infused Cocktail. It's actually not as complicated as you think. Ready to stir?
What's #NoDrinksWasted?
After a fun year of #DrinkYourGram on my social platforms, I wanted to create cocktails with you in mind. Many of you likely have random bottles or ingredients around the house that you don't want to go to waste, so why not use them in a cocktail? For today's creation, I had someone reach out to use WINE but not in a Sangria form. Well, challenge accepted! Truth is, it's not that much of a challenge. I think Wine can play a wonderful role in cocktails, you just need to know how and when to use it.
Of course, I could have gone the traditional route and make a New York Sour, but I've done that. Why not create something different? That's when I decided to bring grapes together in a cool way. First off, the base spirit we're using is Pisco (which if you didn't know is GRAPE BASED), and stir it with a bright Pinot Grigio for this fresh summer sip. Curious how to make this Porthole Infused Cocktail? We're getting there!
Working with Wine
Wine has long been a part of the cocktail culture, but in a modified way. Your Vermouths for example are Wine based, and think about your Sherries, or Port Wines, and delicious aperitivos that are wine based. But working with Wine on its own can be a bit tricky.
You want it to serve a purpose and not masked by the other spirits. So what's great about incorporating wine is as a lengthener to a beverage. That's why it's been so famously used in Sangrias. Or think about Champagne and Sparkling Wine and how it's been used in numerous cocktails! Famously, I think of the New York Sour Cocktail. But I wanted the Wine to be the star of the show in a different light. That's why I brought out the Porthole Infuser for this delicious Dill, Cucumber and Pinot Grigio Cocktail.
Now I went with a white in this case, because it's summer time and it's easily accessible. Try to pick up something that doesn't have a ton of acidity. With cocktails like this, I like to use a Dry Riesling, Pinot Gris. I would avoid the aggressive Sauvignon Blanc or Cali Chardonnays, at least when it comes to this cocktail. Because it comes with less aggressive flavours like Cucumber and Dill. If you change the base, then you can definitely change the wine. Try to match the flavours with the taste profile of your wine. For example, if a white has a ton of tropical notes, add pineapple slices and Cinnamon for a completely different beverage. Work with the wines you have!
Choosing a base spirit for your Wine Porthole Infused Cocktail
I went with Pisco here, because for one, I love the spirit and it should be used in more cocktails, PLUS it's distilled from grapes! Think of the famous saying, what grows together goes together. With wine being the star of the show, I wanted to highlight Pisco in this case.
Don't have access to a ton of good Pisco's? That's okay, this cocktail is very forgiving that you can go with other delicate, full bodied spirits. Say for example Vodka, Sake, Shochu, some Prata Cachaca. Keep things on the lighter end here when wanting to substitute.
Don't have a Porthole Infuser? No Problem!
Don't you dare feel guilty about this one. It took me a long time until I pulled the trigger for this tool in my bar. Or it may have just been a gift that my husband gave to me. I can't remember, but I know the gram is very thankful for it. So drop this into your "wishlist" for your birthday or christmas this season if you'd like to step up your mixology game at home with the Porthole Infuser.
But you don't need a porthole infuser to still get a similar experience. I was using a French Press for a long time before I invested in the porthole infuser, and it's delicious! To find some of the French Press infused recipes I created, make sure to follow the link here.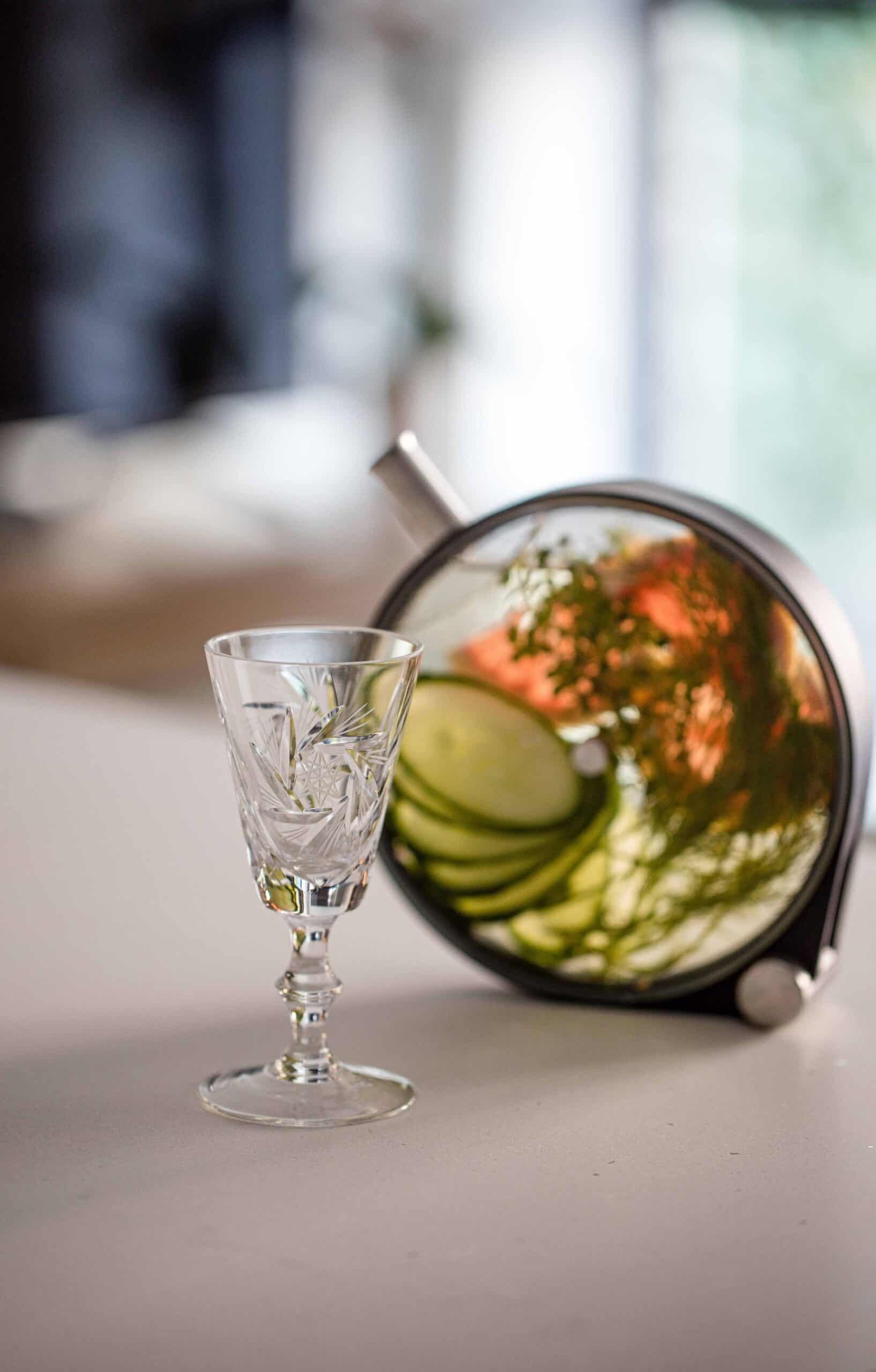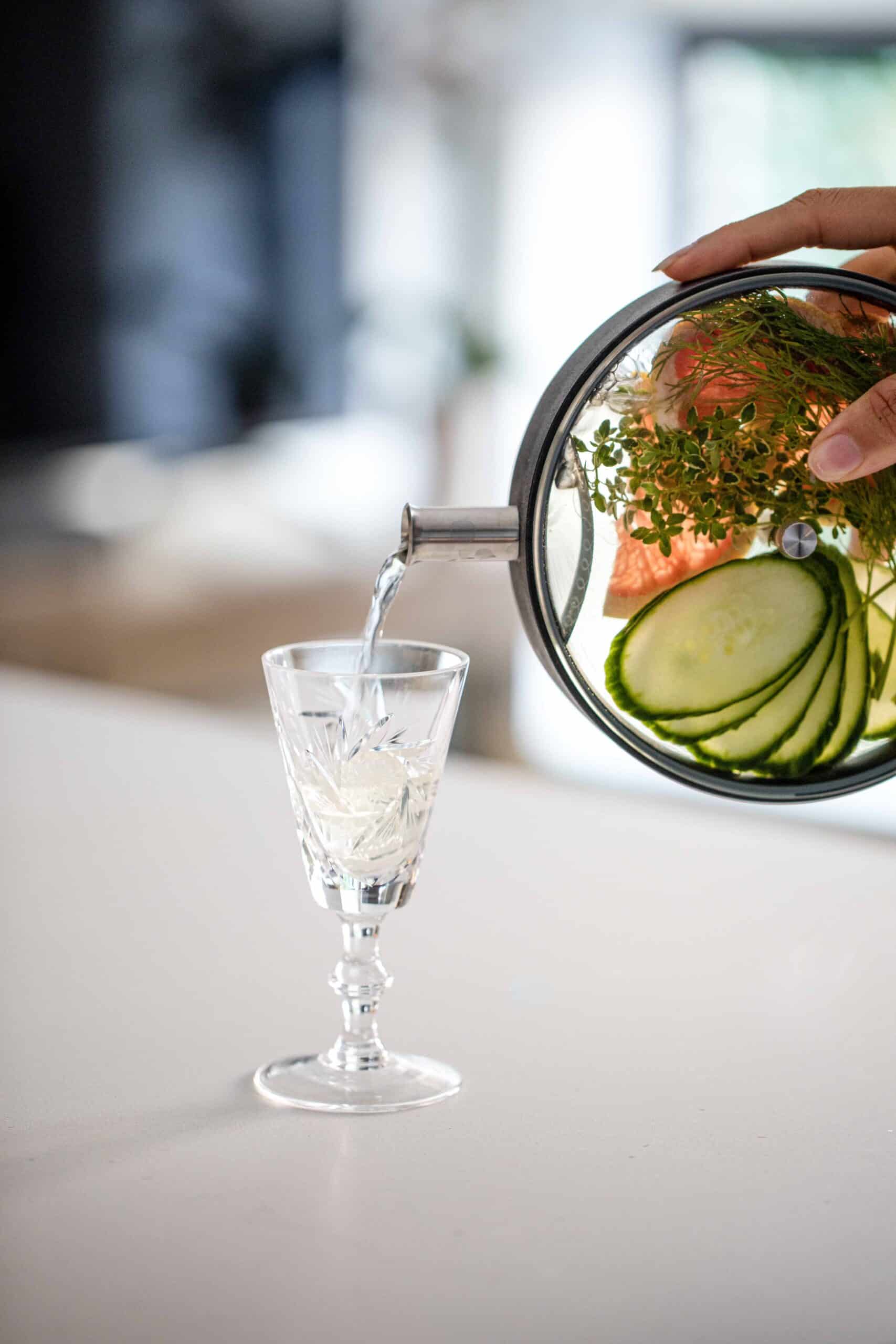 Lazy Suzie – Dill, Cucumber and Pinot Grigio Porthole Infused Cocktail
Ingredients
Dry Ingredients
8

slices

Cucumber Wheels

6

sprigs

Dill

3

sprigs

Lemon Thyme

2

small

Grapefruit Wheels
Base Cocktail
1.5

oz

Honey Syrup

1 Part Honey, 1 Part Water

1.5

oz

Pisco

Torontel used here

1.5

oz

White Cranberry Juice

5

oz

Pinot Grigio

Try to pick one up that isn't too high in acidity

1.5

oz

Water

preferably chilled
Instructions
Add all your Dry ingredients inside the Porthole Infuser.

In a measuring cup, add all your Base Spirit Cocktail ingredients and stir.

Slowly pour mix into porthole infuser and toss into the fridge for 20 minutes.

When ready to serve, pour small portions each time. The longer you let things infuse, the more you'll extract from the dry ingredients to create a different cocktail.