You're going to see a lot more Spirit Free options here on Liquid Culture, with an effort to share something unique and different every Monday. It will range from Easy to my Novice Mixologists looking for something special. This week, I'm bringing you a Plum Bramble Beverage, made with all the citrus flavours you want for the season! It also comes with a special recipe of Plum Oleo Saccharum that was a first for me, but definitely won't be the last!
Spirit Free vs Mocktail
I'm going to be an advocate pushing this messaging as much as I can. Start calling alcohol free beverages Spirit Free not Mocktails! There's a point to this and one that's very important to empower this category. Think of the word Mock. It associates with something being "fake". Is there something "fake" about these sophisticated drinks? Not a chance. And it has the underlying tone of almost shame and not being good enough, when NONE of the beverages I share for Spirit Free Mondays will feel this way.
Spirit Free welcomes a language of options, optimism and no guilt tripping. It's one that I know this category wants to see more of and I can't wait to share these recipes for you. For today's beverage, I kept thinking about the classic Bramble cocktail. PLUS, I had a ton of Plums looking a bit sad in my fruit basket. So I combined the both to create a delicious citrus option you'll love!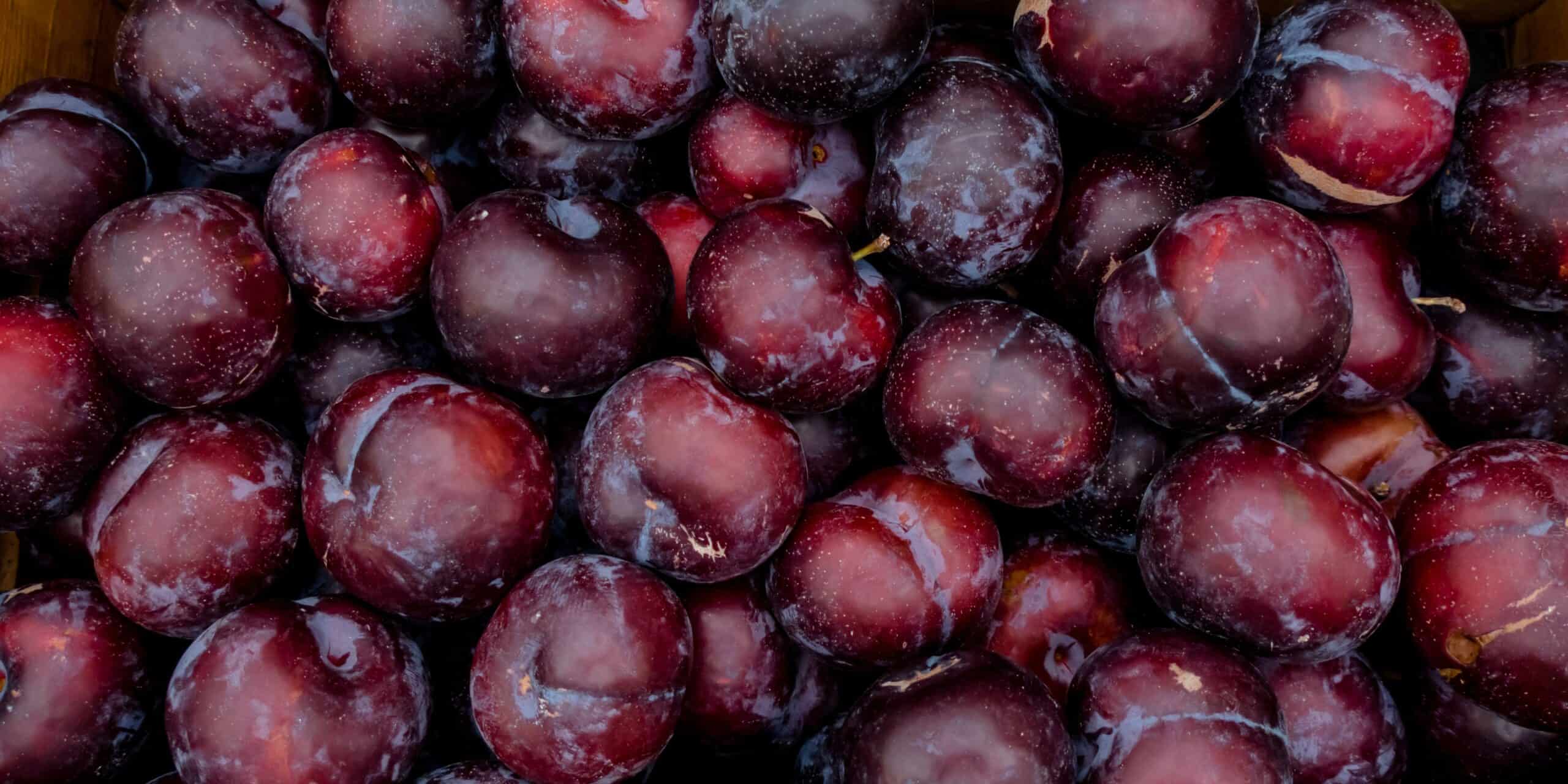 Making the Plum Oleo Saccharum
If you've never heard of Oleo Saccharum, just think of it as syrups that are "cold-pressed", aka we're not introducing heat to the matter. Oleo Saccharum actually translates to oily sugar, to help create a visual! Most of the syrups you'll find on LC are made having used boiled water and sugar, but this time around, the sugar and fruit do all the work for you. The different between the two? Well it depends on the fruit base you're using. Typically Oleo Saccharum is made with citrus so you can have that punch of zest and vibrancy that you wouldn't get if the citrus was boiled. You're getting a very concentrated syrup and it works best with certain fruits.
What are some of the best fruits to use this technique? Watermelon is ideal to really capture its freshness. Citrus Peels for the ultimate Citrus Syrups. Peaches would be great especially when they're fresh and in season! In today's example, I had some really ripe Black Plums that we're getting close to mush. With it easily breaking down with sugar, I knew this would be the perfect way to showcase the Plum Oleo Saccharum. For the Recipe, you can find it here: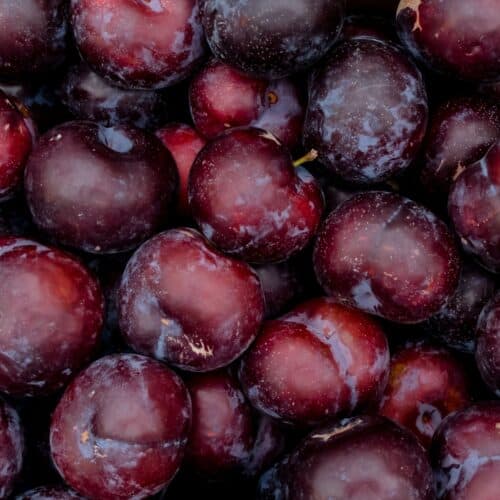 Plum Oleo Saccharum
This vibrant Plum syrup is the best ingredients you can add to your bar, for both your cocktails or Spirit Free creations!
– Difficulty: Easy
Ingredients
4

Black Plums

Almost too ripe and mushy. Roughly chopped and pits removed.

1

cup

Granulated Sugar
Instructions
In a non reactive bowl, place roughly chopped Plums and Sugar together. Stir until combine, squeeze out the plum juice with your hands or spoon.

Let this sit at room temperature for a minimum 4 hours (or overnight).

Strain into a container (use the back of the spoon to help extract the plum), cover and place into the fridge until ready to use. Can last up to 2 weeks in the fridges.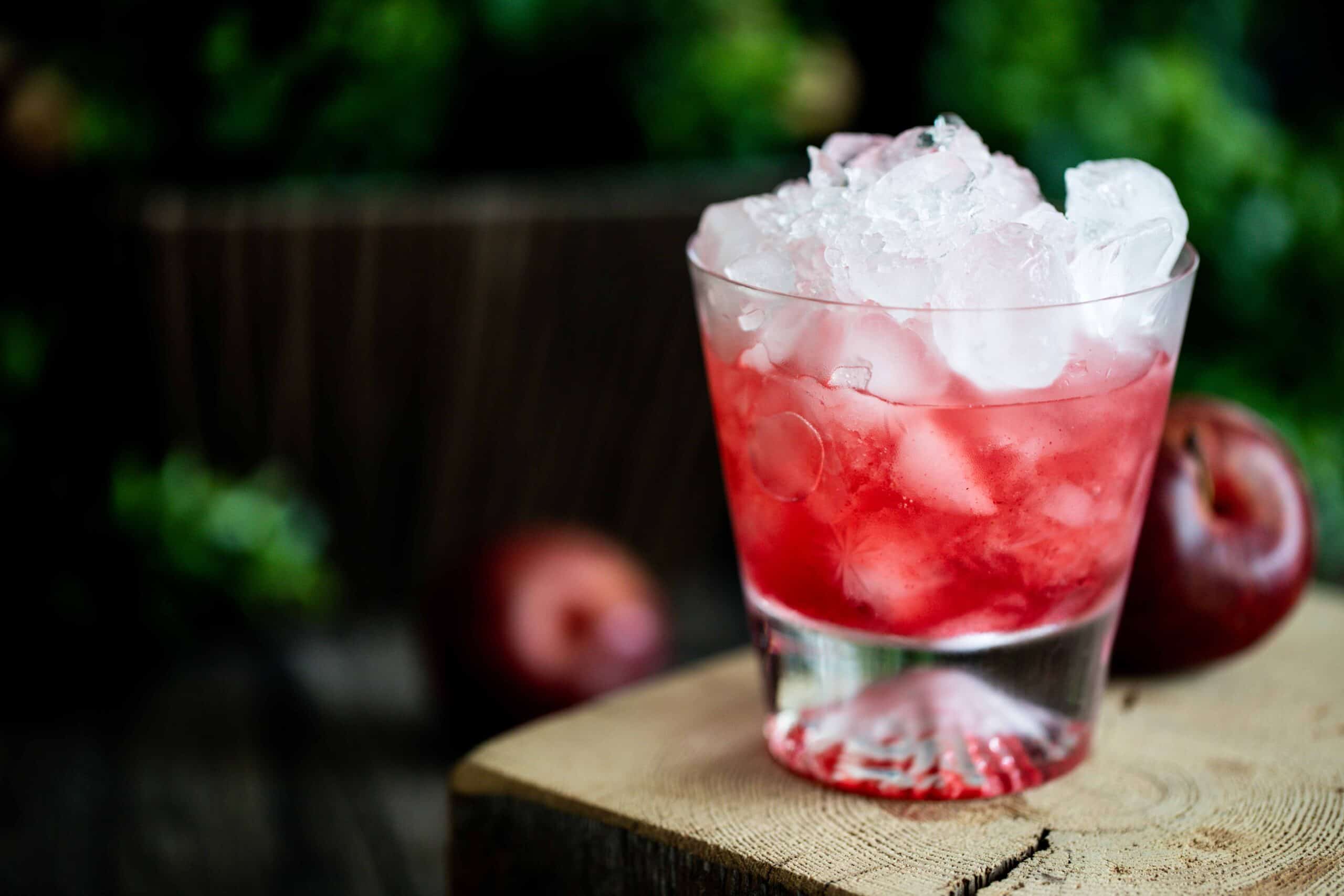 To Gin or Not to Gin
The Bramble is famously made with Gin, and the thing is, for my Spirit Free folks, you have great Non-Alcoholic Gin options! I decided to keep it out of this cocktail, but if you want to Gin it up, be my guest. Both options will be outstanding. I would just omit the Verjus that I use in this creation.
Building the rest of your Plum Bramble
Another main component to this Plum Bramble was the Verjus as I mentioned above. I love the acidity it brings to the cocktail, compliments the notes of Plum and citrus so well, it's just magic! I understand Verjus may not be the most accessible ingredient. So if you don't have Verjus, sub in a Gin or Alcohol Free Gin. The other option is to maybe use a Shrub, due to it's vinegar properties that can be somewhat similar to Verjus. Remember, Verjus is wine before the alcohol. So delicious, DELICIOUS grape juice and for those wanting to imbibe less, you need Verjus constantly stocked!
And that's pretty much it folks. I kept it simple, but this beverage demands crushed ice and the time for the Oleo Saccharum. It's worth it though…TRUST ME!
Spirit Free Plum Bramble
For #SpiritFreeMondays we've got this delicious Alcohol Free Plum Bramble made with a homemade Plum Oleo Saccharum that is a must!
– Difficulty: Intermediate
Ingredients
1

oz

Plum Oleo Saccharum

3/4

oz

Freshly Squeezed Lemon Juice

1

oz

Verjus

Used Featherstone Winery here

1

pinch

Nutmeg
Instructions
Ensure you have crushed iced prepped in your glass. This cocktail will not be the same without crushed ice.

In a shaker, add your ingredients (except nutmeg) with a handful of ice and give this a quick shake.

Strain over crushed ice and garnish with zest of fresh nutmeg.
For more Spirit Free Creations, check out this link here!