In school, we were taught about the cultural mosaic that currently resides in Canada, and I couldn't think of a better way to describe the cocktail for this week. This is probably one of the strangest combinations I have done to date, but the flavours come together in a perfect symphony. This journey first starts with my homemade Pomegranate Molasses Syrup.
Death and Co. is without a doubt my favourite cocktail book of all time. I've even had the pleasure of drinking in their establishment, and it did not disappoint! I'm constantly rummaging through their book, whether for inspiration or for a story, and that is when I got introduced to the idea of Pomegranate Molasses in cocktails. It's a staple in Mediterranean cuisine, and seeing as I'm constantly looking for new flavours to incorporate in my kitchen and bar, I jumped on the opportunity to experiment. So if you've never had it before, it's quite tart, and should be used sparingly, at least when it comes to cocktails, because it may overwhelm the balance. I felt like I mad scientist a few weeks back and decided to create my own syrup with molasses, that would hopefully highlight its flavours and create a more neutral, balanced syrup. What I have created here is gold. I can literally go on and on about the possibilities this syrup makes, but why not go to the link of recipe itself, where I go into more detail about the syrup.
Now back to the cocktail, I'm going to explain the whole concept of how I came up with this combination. I first tasted the syrup and thought that a bourbon or rum would marry nicely. They were both outstanding, but for the purpose of this cocktail, I went along with the bourbon. Tasting the bourbon and syrup together, I realized this cocktail needed something light and weightless, since it was fairly heavy and already had a strong presence of flavour. I debated between a Dry Vermouth, Lillet, or Sherry and seeing as I barely get the opportunity to work with Lillet (WHICH IS AMAZING BY THE WAY!), I thought I would give that a chance. This complemented the spices in the syrup so well, while evening out the oak and strong presence of the bourbon, but it wasn't complete. It lacked a bit of body and life, and since it already contained some bitter notes to it, I thought a touch of tonic would highlight and brighten the cocktail.
What I ended up creating was a cocktail version of a vermouth. It has herbaceous notes, a sweet palette, a touch of bitterness, and all the while being savoury and smooth. I like to call this the vermouth cocktail with no vermouth at all. If you are a big nerd to the world of sweet vermouths, than you are going to be obsessed with this cocktail. My roomates in university can attest to the obsession I had with sweet vermouths, as it was one of my favourite and cheap ways of getting lit for the night. Thankfully my palette has upgraded, and I am lucky enough to have a bar full of different vermouths to choose from.
I've talked a lot today, I know. But explaining my process is only going to help you tap into your creative self, and how best to pair flavours! I can't wait for you guys to give this a try!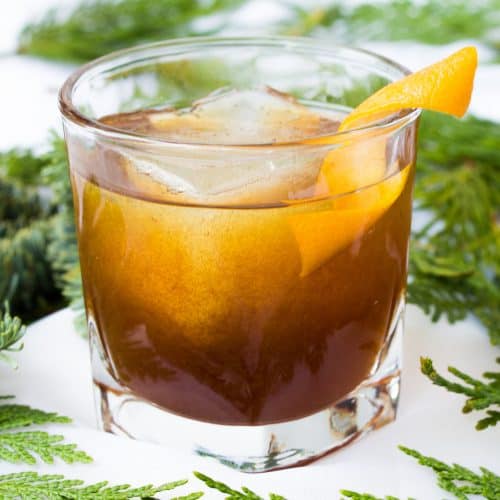 Cocktail Bourbon Mosaic
An unlikely, harmonious cocktail combination for those avid vermouth fans
Difficulty: Intermediate
Ingredients
1

oz

Homemade Pomegranate Molasses Syrup

2

oz

Bourbon

1.5

oz

Lillet White

1

oz

Tonic Water

1

Orange Zest
Instructions
In a Double OF Glass, over one large ice cube, pour all ingredients and top with tonic