For those new to the beverage scene, you may or may not have encountered this classic styled sour. Believe me, I had no idea that wine in sours were a thing until much later in my hospitality career. That's right, what you have floating on top is red wine!
This pre-prohibition classic is typically found without egg whites, so as much as I love the velvety texture that an egg white can bring, I kept it out of this recipe. Don't be heartbroken, if you're set on having egg whites then add it! Just make sure to dry shake prior to, and keep in mind that the sugars may have to be adjusted to bind everything together.
Now what better way to introduce this cocktail, but with the peachy, LC influence! In this recipe, I picked up Ceres Organic Peach Juice. Of course, you can make your own peach puree/juice, but for those looking to create something fairly quickly and with little prep, Ceres juices are my go to. Just note that they can be very high in sugar, so you don't want to over do it with the simple syrup in the cocktail. Think of sugar just as you do with salt, you can always ADD more, but omitting makes things much more complicated to fix, AND CAN RESULT IN WASTED ALCOHOL!! #sin
The one thing in sours that I must stress, is the importance of sugar. I can't stress this enough. Sugar is not always the enemy. I HATE sugary cocktails, and for those who know me well know that I am very cautious with my sugar and salt intake, but you won't believe how many times sugar saves my cocktail. It can alleviate the main ingredients and completely balance everything out. The importance is understanding balance, and to have some trial and error in this process to really succeed in your kitchen and bar! Okay, I've talked enough, let's get to the recipe!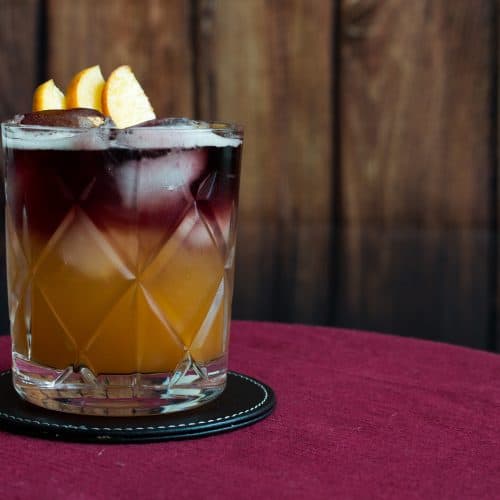 Peach Sour Float
A classic New York styled Sour with the Liquid Culture Peach Influence!
Difficulty: Intermediate
Ingredients
1

oz

Rye Whisky

½

oz

Lemon Juice

Freshly squeezed

1

oz

Peach Juice

Ceres Organic

½

oz

Simple Syrup

½

oz

Red Wine

Malbec preferred - any dry style wine

3

Peach Bitters
Instructions
In a cocktail shaker, place the rye, lemon, peach, simple syrup and bitters. Fill the shaker with ice and shake vigorously

In a Double Old Fashioned Glass, strain the cocktail over ice and top with red wine
Recipe Notes
Using a bar spoon, or any small spoon, slowly pour the wine on the inside edge of the glass for the "floating" affect.