Yup. You read that right. A LOW in ALCOHOL percentage Negroni. Doesn't sound right does it? Well it is, and it's outstanding. See why…
I have been ITCHING to use this product, and I can't believe I've been hanging on to this spirit for almost a year before I finally opened it. For those close to me, you know that my best friend has been living in Japan for the past few years. When he came back to visit, he brought me this stunning glassware (did you notice the Mount Fuji on the bottom?) and bottle of Shochu to enjoy.
Now for those of you that don't know a ton about Shochu, it's a distilled spirit that's made from a variety of starches. Although Sake is so popular outside of Japan, Shochu is the preferred and most consumed spirit in JAPAN! Beer is probably up there as well, but that's for another time.
Typically you find Shochu around the 20% range in alcohol percentages. That's half of the typical spirits we use today, such as Gin, Vodka, Tequila. Wanting to provide a Negroni that was lower in alcohol percentage, this made shochu the perfect candidate for this cocktail!
Because I wanted a lighter, less aggressive bitter, I mixed it up with Cocchi Americano and my FAVOURITE China China Liqueur. The shochu also has a nutty component, which made this Negroni somewhat savoury. Seeing as I had just picked up some fresh Curry Leaves from the market, I decided to throw it in the mix to see how it would turn out. GUYS. This is a game changer, and SO DAMN TASTY. This cocktail is definitely for my adventurous sippers, because this is quite a random mix of flavours, but it works. Oh baby, does it work!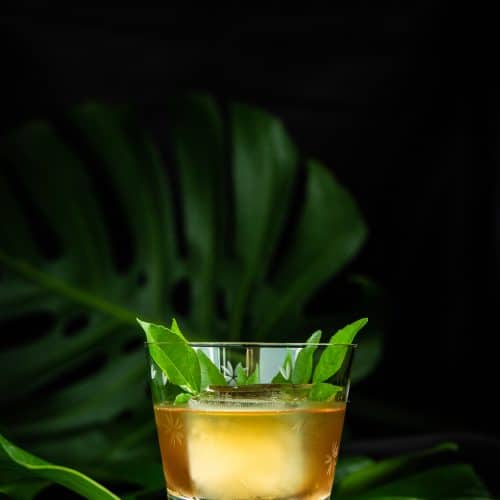 Shogroni
A Shochu infused Negroni cocktail to celebrate Negroni Week!
– Difficulty: Intermediate
Ingredients
1.5

oz

Shochu

1

oz

Cocchi Americano

2/3

oz

China China Liqueur

2

sprigs

Curry Leaves
Instructions
Fill your mixing glass with ice and add all your spirits. Stir well, at least 40 seconds, until the mixing glass is frosted.

Strain over 1 large Ice Cube and garnish with curry leaves.