This cocktail was made in honour of two very special souls in my life, and I'm excited to share this beauty with you today!
As the universe would have it, I'm celebrating the birthday of both my Mom and my Best Friend. These two mean the world to me so I knew I had to put something fabulous together! It started with asking my mom what was her favourite fruit. She blurted out mango and papaya and I knew I had to go a tropical vibe for this one. Being as my best friend never complains what me and my mom put in front of him, I knew he'd be down for this.
So I decided to create a unique and delicious swizzle that combines mango, papaya, basil, Reposado Tequila, Cocchi Americano Rosa and a few more delectable items. Typically Blanco Tequila is used whenever Agave is in the picture for cocktails, but I went with a Reposado because I knew it would highlight and balance the other components of the cocktail. It's rich, depth character was needed, while still highlighting the agave fruit.
I've also been excited to use Cocchi Americano Rosa in a cocktail. It's a vermouth that I love to drink on its own, but I rarely ever put it into a cocktail. I didn't want the weigh of a sweet vermouth, but the dry styles were much too light for where I was going. So it only made sense that the Rose Vermouth would be the happy medium here. I know this is a worthy cocktail for this special day, and I hope you'll love it too!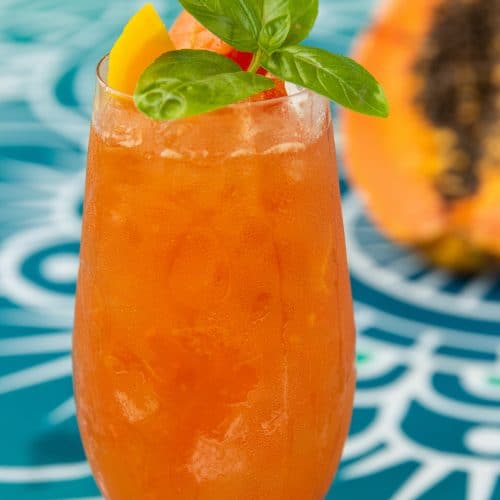 Mango and Papaya Swizzle
A delicious tequila based cocktail that combines Mango, basil, papaya and Cocchi Americano Rosa!
Difficulty: Expert
Ingredients
1

oz

Reposado Tequila

Tromba used here

1/2

oz

Cocchi Americano Rosa

6

Basil Leaves

Half for Garnish

1/3

cup

Papaya

1/4

cup

Mango

1/2

oz

Lemon Juice

1/3

oz

Grenadine

3

dashes

Angostura Bitters
Instructions
In a shaker, muddle half of the Basil, Mango and Papaya to a pulp (we want to extract as much juice as possible)

Fill shaker with Tequila, Cocchi Rosa, Lemon, grenadine and ice. Give this a short shake.

Fill the swizzle glass 3/4 full of crushed ice. Strain over the crushed ice. Broken strands of mango and papaya are encouraged in the glass.

Continue to top the glass with crushed ice and dash the Angostura Bitters. Using the swizzle method, let the drink incorporate and combine fully.

Garnish with Basil, Mango and Papaya Slice
Recipe Notes
I made a homemade grenadine for this recipe. A homemade grenadine is always the way to go, seeing as markets tend to carry the overly sweet and dyed products. It's a simple combination of Fresh Pomegranate Juice and Sugar. If you're interested in how I threw it together, make sure to follow the recipe here.