More times than not, I'm always looking to order cocktails that are light, bright and refreshing. I did NOT work this hard to lose my summer body in a few days, so to avoid a bloated mess while on vacation, I stick with the simple stuff. Although this punch may not be as simple as a G+T, it's light and refreshing properties is exactly what I'll be looking for while on vacation. So join me as I create an abundance of punches and group friendly cocktails this week!
I love me some Coconut. Period. Coconut chips, cream of coconut, coconut water, delicious bounty bars, anything and everything with coconut, I am DOWN. So I knew I wanted to start off my Tropical Punch Bowl week with some coconut vibes. I've also been having a ton of Cardamom around the house, so I jumped on the chance to marry coconut and cardamom into one. So in order to still highlight the coconut water without getting masked by too many flavours, I  decided to incorporate a chilled coconut tea in this bowl! It's great for big groups, keeps costs low, and you'll kinda feel good about yourself because it's 'tea'. 
So with that in mind, I decided to pick up David's Tea Coco Colada flavour. Any coconut flavoured tea works, but I definitely love the stuff coming out of David's Tea. I infused the tea by adding cardamom pods to the steeping process. I didn't want to use up everything though, and being as cardamom pods can be expensive and difficult to track, I bind the flavours together with some cardamom bitters as well. 
And that's pretty much it folks. With a bit of mint, sugar and a touch of soda, I'm happy to share this punch with my community!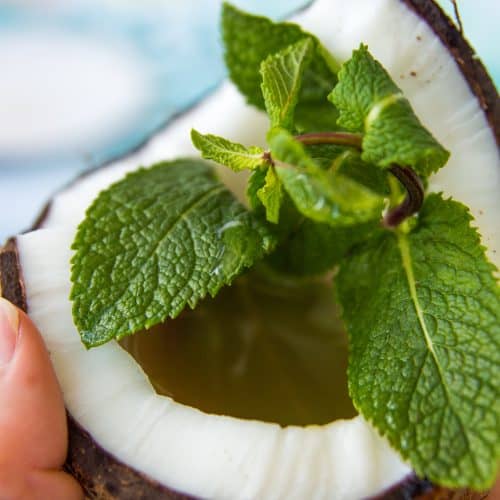 Agua de Coco
A light, refreshing punch that tastes more like a cleanse than a cocktail! Comprises of rums, coconut water, coco colada tea and cardamom!
Difficulty: Intermediate
Ingredients
3

oz

Brugal Blanco Rum

1

oz

Brugal Anejo Rum

1/2

cup

Coco Colada Tea with Cardamom

1

oz

Coconut Water

6

Mint leaves

1/2

oz

Lemon Juice

1

Brown Sugar Cube

3

dashes

Cardamom Bitters

2

oz

Soda
Instructions
In a pitcher, place sugar, cardamom bitters and soda and allow this to dissolve

Add Rums, Coconut Water, Coco Colada Tea, Mint and Lemon to pitcher, filled with 3/4 of ice

Give this a good stir until well chilled and strain into your coconut bowl