We're getting creative for the Festive Season and coming up with ways to have fun with your cocktails. For the first drink, I share a TASTY Whiskey Cocktail served in an Ornament. This Holiday Ornament Cocktail is everything. I'll be sharing a few tips, as well as things to avoid when pouring drinks into your ornament. Plus you can find the recipe details, access to the live segment and more!
Want to see this TV Segment live in action? Make sure to click the photo below to direct you to all the fun on TV.

Choosing your Cocktail for an Ornament Ball
It's easy to think you can just stick any drink into an ornament, and technically, you can. Thing is, cocktails such as a sour or mojito just ask for more of a mess, more time, and less likely that you'll reuse the ornament balls again. So I'm going to break down some options for you here as your go-to guide:
DO NOT include cocktails such as a Whisky Sour or are very foamy (aka French Martini, aka anything with pineapple comes to mind after you shake). That foam will likely stick to the edges of the inside wall and makes it less likely to use again.
AVOID cocktails that call for Mint or a ton of herbs inside. I'm thinking of Mojitos or a Mint Julep. First off, not the right vessel considering crushed ice is very important in a Julep, and the mint will be impossible to remove once inside. Instead, try to infuse the flavours as much as possible before or come up with a concentrate of some sort.
STIRRED cocktails do well for this sort of thing, such as a Manhattan or Negroni. Just ensure you give it a longer stir so it's reached the right level of dilution and balance (since you're not adding a large ice cube into the ornament).
BE MINDFUL OF PULP – I think of Orange Juice specifically, that will be prone to leaving pulp on the inside walls, making it hard to clean out. Or you can simply do the additional step of straining through a fine mesh strainer.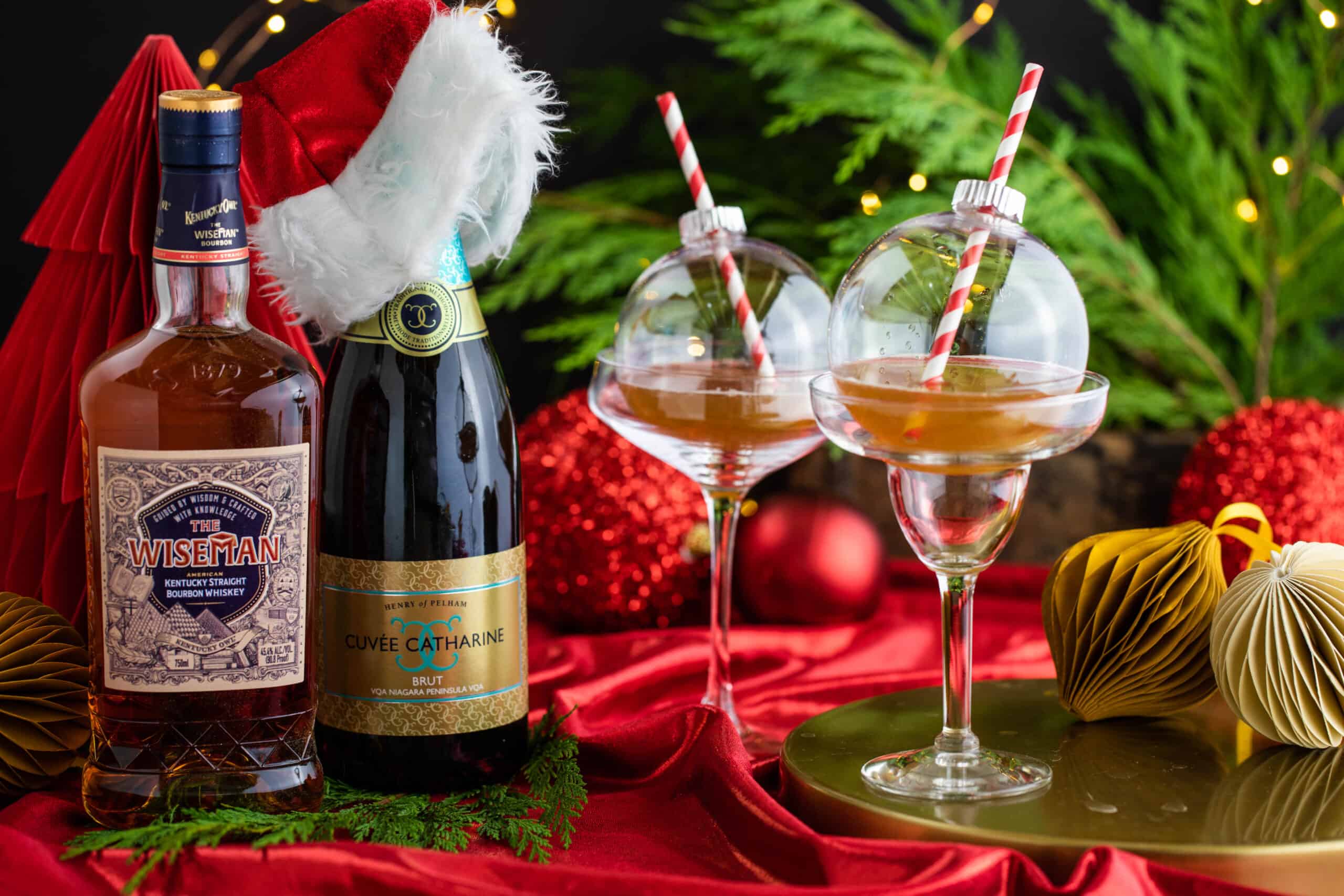 Building your Whiskey Holiday Ornament Cocktail
So I have a new favourite Bourbon. This is a bold statement, considering I find most Bourbon Whiskey boring (#SorryNotSorry). I'm a huge Rye fan, but I have to admit, I absolutely ADORE this Kentucky Owl The Wiseman Whiskey. With this new found love, I knew I had to create a cocktail for this segment, and it's one where you will love it whether you like whiskey or not.
Whiskey is one of those categories people either love or hate. I can almost guarantee that with time and appreciation, you can learn to love this spirit and mix with it too. To keep this Holiday Ornament Cocktail approachable, I mixed in an easy Gingerbread Syrup, fresh lemon and Sparkling Wine from a local favourite of mine; Henry of Pelham. It's easy, approachable, plus if you want to make this less alcoholic, swap the sparkling wine with Ginger Beer! Just be mindful of the syrup already in the cocktail, as a ton of Ginger Beers are overly sweet.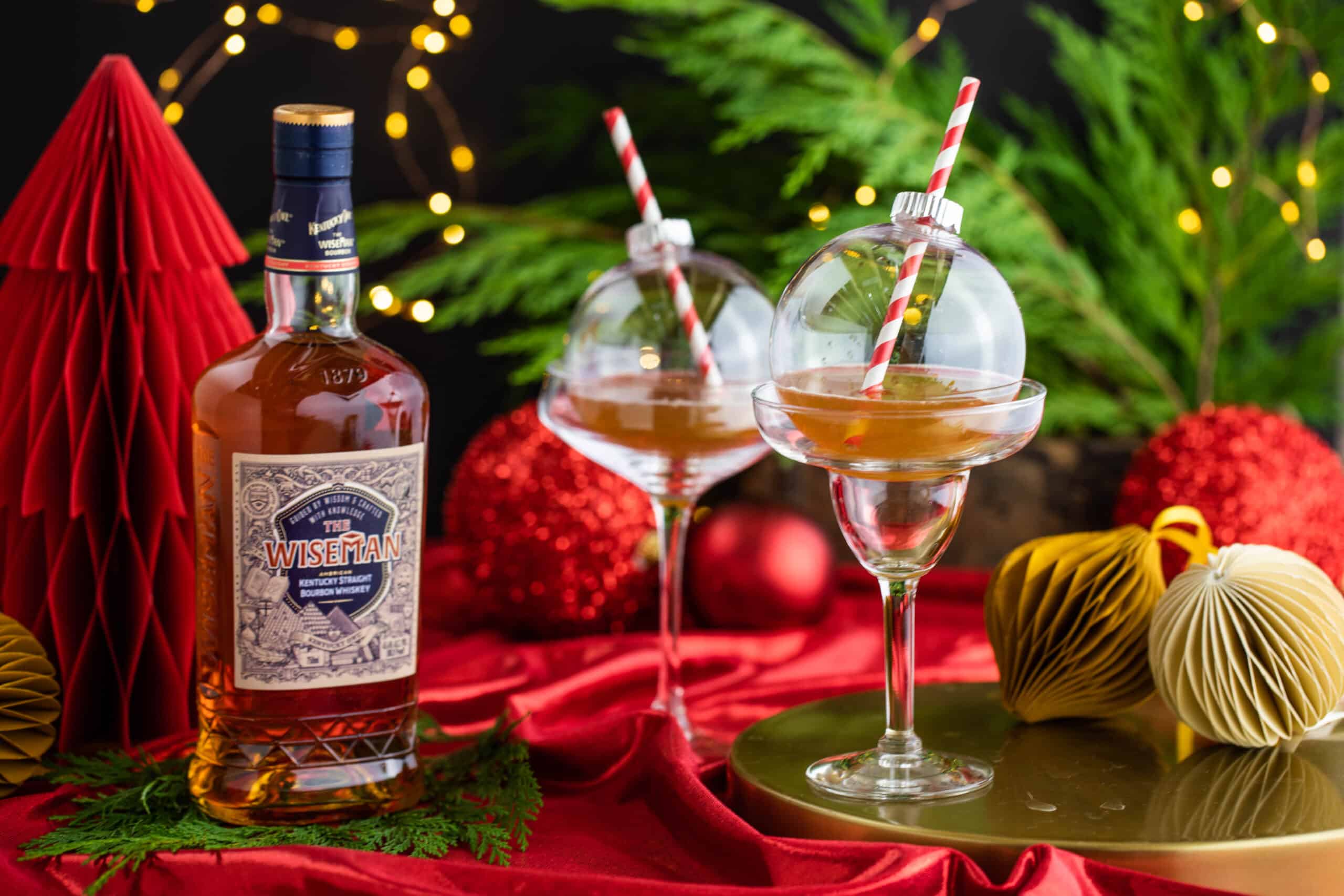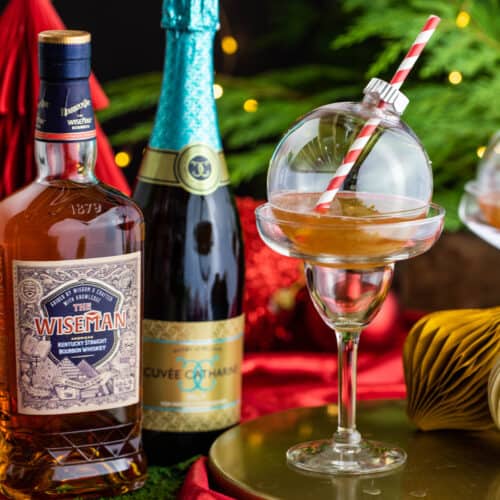 Merry & Bright
A Gingerbread Whiskey Sparkling Cocktail that is Merry & Bright for the season!
– Difficulty: Intermediate
Ingredients
1.5

oz

Kentucky Wiseman Bourbon Whiskey

1

oz

Gingerbread Syrup

See Notes Below

0.5

oz

Lemon Juice

1

oz

Sparkling Wine

Henry of Pelham Cuvee Catherine Brut
Instructions
Add all your ingredients in a mixing glass with ice and stir well.

Strain and store in the fridge until you're ready to pour into your ornaments.
Recipe Notes
It's easy to find Ginger Syrups online and in your specialty stores, or you can easily make something at home! Combine 1 Part Brown Sugar, 1 Part Water with a handful of freshly grated Ginger with Star Anise, Cinnamon and Nutmeg. Let that simmer on the stove for 5 minutes and you've got your syrup.