Today, we're dressing up your glassware to make it look like it's SNOWING! This is one of my favourite things to do for my glassware, especially for Halloween or the Holidays. This Snow Effect Glassware just adds this effect that will have your guests all sorts of impressed, and it takes very little effort or time to do. So I Let it Snow in an outstanding cocktail Gin cocktail that's made with a new local favourite in town; Laneway Distillers. That, with a ton of mint and coconut, this cocktail is a sure fire win for the holidays.
Want to see this TV Segment live in action? Make sure to click the photo below to direct you to all the fun on TV.

Prepping your Snow Effect Glassware
This is the only thing that you truly have to worry about with this cocktail. Okay, two things, but I'll get to that shortly. But first, get the rimming done well in advance. The icing sugar only needs a few minutes to set, but I like to have it set for an hour just to be safe and it isn't immediately melting in people's hands.
The other thing I want to mention when prepping your glassware, is to be extra cautious adding in your water. I can't stress this enough. It's really easy for it to get too runny, and that's just a waste. It will end up all over your glassware and your guests will have sticky hands all over your place (no, thank you mame). Be mindful of the ratios, and if the liquid is too runny, add in some more icing sugar. But if you want to see the action live, head to the live segment or check out this Reel example that I created this past Halloween.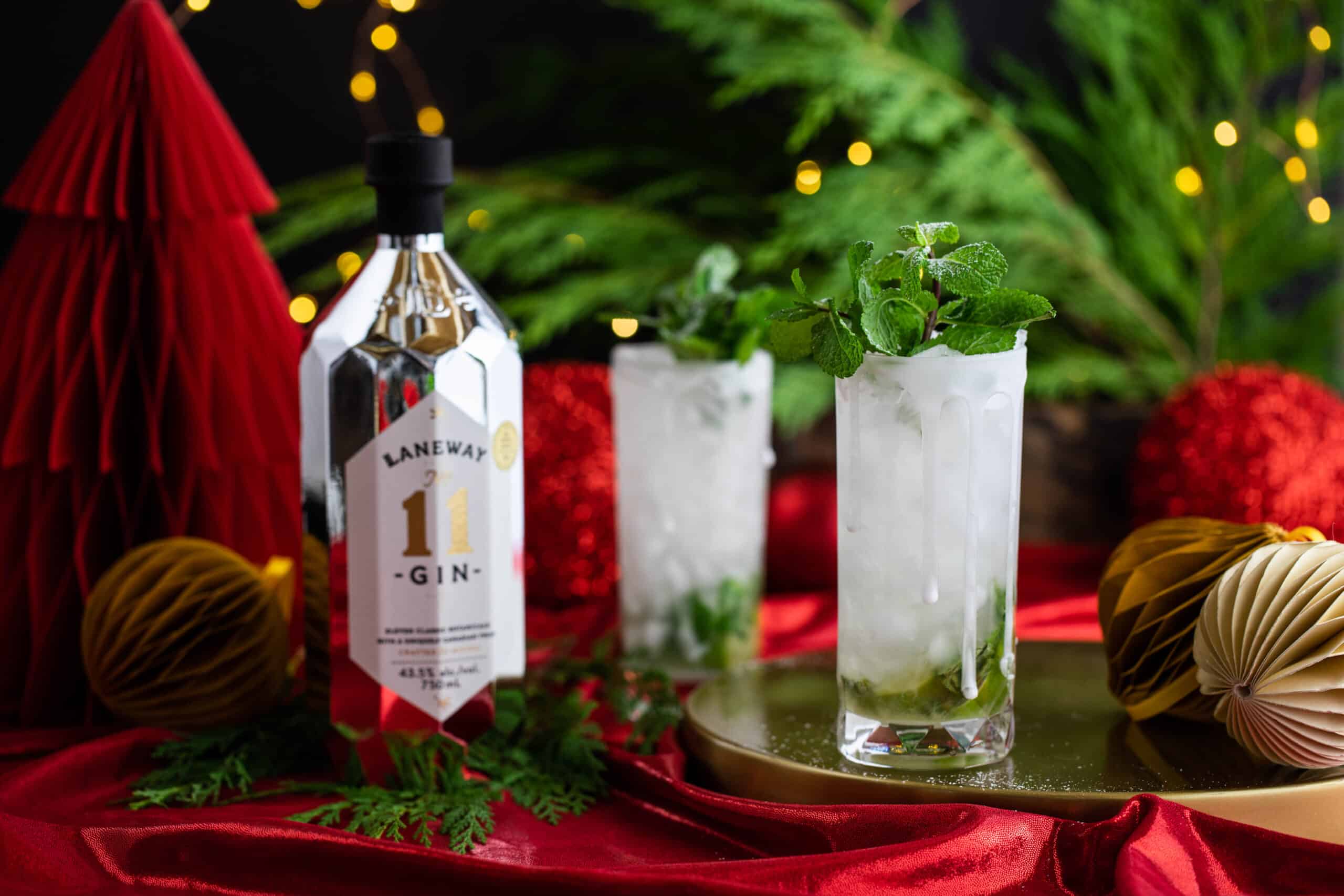 Choosing a Cocktail and building this Gin Masterpiece
You may have caught the news above, but there's definitely a wonderful Gin in town. The team behind Laneway Distillers has created some exceptional products, from a Vodka, two varying styles of Gin, plus a Gin Liqueur that is a must-have for the holidays. They celebrate Canadiana in a distillate, foraging their botanicals from the Canadian wilderness. Plus it's a stunning bottle. A perfect gift for the Gin aficiando on your list (or you).
Now I wanted to work with Gin for this cocktail because I actually love the brightness it brings for Holiday cocktails. Think about it, all that herb, and usually pine is infused, so I wanted to celebrate that wintery goodness in a glass. I brought together Mint, Coconut and Lime, between a cross of a Tom Collins meets Mojito. Crushed ice is VERY important to this cocktail, so don't skip out on this. It does most of the work for you in terms of balancing off this cocktail.
Technically, you can really pour anything you want into a "snow fall" glassware, but I wanted to create something truly special for the show. But if this isn't your cup of tea, aim for Paloma's or anything that's bright and full of citrus. That way, the sugar rim doesn't completely ruin the palate of the cocktail and offers up some balance.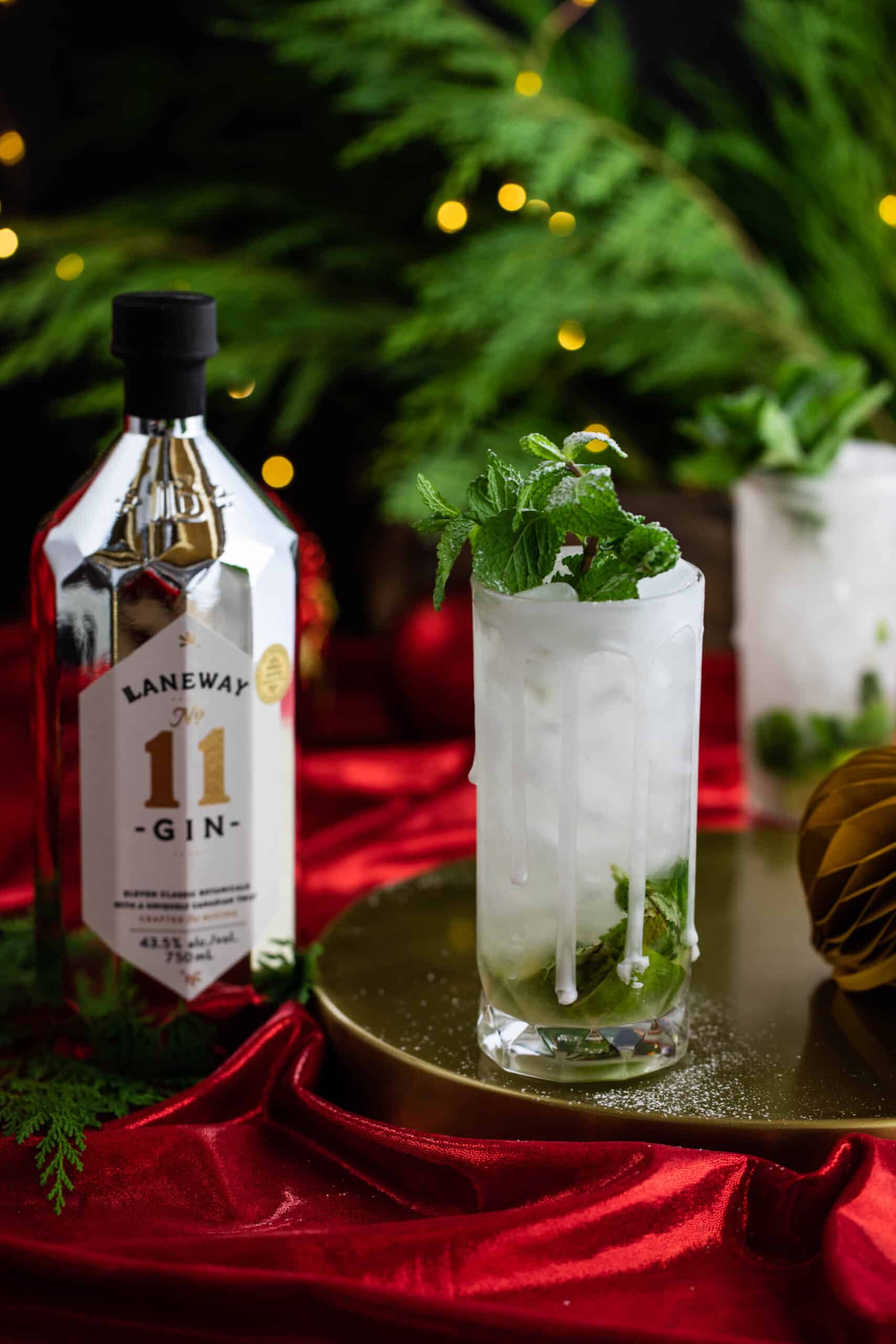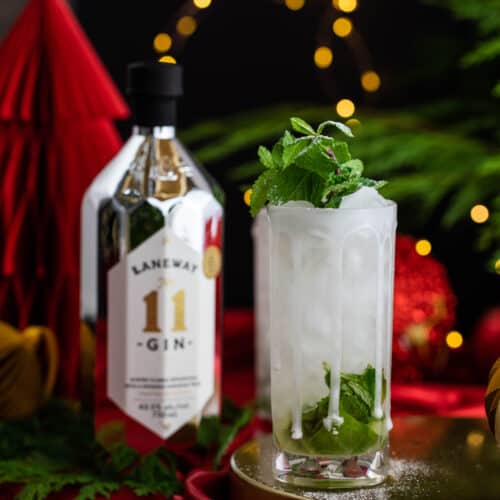 Let It Snow
This incredible Gin cocktail is mixed with Coconut, Lime and Mint in this refreshing Holiday serve.
– Difficulty: Intermediate
Ingredients
1.5

oz

Laneway Distillers Gin

1

tsp

Granulated Sugar

4

Sprigs Mint

1

oz

Coconut Water

¼

Lime

cut in half

Icing Sugar for Snow Effect

Coconut Flakes for Garnish * Optional
Instructions
Prep your glassware first by creating your Snow Drip Effect on the edge of the glass. This can be done by combining 4 tbsp of Icing Sugar and 5 drops of Water (or Coconut Water). Stir and combine, you don't want it too runny, otherwise it will drip too much all over the glass.

Once the Sugar has settled (give this about 20 minutes or prep the morning of), start your cocktail. Add in your lime wedge and granulated sugar and muddle well. Add your Gin, 1 sprig of Mint, coconut water and top with crushed ice.

Stir well, and top with more crushed ice if needed. Garnish with remaining Mint on top and dust some icing sugar to complete the whole look!