Much like this post, I'm keeping things simple for the holidays for a few reasons. Whether you'll be keeping yourself busy in the kitchen, or just mentally and physically strained from this season, it's nice to have a simple cocktail (or two) to just unwind that calls for little to no work. That's exactly what I wanted to accomplish with this Mulled Manhattan, and you'll love the results! With the incorporation of Port, this simple manhattan can easily adapt to what you have around the house.
Why Port Wine?
I love using port in a cocktail, and seeing as I wanted this to have a more festive feel, port gives me a lot of the mulled spices I love and quickly too. I don't have to infuse or do anything particularly fancy, but cinnamon and nutmeg naturally come through with this product. I've always leaned towards the Taylor 10yr Tawny Port, but use what you have.
I split the base of a traditional Manhattan with a French Vermouth and the Port Wine. You could use a Spanish vermouth if you'd prefer, it will just start to get heavy with the spices and I didn't want this manhattan to completely overwhelm.
Choosing your Whisk(e)y for your Mulled Manhattan
Manhattans are classically made with Rye, but I know that Bourbon quickly became the preference with all the delicious options out there. I will leave it up to you, but remember that most Ryes will give you that spice, while Bourbons typically have more caramel notes. This is not the absolute rule. There are so many Bourbons that come with a punch, while many Canadian Rye options are subtle and smooth on the palate. This time around, having wanted to showcase more mulled flavour without actually infusing, I decided to add a dash of Sortilege Prestige. That's thanks to the beautiful mix of maple and some of Canadian Club's Reserve 12 yr Rye.
I went all out with the spirits here because they are phenomenal. I forgot how much I loved the Prestige and Canadian Club. But if this goes over your price budget, that's okay! I'd go with Canadian Clubs 100% Rye with a dash of Spicebox Whisky. Both great for the value.
Bitters
So I decided to use Cardamom Bitters to help amplify the more vegetal bright notes found in mulled spices. Plus, I love Cardamom. However, don't feel pressured, or say you can't find anything to use Cardamom. Angostura Bitters is still an ideal option all around. If you did want to add the cardamom here, toast up some cardamom pods and lightly muddle in your mixing glass before adding the rest of your ingredients.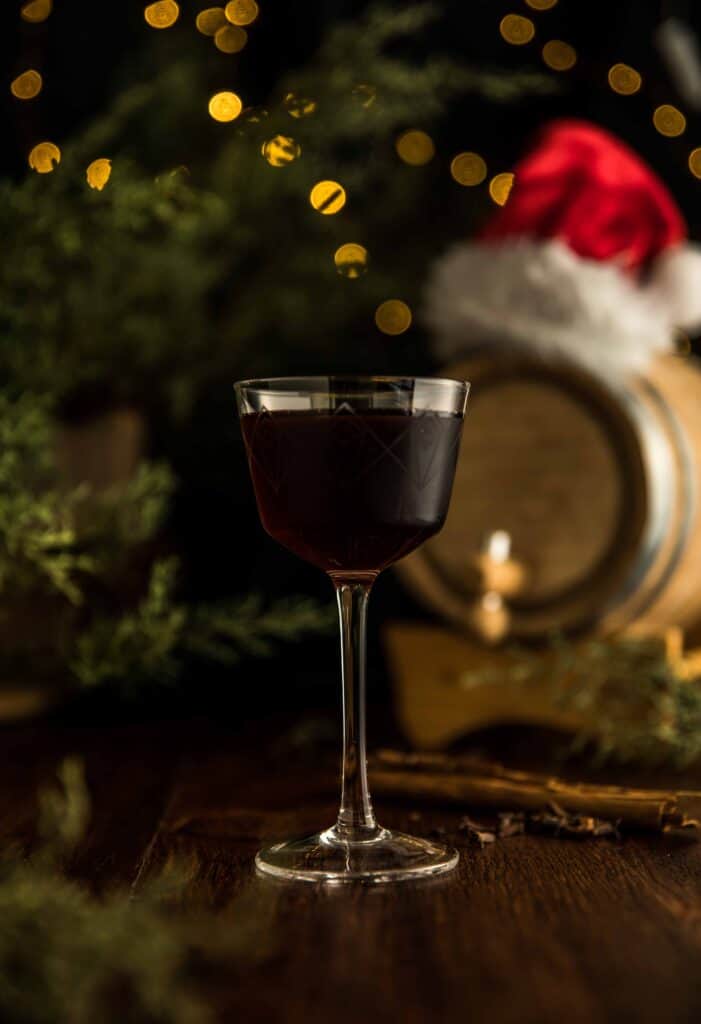 Mulled-hattan
A simple, festive take on the classic Manhattan, made perfect for the holiday using Port Wine, Rosemary and Cardamom Bitters.
– Difficulty: Intermediate
Ingredients
1

sprig

Rosemary

1.5

oz

Canadian Club 12 yr Rye

0.5

oz

Sortilege Prestige

1/2

oz

Dolin's Sweet Vermouth

1/2

oz

Port Wine

Taylor 10 yr used here.

2

dashes

Cardamom bitters

1

Brandied Cherry

*optional
Instructions
Lightly press the rosemary leaves to release it's oils and aromas and toss into your mixing glass.

Add the rest of the ingredients, fill your mixing glass with ice and stir well.

Strain into chilled coupe glass. Garnish optional.
Looking for more Manhattan inspired cocktails? Make sure to check out this link here for inspiration!